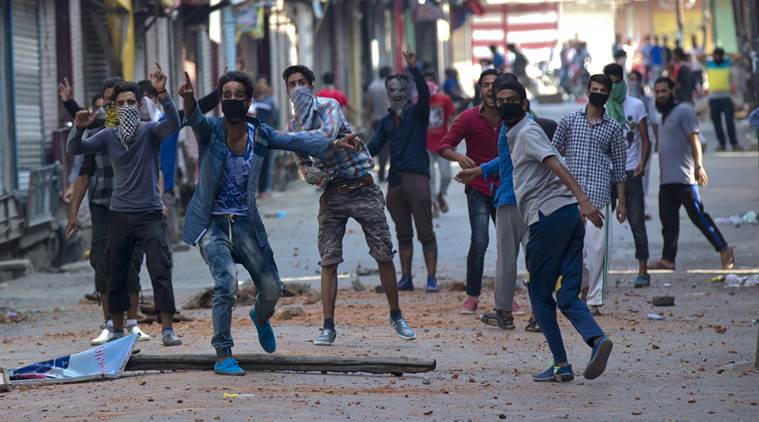 At the Sri Maharaja Hari Singh (SMHS) hospital in Srinagar, Mohammad Yasin, whose eyes were hit by pellets, lay on a bed. I was talking to Yasin's cousin when I saw him murmuring in a feeble voice.
Then, all of a sudden, Yasin thundered at me, "Get out of here. Or the situation will turn bad for you. I will beat you." He snatched my notebook and flung it in anger.
Yasin's sudden outburst had a reason. He shouted at me when his cousin told him that I was a journalist. But I am not the only victim here. This is the story of practically every journalist working in Kashmir right now. There is strong public anger against the media, whom they call 'Indian media', for 'hiding the truth and relying on state propaganda.'
Eighteen-year-old Yasin might not have read The Indian Express, but for him every media outlet is a reflection of what's aired on television news channels.
On Monday evening, I had reached the SMHS hospital's ophthalmology ward to talk to the pellet-hit victims admitted there. The place was in total chaos, crowded with patients and their relatives. The ophthalmology ward was specifically filled with pellet-hit victims and their families consoling them.
Seconds after Yasin shouted at me, others present in the ward coalesced around him trying to find out what was happening.
"He is from media. Channels are not showing a true picture what is happening here. CRPF is beating us and no one is talking about it," said Yasin angrily. His cousin tries to calm him down, but fails.
Now, another pellet-hit victim walked towards me from his bed. One hand on his bandaged eye, he asked me which news organisation I work for. He asked me to hand over my cellphone to check whether I had recorded any conversation. He too advised me to leave the hospital immediately.
"No one is writing about the real situation. Media is saying Burhan had an affair, which is untrue. He is a martyr," he said angrily.
Monday was not the first time I encountered such angry faces. Even on Saturday evening, when I reached the hospital along with my photographer to interview protestors admitted there, we were asked to leave the premises after we identified ourselves as journalists. Some elders in the ward thankfully cooled tempers in the ward and we were able to move out safely.
Local journalists in Srinagar narrate similar stories. Many of them say they are facing public wrath because of the perceived 'anti-Kashmir' stand of a few TV news networks.
At least 30 people have been killed in widespread protests across the state post the killing of Hizbul Mujahideen commander Burhan Wani in an operation.
[source;indianexpress]