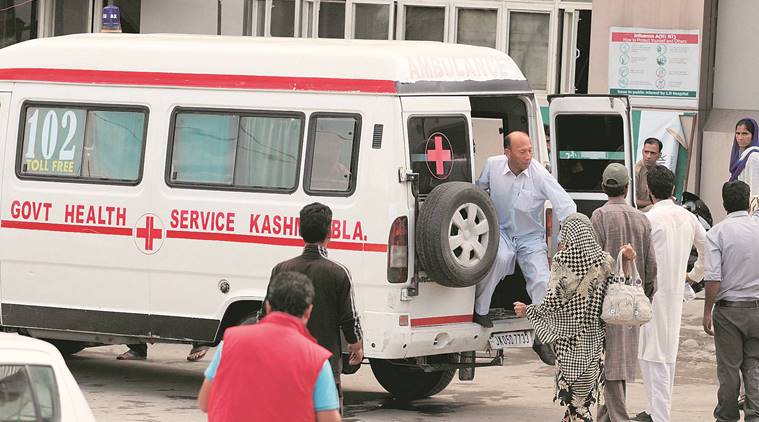 WHAT SHOULD have been a routine visit to hospital with his daughter-in-law, Haseena Bano, after she developed labour pain turned into a nightmare for Abdul Rahim Lone on August 21. There was no technician to conduct the sonography at the local hospital. Doctors told Lone the paramedic had not been able to come to work due to the ongoing curfew, and referred Bano to Srinagar's Lal Ded, the only tertiary-care maternity hospital in valley.
For Lone, a resident of Preng village in Kangan town of central Kashmir, that journey to Srinagar turned out to be "hell".
"I have lost count of the number of barricades on the road. We were stopped at every barricade, and at each one they (police and paramilitary forces on duty) got into the vehicle to check even as she (Bano) cried in pain," Lone said. "They let us go, but at many places I was asked to remove the barricade myself. I had to put it back when our ambulance passed."
Not all patients are let past.
With curfew and restrictions in place for 49 days now, admissions in hospitals in the Valley have come down by as much as 40 per cent, say doctors. Most patients are simply unable to reach hospitals, Syed Masood, Medical Superintendent (MS) at the District Hospital in Baramulla, said.
Dr Mushtaq Ahmad, Lal Ded Hospital MS, said Out Patient Department (OPD) referrals at the hospital are down by half, and In Patient Department (IPD) admissions by nearly 30 percent.
Official figures at the hospital corroborate his approximation: 17,076 patients came to refer to doctors at OPD in July and so far in August this year, compared to 33,907 patients in the corresponding months last year. Similarly, 5,352 patients have been admitted in these two months against 7,383 during the corresponding period last year.
On dialysis for close to a year now, Sopore resident Ghulam Mohammad developed complications last week. A local doctor advised the family to rush him to Srinagar's Sher-i-Kashmir Institute of Medical Sciences (SKIMS) — the only advanced centre with dialysis facility. But with the highway to Srinagar closed even at night, the 65-year-old's family decided to take him to the Sub District Hospital in Sopore.
On way to the hospital, the family said they were stopped at six places – the distance of less than three kilometres took them nearly 90 minutes.
"It is impossible to reach Srinagar, as security men are not allowing any travel. We know the (Sopore) hospital doesn't have dialysis facility, but it can provide us an ambulance to Srinagar," Ghulam Mohammad's nephew said.
But ambulances cannot ensure patients reach hospitals, as their movement has been curtailed drastically since the protests began on July 9, a day after Hizbul Mujahideen militant Burhan Wani was killed. While protesters stop these vehicles during the day, security forces have stopped all movement at night. With many drivers from north Kashmir beaten up, and their ambulance ambulances stopped, health officials decided against referring patients to Srinagar hospitals at night.
"We refer patients only in extreme cases," Baramulla hospital MS Masood told The Indian Express. The MS at Sopore hospital said they are referring "at least 60 per cent" fewer patients these days.
According to the government, 133 ambulances were damaged in the first 45 days since the unrest began.
Another big worry for doctors is the drastic fall in number of stroke and cardiac patients arriving at hospitals. "We normally get more than 60 such patients every day but these days the number is 15 to 20 on average. We only hope patients who are not able to reach hospitals survive," said a doctor at SKIMS, Srinagar.
For cancer patients, who usually go to big hospitals for chemo- or radiotherapy, while the government has made chemo injections available at sub district hospitals, given the partial communication blockade in the Valley, few are aware.
While chemists said there is no shortage of drugs – "We usually keep stock for two months, and supplies are coming, although the quantity is down," said Arshad Ahmad, president of Chemists and Druggists Association of Kashmir – going to the medical stores is fraught with risk.
Meanwhile, if getting to a hospital is difficult in these troubled times, the journey back home is equally arduous.
At Srinagar's Lal Ded Hospital, where Haseena Bano reached with so much difficulty, Zareena Bano, a resident of north Kashmir, remains stuck after giving birth to a baby girl. There is no ambulance to take her, the newborn and her husband, Sawaria Sheikh, home. Their only hope now is an ambulance that arrives – with another patient – from their hometown. Given the barricades, that cannot be forecast exactly.
[source;indianexpress]