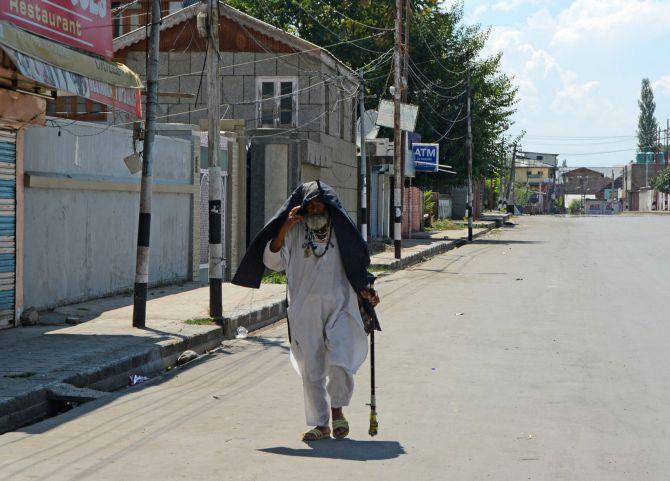 It is good we are trying to create an image for India on the world stage but it hasn't taken us far enough — whether in Pathankot or J&K, world opinion hasn't come out strongly in favour of India," former Union home secretary Dr Madhav Godbole tells Rediff.com'sArchana Masih.
Part I: 'Secularism was meant to integrate us, but has torn us apart'
What does the government need to do urgently in Kashmir?
In Kashmir for the first time we are in a tunnel and there is no light at the end of it. And we don't even know we are in a tunnel.
At one stage, it was believed that a PDP-BJP coalition will bring the extreme thinking parties together and give a new beginning, but it hasn't happened.
The Kashmir problem cannot be addressed unless you address Pakistan. It has to be accepted that the Pakistan military establishment's one point objective is to disintegrate India.
It has been a failure of our foreign policy that we have not been able to convince world opinion that something needs to be done about Pakistan.
This is not something that can only be addressed bilaterally unless there is pressure of world opinion brought on Pakistan.
Irrespective of all the strategic dialogues, successive US governments have continued to help Pakistan including the latest batch of F-16s.
It is good we are trying to create an image for India on the world stage, but it hasn't taken us far enough — whether in Pathankot or J&K, world opinion hasn't come out strongly in favour of India.
That is the biggest failure of foreign policy and we don't seem to be concerned.
How do you assess the Kashmir situation?
Pakistan and the Kashmir issue cannot be segregated. Our refusing to talk to Pakistan is something that is problematic.
Even in India, we have made no effort in recent years to build a national opinion on this subject amongst political parties. At least we should speak as one country.
There is a unanimous resolution of Parliament to say that Kashmir is an integral part of this country and under no circumstances will it be ceded.
Therefore, there is need to arrive at a consensus — even that effort is not being made.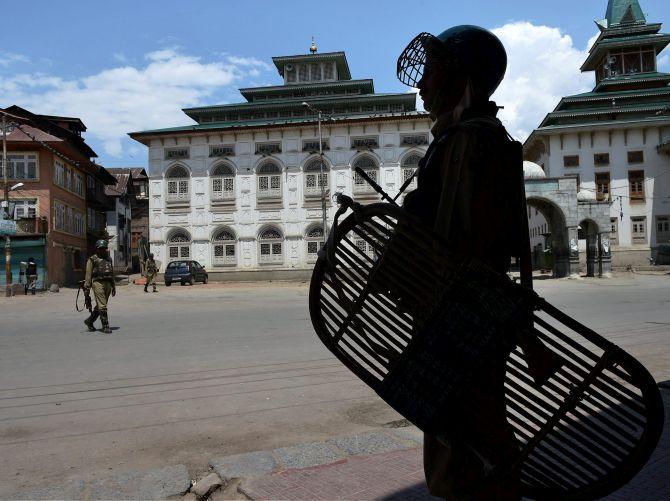 IMAGE: Security personnel on a deserted Srinagar street. Photograph: Umar Ganie
There also needs to be talks with the people of Kashmir?
Yes, you cannot afford to take an antagonistic position.
A three-member panel selected by the Centre comprising Dilip Padgaonkar, Radha Kumar and M M Ansari submitted a report on Kashmir (in 2011) but no one has bothered to read it. I am surprised that report hasn't been placed in Parliament.
Let the issues come out in the open. We are a democracy.
Major national issues cannot be decided behind closed doors in North Block and South Block but in Parliament.
In fact, the government should have said we would like a day or two to be set aside to discuss this subject in both Houses of Parliament.
Therefore, people outside the country feel that India doesn't want to deal with this issue at all.
It wants to deal with it only as a law and order problem. Keeping such a large contingent of armed forces in J&K after 60, 65 years of Independence is untenable.
Whether it is the Northeast or J&K, the country can't be governed in this manner.
My problem with the Armed Forces Special Powers Act is not the Act, the problem is keeping the army there which is a political decision.
The army does not need to be in the whole state, it can be deployed in troublesome districts and withdrawn from other districts as we go along, but now it will be even be more difficult.
Public opinion must be created and people told that it is up to you now, if you want to give up violence we are prepared to go one step ahead and withdraw the army from these areas.
Let there be some experimentation on these issues. After all, there are no simple solutions.
'This country is the most communal country apart from a country like Pakistan which is a theocratic State.'
Apart from secularism and federalism, your recently launched book Secularism — India At A Crossroads proposes some other concepts of the Constitution that need a relook.
Another issue to be looked at as a Constitutional amendment is the propagation of religion. It was agreed upon at the time the Constitution was framed as a compromise with minorities.
The time has come to take a serious look about should the right to propagation be given to Muslims and Christians because it is their religious precept.
If you are a real secular country, religion is your own personal family matter and has nothing to do with the public. Therefore, propagation right should be done away with.
Let's take the instance of gau rakshaks. The concept of abolishing cow slaughter does not go with secularism. This is the programme of one particular religion.
If a religious programme has to be accepted, then it should be accepted of all religions which cannot be in a secular State.
Therefore, there is an inherent contradiction having this kind of directive principle in the Constitution and proclaiming that you are a secular State.
Nowhere in the Hindu religion does it say that you should not eat cow's meat. I have quoted from various people who have written over a period of time, including strong adherents of Rightist ideology like (Vinayak Damodar 'Veer') Savarkar had said there is no sense in this, leave aside Nehru who was, of course, totally opposed to it.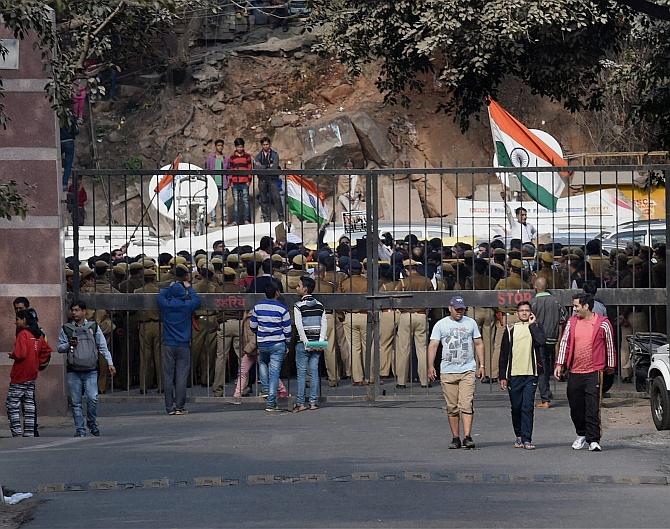 IMAGE: Jawaharlal Nehru University during the noisy agitation in February 2016.
India is a noisy democracy. The rightists and secularists are out there in the open public space — how do you see this duel panning out?
Today it has become a curse word if you say you belong to the secular lobby. That must go. The true meaning of secularism has not been defined by the people.
Let there be an agreement on what is meant by secularism. For example, treat all religions equally.
This also has a problem in the manner in the way we have dealt with religion in last 60, 70 years. Rightly, a point is made that all attention of Parliament has concentrated on reforming the Hindu religion, what about other religions? We have no answer.
The other suggestion is let the State be equidistant from all religions. We need to work on these definitions.
Secularism and communalism are topics that are debated vigorously in the country.
You cannot have a secular State and communalism going together.
This country is the most communal country apart from a country like Pakistan which is a theocratic State.
We have addressed communalism administratively, never politically.
Every political party takes recourse to it one time or the other when it suits them.
Therefore, there are provisions in law which need to be amended.
According to Article 153A and 153B — if you say anything that goes against anyone's religious sentiments or inflames religious sentiments you can be hauled up before the courts.
If you take stock of how many people have been punished under these sections you will be able to count on the finger tips of a single hand. Why? Because cases are not put up in the court because these are politically powerful people.
If a case is registered, it is withdrawn at a later stage as a compromise as it happened during the Bombay riots.
Therefore, there's a proposal to say that these powers that are with the state government and district magistrate should be taken away and given entirely to the police at the senior level.
Then the police will be responsible to the courts and not be responsible to a political executive.
'Voting must be made compulsory. Compulsory voting will empower the minorities. Secondly, for anybody to be elected, a candidate should get 50%+1vote. Then the candidate will appeal to all sections. This is the only way the concerns of the minorities can be brought forward.'
How can the law be more powerful in this matter?
(We need to think) Whether there should be a separate law for genocide.
Unless you make people aware that this is a severe kind of a crime which will call for even life imprisonment.
There should be provisions to file lawsuits together by a group of people like it happens in the US and elsewhere because individuals cannot really pursue cases particularly in communal riots.
In the 1984 anti-Sikh riots hardly any individuals were prepared to come forward because of worries that they will be targeted.
I've also argued that the European system of prosecution should be adopted for communal cases in which the investigation is supervised by a magistrate. Only after s/he is satisfied should the case be put up before the court.
There is resistance to this idea because we are wedded to the old British principle that everybody is innocent till it is proved otherwise.
This is contrary to the British principle of punishing a person by proper investigation under independent supervision of a magistrate which has been resisted here all these years.
We should at least make a beginning in communal riot cases so that the minorities will get a feeling that their cases will be pursued.
In the Gujarat riots, there was a demand that the Supreme Court should supervise the cases. It cannot because of its work load, neither can the high courts.
There has to be an institutionalised system for supervising the investigation.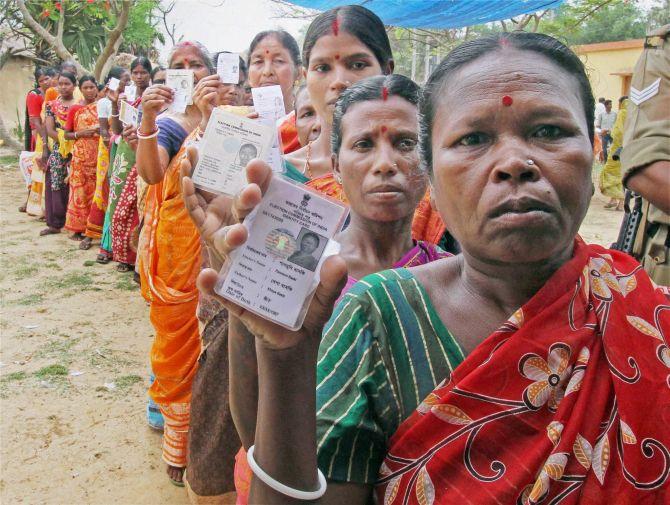 IMAGE: Women at a polling booth during the 2016 assembly election at Bandhlodanga in Birbhum, Bengal. Photograph: PTI
Your book has proposed some other changes in the way we function as a country, what are they?
I have proposed two changes in the electoral laws — voting must be made compulsory. This is the only country perhaps which gives a public holiday (on election day). Compulsory voting will empower the minorities.
Minorities are taken for granted because they do not always exercise their vote. There is NOTA, so no one is forcing you to vote, but you should exercise your vote as a voter.
There is such fossilised political thinking on this subject. Gujarat passed a law to make voting compulsory at the panchayat level. The governor sent it for approval, it was not approved because the government at the Centre was different from that in the state.
Legislation can't be looked at with such a partisan angle. That legislation was only cleared after the Modi government came to power at the Centre. These issues must be looked at apolitically.
Secondly, for anybody to be elected, a candidate should get 50%+1vote. Then the candidate will appeal to all sections.
This is the only way the concerns of the minorities can be brought forward.
MLAs/MPs get elected with 10 to 15% of the vote and hence are not really representatives of the constituencies.
So what happens to the big issues that political parties do not want to tackle?
Every year or every alternate year some election comes up. All attention is on winning that election. Now it is UP, Gujarat.
Last year there were elections in 3, 4 states, therefore the suggestion that the new government has been toying with is to hold simultaneous elections for Parliament and states.
Then at least for 5 years everyone can go back to the business of governing. Otherwise governing becomes secondary to electioneering.
If you see the historical record, in the first 3, 4 general elections all elections were held simultaneously.
When Indira Gandhi realised that her hold over the country was weakening, she came up with the idea of separating parliamentary elections from state elections and we are stuck with it.
The sedition law is another law that has come under criticism.
According to me, a sedition law in a democracy doesn't make sense.
Hardik Patel had every right to carry on an agitation. If he had broken any law, he can be hauled up for breaking that law.
Somebody writes a poem against prohibition or against Amma, you prosecute under this law, somebody supports Naxalites in Maharashtra and gets prosecuted under this law and on one side we say more governance and less government, but here government seems all pervading.
[source;rediff.com]