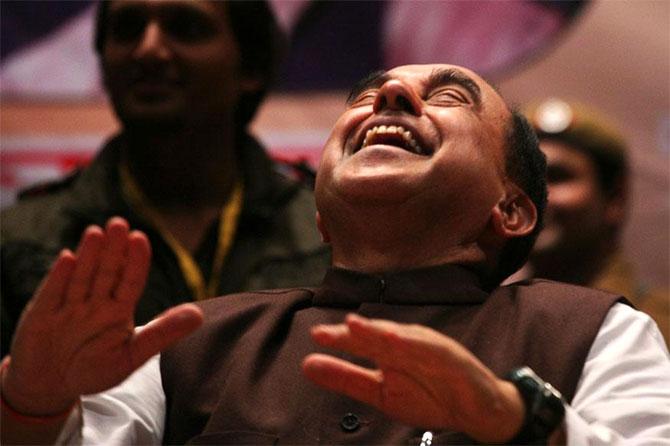 Continuing to attack the firm set up by the United Progressive Alliance government to provide support structure for GST rollout, Bharatiya Janata Party MP Subramanian Swamy, on Friday, alleged "loot" in IDFC extending Rs 550-crore loan to GSTN on government guarantee.
"Scandal: IDFC gives a loan of Rs 550 crore today to GSTN. Guarantor: GOI, not majority shareholders! Why? Looting India Robert Clive way," the BJP MP said in a tweet.
The Goods and Services Tax Network (GSTN) is the special purpose vehicle that was formed under the previous UPA government to set up the information technology framework for rolling out the indirect tax regime that will replace a string of local levies.
The government of India holds 24.5 per cent stake in GSTN while states together hold another 24.5 per cent. The balance 51 equity is held by private financial institutions – ICICI Bank, HDFC Bank, HDFC Ltd, LIC Housing Finance and National Stock Exchange Strategic Investment Corporation.
Earlier this week, while releasing a book, Swamy had said it may not be possible to implement GST unless private companies are replaced by state-owned firms in the GSTN, the backbone for putting in place the new indirect tax regime.
"It (GSTN) will not be able to pass the home ministry security clearance until the Rajya Sabha Select Committee's unanimous recommendation is implemented and HDFC Bank, NSE, LIC Housing Finance and ICICI Bank are all removed and replaced by (public sector banks) because tax data is sensitive. It is confidential. We cannot allow foreigners the right to get this data," Swamy had said.
President Pranab Mukherjee, on Thursday, gave assent to the Constitution Amendment Bill on Goods and Services Tax (GST), a major step towards its launch from April 1, 2017.
[source;rediff.com]