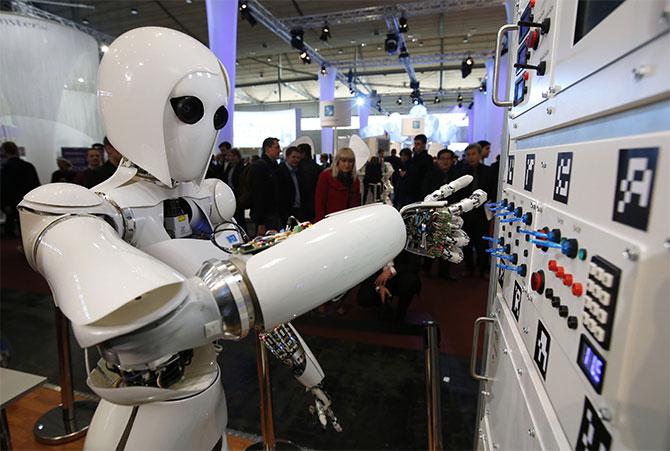 ICICI Bank – the country's largest private sector lender – is employing robots to perform tasks like generating customer IDs, updating addresses and mobile numbers, resolving ATM-related queries, etc.
Claiming to be the first Indian bank to use software robotics, ICICI Bank on Thursday said the technology has helped them in reducing response time by up to 60 per cent. Chanda Kochhar, managing director & chief executive officer, ICICI Bank, said by the end of FY17, the bank would more than double the number of transactions cleared by the bots.
"Currently, about 10 per cent of our internal transactions are being carried out via the software robots and by the end of this year, we believe, this will go up to 20 per cent of our transactions. This has helped us in improving productivity and efficiency and will help us in handling larger volumes as we continue to grow."
Hello robot!
Some of the banking work that software robotics will do
Validation of PAN and Aadhaar details
Inter-bank foreign currency settlement
NEFT file preparation
Mobile number update for internet banking alerts
Customer ID creation
Debit card re-issuance
Duplicate statement generation
The lender started experimenting with software bots at the beginning of this financial year. Now, over a million banking transactions across 200 business processes are carried out by the technology on a daily basis.
Software robotics is essentially a step up over automation, where bots ensure applications can interact seamlessly.
Kochhar also explained that software robotics is being used for transactions that have high volumes, are time taking and repetitive in nature. Currently, the bank is using this technology across various functions such as retail banking, treasury, rural banking, human resources, etc.
The announcement comes a month after HDFC Bank said that it plans to introduce a robot – through its project AI (artificial intelligence) – at one of its front offices. This is likely to be introduced in about a month's time, to enhance customer experience in banking.
ICICI Bank said the automation will also help the bank in saving costs. The bank has already seen a drop in its cost-to-income ratio from 40.5 per cent in FY13 to 34.7 per cent in FY16. Going ahead, the management believes the bank will be able to maintain the cost-to-income ratio at the current level with the help of technology, despite an increase in costs due to expansion of branches, ATMs, etc.
When asked, the management clarified that this will not lead to any layoffs as the bank will continue to expand. Instead, the management said, the technology will help the employees in focusing on more value-added services.
Other banks are also gradually exploring the use of robotics and artificial intelligence. For instance, HDFC Bank is set to deploy a robot for front-end transactions at their branches.
The lender is set to launch it soon in one of its branches in Mumbai. This robot is likely to help customers in carrying out all basic transactions. However, sources said, going forward, the bank will also look at carrying facial recognition, biometric authentication, etc via bots.
[source;rediffcom]