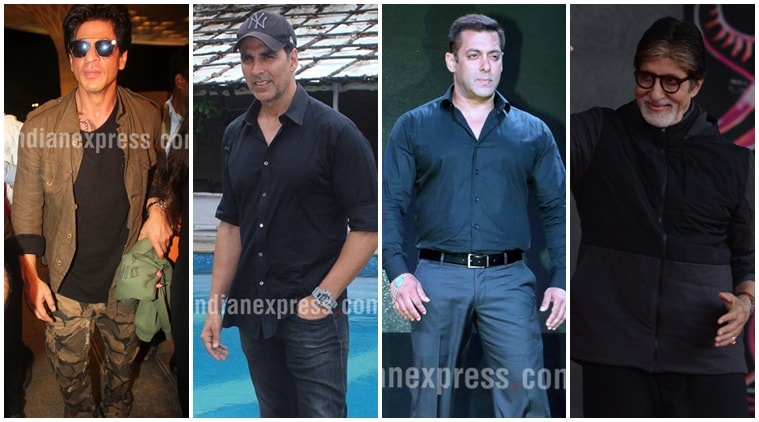 Four Bollywood stars made it to the Forbes' list of world's top 20 highest-paid actors and their names are Shah Rukh Khan (number 8 with $33 million in earnings), Akshay Kumar (number 10 with $31.5 million), Salman Khan (number 14 with $28.5 million) and Amitabh Bachchan (number 18 with $20 million). The list was topped by Dwayne 'The Rock' Johnson who earned an estimated $64.5m. He earned almost $20 million more than world's highest-paid actress Jennifer Lawrence.
Shah Rukh Khan, who was missing from the top earners' list last year, is back with a vengeance. Forbes wrote about SRK, "Khan continues to rule Bollywood's box office with the lead role in hit Dilwale and many others, earning multimillion-dollar upfront fees and a cut of the back-end for his efforts. He also cashes in on endorsement deals for dozens of brands most Americans have likely never heard of."
According to the list, SRK earned as much as Robert Downey Jr but more than Leonardo DiCaprio ($27 million) who earned his Oscar this year, Chris Pratt who delivered Jurassic World and Will Smith.
Dwayne Johnson elbowed Robert Downey Jr. aside to become the highest-paid actor with a fast and furious income of $64.5 million, according to Forbes magazine.
The former wrestler beat out Jackie Chan with $61 million and Matt Damon, who earned $55 million. The rest of the top five on the list, released Thursday, included Tom Cruise with $53 million and Johnny Depp with $48 million.
The top guys make more money than the top ladies. Forbes' list of the highest-paid actresses, released earlier this week, put Jennifer Lawrence on top with $46 million, Melissa McCarthy with $33 million and Scarlett Johansson with $25 million.
Akshay Kumar, who is having a great 2016, pulled in $31.5 million last year. "One of Bollywood's busiest leading men, Kumar banked top rupee for three hit films in our scoring period. The action star bolsters his earnings endorsing a wider range of products than most Hollywood shills: Honda motorcycles, a dairy producer and a gold loan company, among others," Forbes wrote.
Also read: Salman misspelled as 'Salman Kahn' and Deepika as 'Peedika Padukone'. Check out where
Salman Khan with his Bajrangi Bhaijaan has dropped a few spots from last year with $28.5 million earning. His earnings stood at $33.5 million the previous year. Forbes wrote, "One of Bollywood's leading men, Khan makes top rupee from movies such as Bajrangi Bhaijaan and numerous endorsements. In May 2015 he was sentenced to five years in prison for a 2002 hit-and-run car incident which killed a homeless man; his sentence was suspended."
Amitabh Bachchan's earnings were also lesser than the year before. While he stood on the seventh spot last time, he took $20 million earnings this time around. "Bollywood stalwart has starred in more than 150 movies in a career that spans five decades. The 73-year-old is busy as ever: he appeared in four films during our scoring period," Forbes said.
Deepika Padukone was the lone Indian actress in the world's top 10 list of actresses with $10 million earnings. All the data is from between June 1, 2015, and June 1, 2016, before fees and taxes. (Deepika Padukone is world's 10th highest paid actress, beats Priyanka Chopra to Forbes list)
[source;indianexpress]