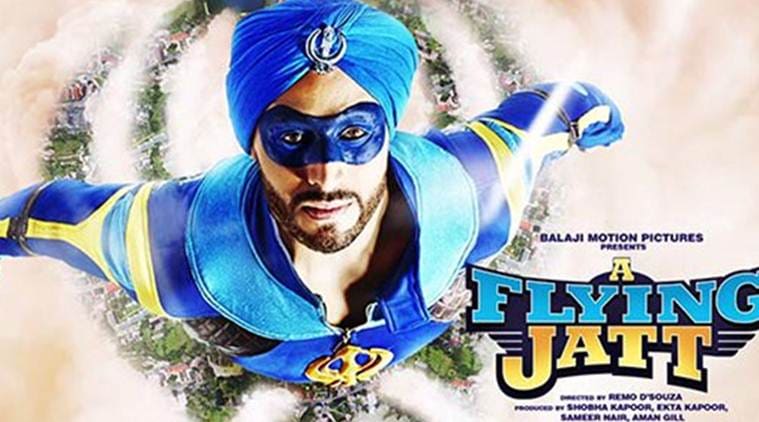 A Flying Jatt movie cast: Tiger Shroff, Jacqueline Fernandez, Gaurav Pandey, Amrita Singh, Kay Kay Menon, Nathan Jones
A Flying Jatt movie director: Remo D'Souza
A Jatt superhero who bumbles and fumbles? Who behaves like a little boy around his formidable 'bebe', and is all shy and tongue-tied around a hot babe? Who has, haha, a fear of heights?
Sounds like a barrel of fun, no? The first half of A Flying Jatt is not afraid to be silly and is very enjoyable. Tiger Shroff plays a martial arts teacher in a school where he strives lamely to catch his students' eye, as well as a pretty colleague whom we know is interested in the environment because she clutches a couple of books on the subject to her bosom. No one ever goes to class: it is that kind of film.
The pollution, we soon learn, is Enemy No One, riding on the back of the greedy capitalist Malhotra (Kay Kay Menon, camping it up madly) and the evil monster-dipped-into-the-vat-of-chemicals Raka (Nathan Jones, boasting an old-fashioned Bollywood name for a modern-day 'gora' villain). When the Flying Jatt's mum sends him off with the classic 'jaa, duniya ko bacha', we laugh out loud. Because, you know, that's what superheroes do: once they are in costume-and-cape and armed with their super-powers, we know all will be well.
Tiger Shroff is a thing of beauty when he flexes his splendid, impossibly toned muscles. He dances like a dream. And because he is still a work-in-progress actor to whom fumbling and bumbling and being awkward comes naturally, he is a good fit for his character, even if it's cobbled together from familiar caped crusaders: bits of Superman and Spiderman and our own home-grown Krrish.
WATCH VIDEO: A Flying Jatt and 5 reasons why you should watch it
He gets able support from Singh as the proud Sikhni with superpowers of her own: no baddie ever invented can be a match for Bollywood moms. And from Gaurav Pandey as his brother-cum-best-pal. Fernandez has to jump up and down and squeal girlishly, when she is not dancing alongside the Jatt, or not being taken on an aerial survey, all of which she delivers on.
Also read | A Flying Jatt box office collection day 1: Tiger Shroff's Janmashtami release earns Rs 7.10 crore
The second half goes south. The film starts getting preachy and heavy. A bad guy who fattens on garbage and waste is a great stroke, but to keep belabouring the point is pointless. Except for a couple of effective scenes, the enormous Jones is a bore. And without the funny bits which kept the pre-interval parts afloat, the faults start glaring. The song-and-dances, bunged in just to show off Tiger's limber moves, are a drag: Bollywood superheroes can save the world only after the 'naach-gaana' is over.
Watch: A Flying Jatt trailer
Our Jatt Singh-Is-King-of-Kings superhero needs nothing but his 'kada': kryptonite is so last century. Nice touch. But he also needs a plot to help him fly all the way.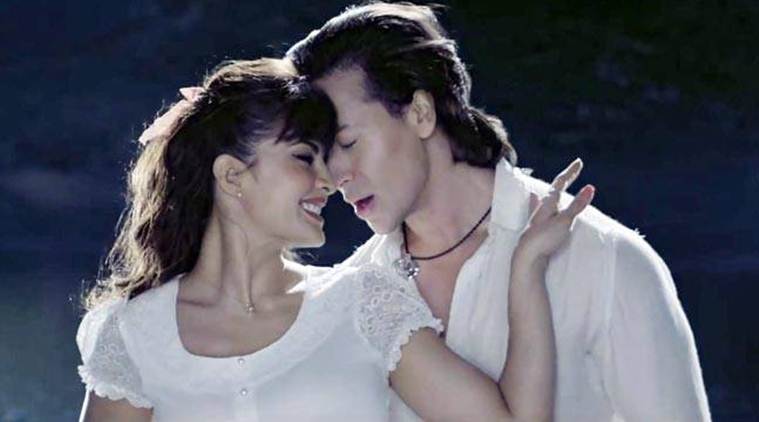 A Flying Jatt movie review: Tiger Shroff is afraid of her 'bebe'and tongue-tied in front of the 'babe'Jacqueline Fernandez.
This could have been such a rollicking film, especially for kids —it had all the ingredients, and an engaging start, fronted by a hero who is light on his feet. Too bad it ends up being a promo for Swachch Bharat.
[source;indianexpress]