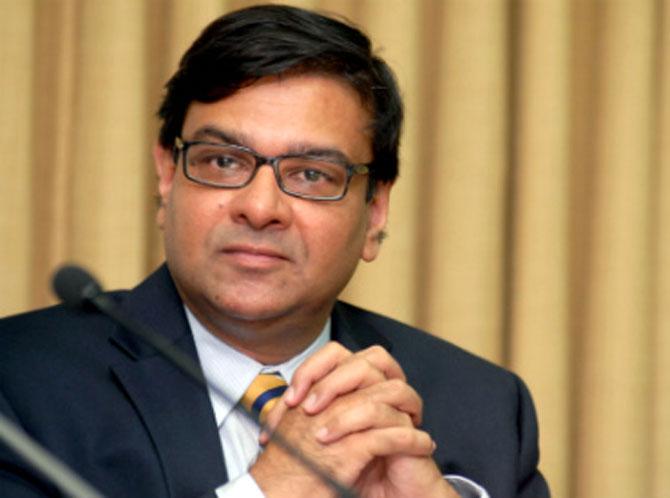 Urjit Patel must have lost count of the number of times he has been referred to as "shy and reticent" after being selected as the 24th governor of the Reserve Bank of India.
Media commentaries and conversations in the corridors of power show a strange anxiety: What does the new RBI governor stand for?
That's because most people are clueless about him.
Unlike his predecessor, who tossed weekly sound bytes about almost everything under the sun, Patel, who was the deputy governor, always preferred to stay under the radar — even during the post-monetary policy press conferences, unless, of course, the mike was handed over to him.
He was rarely seen in public delivering lectures.
There is no doubt that Patel is a private man: The RBI's website lists only one speech by him since he joined the bank as a deputy governor more than three years ago.
And unlike the high-profile taking over functions of many of his predecessors, Patel moved to the corner room on Tuesday without any fuss, and many RBI employees had no clue what was going on at the 18th floor.
Media wasn't allowed and all that the RBI communications department did was to email a rather dull photo of the signing ceremony.
It is also said that he rarely met bankers to either share his views or receive their feedback.
In that sense, it's understandable why financial markets, banks and corporate India are anxious to know what he stands for, especially at a time when central bankers need to regularly communicate with stakeholders in these uncertain times.
But the point is whether this over-emphasis on Patel's shy and reticent image is a case of much ado about nothing.
As Fitch Ratings said in its commentary after Patel's selection, "The RBI Governor need not have a rock star status to be successful and India's ratings would depend on its policies and not any specific personality".
In any case, it's absurd to conclude that as the RBI governor, Patel would not talk about issues related to monetary policy and economy, though it is fairly certain that he would avoid talking about issues outside RBI's remit.
More than his reticence, it's perhaps prudent to look at his other credentials – with a PhD in Economics from Yale University and degrees from the University of Oxford and London School of Economics, the new governor is perhaps one of the few trained academic economists to be appointed to the job recently.
He has also worked with some of the best international institutions. Besides, as everyone knows, he has been at the helm of institutionalising the inflation targeting regime in the monetary policy framework.
Patel was selected from a stellar list of probables and his appointment signals continuity of policy intent on the part of the government.
Also, in one of his last speeches as governor and possibly his first public comments on his successor, Raghuram Rajan offered a convincing endorsement of his deputy.
So why keep harping on this reticence bit? In many ways, the perception problem about Patel is shared by all leaders who have been labelled "introverts".
That's inevitable in a world where most of the attention goes to the movers and shakers, the hard chargers and the so-called stars.
Modern-day management consultants, however, contest this stereotyping of talkative people being invariably smarter than the reticent, even though there is no correlation between the gift of the gab and good ideas.
Most "introvert" leaders – even those who have achieved huge success for their companies – have admitted that at some point in their leadership journey they have had to work harder to overcome being disregarded or misunderstood because of their quiet temperament, even though research has found many positives of introvert leaders.
For example, they practise engaged listening, they know what's going on in the company since they observe everything minutely because of fewer distractions and they empathise with employees' concerns.
This shows introverts, not just extroverts, have the right stuff to lead organisations in a go-go, extroverted business culture.
Patel's sense of humour was evident at the 2014 monetary policy press conference, when he said, "An owl is traditionally a symbol of wisdom, so we (RBI) are neither doves nor hawks, but owls and we are vigilant when others are resting."
He must be taking these concerns about his reticence with more than a pinch of salt.
[source;rediff.com]