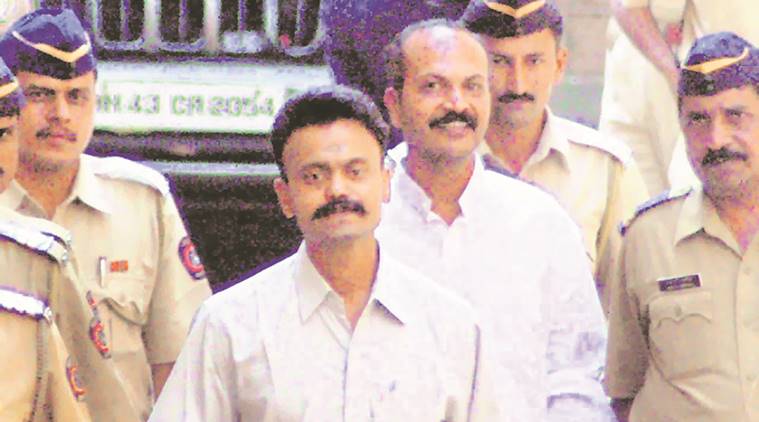 LODGED IN a prison cell since 2008, Rakesh Dhawade, an accused in the Malegaon 2008 blast case, has been writing books. At last count, the number is 210, running into over 17,000 pages in all. He has completed 11 books so far. Each book is connected to his previous work on traditional arms and armoury. Incidentally, it is this passion that made him an "easy target", according to his family, in the terror case.
In its chargesheet filed in May this year, the NIA said Rakesh was instrumental in unauthorised/illegal sale and purchase of firearms to accused Lieutenant Colonel Prasad Purohit "for the purpose of their terror activities".
Nita Dhawade, Rakesh's younger sister, says their forefathers were in the army of Chhatrapati Shivaji Maharaj, and had inherited traditional arms and armoury, leading to his interest in the subject since childhood. "When he was in Class V, he had made a miniature sword for a history class. The teacher was so intrigued that he enquired about how he had done it. Rakesh showed him other miniature work and the history teacher asked him to do an exhibition for other students," she recalls.
After his arrest in 2008, says Nita, Rakesh had complained about how he could not use his hands to write due to the "torture by the Maharashtra ATS". "After a few days, though, he was back to researching and writing. When one looks at a traditional sword, one would think of it only as a weapon. He can talk for hours about its make, the cultural significance of the time it was made in, what it reflects about the period's art and history," she says.
Nita says all his books have derived from this interest, including one on Hindi cinema.
"Many Hindi films may be set in the Mughal period but would have the characters wearing clothes or carrying a weapon of Roman style. One of his books is on such observations he has made," she says.
With the trial still in its early stages after eight years of incarceration, Rakesh approached the court recently seeking permission to publish one of his writings. The NIA, which is the prosecutor in the case, gave its no objection. The authorities at Taloja Central Jail in Navi Mumbai, where he is lodged, however, told the court that "there is no provision for giving such a permission". Arguing against the contention, his lawyer said there was no bar on publishing writings of prisoners, relying on a 1966 Supreme Court judgment that had ruled prohibiting a prisoner from writing a book or sending it for publication was infringing on personal liberty.
Special Judge S D Tekale ruled in Rakesh's favour stating that the jail authority only had the right to censor and withhold such a communication within the scope of Rule 23 of the Maharashtra Prisons (Facilities to Prisoners) Rules. The judge also perused the manuscript of his writing.
"It appears that accused number seven Rakesh Dhawade on the basis of his long standing study wants to put up new aspect in respect of story of cutting his thumb by Eklayva as a Gurudakshina. …I do not find any hurdle in giving direction to the Superintendent of Taloja jail to send articles written by accused number 7 for publication.," the order states.
The Taloja jail authorities then gave Rakesh, who was previously working as an assistant curator in a Pune museum, the green signal to publish his first writing. Nita says the order helped him continue his research.
"His interest in museums and antiquities was increased by our uncles who would gift him history books, and our mother who would take him to visit museums. In 2000, he was given two grants by a museum in the United Kingdom for which he visited that country. The grants were for his work on conservation, preservation, display and documentation system of Indian arms and armour," Nita says. She claims he was the first Indian citizen to be given membership to Royals Arms and Armour Society in the UK.
Nita claims that it was his interest in traditional arms and armoury that made him an "easy target" in the case. The Maharashtra ATS, after arresting Rakesh, had said he imparted training in making "fuse of the bomb" to the other accused in the case, in which six persons death 101 were injured. The ATS had also relied on a confessional statement made by Rakesh claiming that he imparted training in making bombs and its use at the hills near Singhgad, Pune.
The NIA chargesheet said the agency was not relying on this evidence made in a confession statement since it was recorded under provisions of the Maharashtra Control of Organised Crime Act. The ATS had invoked the Act by showing Rakesh's involvement in two previous blasts in Parbhani and Nanded. The NIA had called this "dubious" by stating that it was done only to invoke the Act in the case.
Rakesh was recently acquitted in the Parbhani case, having already been acquitted in the Nanded case earlier. Unlike other accused, including Sadhvi Pragya Singh Thakur, however, the NIA has said there is "sufficient evidence" to prosecute Rakesh even without his confessional statements.
The special court is currently hearing arguments on framing of charges in the case.
[source;indianexpress]