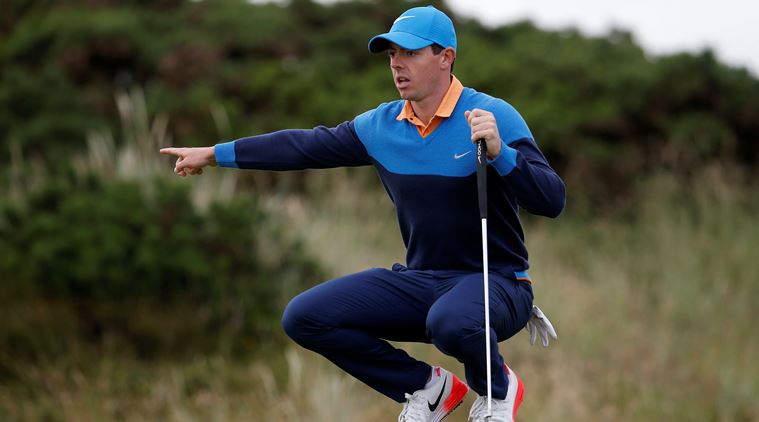 Four-time major winner Rory McIlroy may not watch the golf event on television when it returns to the Olympics next month and hinted on Tuesday it was not one of the sports that would matter in Rio de Janiero.
Unlike world number three Jordan Spieth, who said earlier in the day that he agonised over his decision to withdraw from the Olympics, McIlroy said he was fully comfortable with his choice to opt out of golf's Games comeback after a 112-year absence.
"I don't think it was as difficult a decision for me as it was for him," the Northern Irishman told a news conference ahead of the 145th British Open that starts on Thursday.
"I'm very happy with the decision I made and I've no regrets about it. I'll probably watch the Olympics but I'm not sure golf will be one of the events I watch."
Asked which competitions he would view on television, McIlroy replied: "Probably the events like track and field, swimming, diving, the stuff that matters."
None of the world's top four golfers will play in Rio after Jason Day and Dustin Johnson also decided to opt out.
Fourth-ranked McIlroy said he did not feel as though he was letting his sport down. "I didn't get into golf to try and grow the game," explained the 26-year-old. "I got into golf to win championships, and major championships.
"All of a sudden you get to this point and there is a responsibiity on you to grow the game, and I get that, but at the same time that's not the reason I got into golf.
"I didn't get into golf to get other people in the game but I get that…different people have different opinions."
McIlroy also believes golf needs a more rigorous approach to drug-testing to fall in line with other Olympic sports.
"I've been tested by the IGF (International Golf Federation) once this year … but it was only a urine test. I haven't been blood-tested yet. I, on average, probably get tested four to five times a year which is very little compared to the rest of the Olympic sports," he said.
"I've got to know a lot of athletes over the years and whether it be coming to their houses and doing blood and urine, I think drug-testing in golf is still quite far behind some of the other sports," said McIlroy.
"Blood-testing needs to happen in golf just to make sure it is a clean sport going forward. If golf wants to stay in the Olympics and wants to be part of the Olympic movement it has to get in line."
McIlroy, however, does not believe illegal substances can necessarily help a golfer. "I don't really know of any drug that can give you an advantage all the way across the board," he said. "There are obviously drugs that can make you stronger … and drugs that can help your concentration.
"But whether there is something out there where it can make you an overall better player, I'm not sure."
[source;indianexpress]