A R Murgadoss, the south-based director behind hit films like Ghajini and Holiday: A Solider Is Never Off Duty, returns with his third Hindi outing.
Once again, it is an action flick. This time, however, it stars a female protagonist. Titled Akira, the film is a remake of the Tamil sleeper hit, Mouna Guru, and stars Sonakshi Sinha and Anurag Kashyap.
While the original revolved around the hero, Murugadoss's Hindi version features a female lead.
In this interview with Rediff.com contributor Rajul Hegde, A R Murugadoss discusses his film and reveals the reasons behind his decision.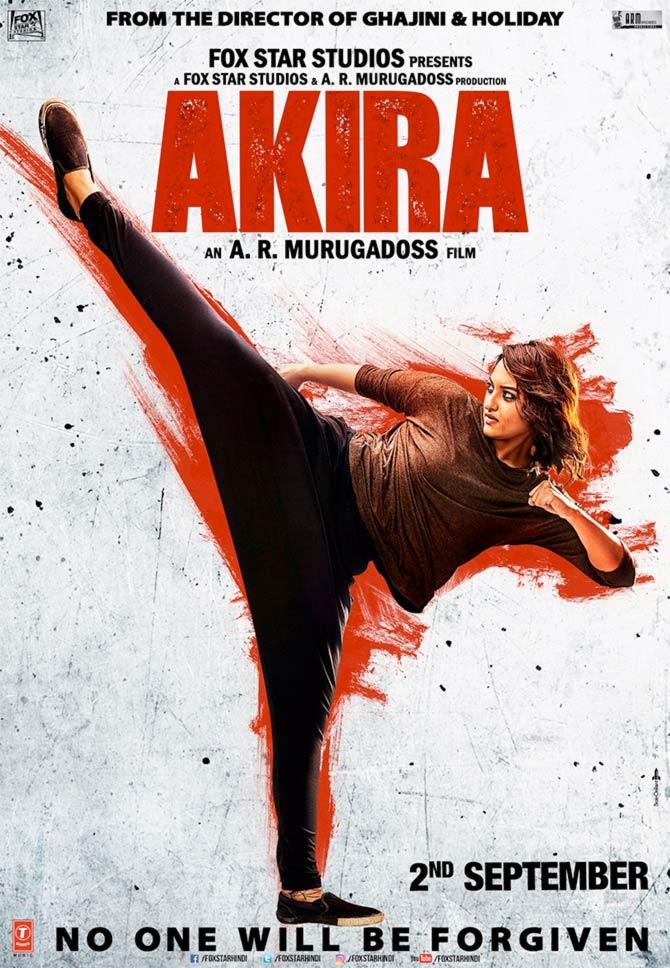 You are known to helm remakes of your own films in Hindi. What was it aboutMouna Guru that attracted you?
I loved the film and found the screenplay gripping. It has different emotions and an unpredictable story with lots of twists and turns. I wanted to remake the film in Hindi with the same director but he was busy with other projects, so I decided to direct it myself. Fox Star joined the project.
The original film has a male actor in the lead but, in Akira, it's Sonakshi Sinha. Why did you make the change?
I thought why not make the same film with a female as the protagonist! So I started adapting the plot accordingly.
How did you zero in on Sonakshi?
She is a very good performer; I had worked with her Holiday. Once I decided to do the film, she was the first actress who came to mind.
Generally, we see a hero do most of the action but, here, the heroine throws the punches.
In most films, the female characters are either romantic or entertaining. In this film, I wanted to treat Akira as a male; the fights you see onscreen are real and raw.
What was Sonakshi's reaction when you approached her with the script?
Sonakhsi was very happy with the script. She had to train with Tiger Shroff's trainer for six months to learn kickboxing and basic martial arts for the fight sequences.
She has really worked hard. I saw some of her training videos before the shoot. She has good eyes and attitude. She was very good with emotional and action scenes. There was a moment when the entire set got up and clapped for her after the take was done.
She is perfect for the role and has kept the character alive.
How did Anurag Kashyap came on board?
Anurag plays a bad cop with a funny accent in the film. He is more of a planner than a regular villain. Before casting him, we had auditioned many actors but were not happy with them.
Then Shruti Mahajan, a casting director, suggested Anurag's name. He heard the script, saw the original and agreed to come on board.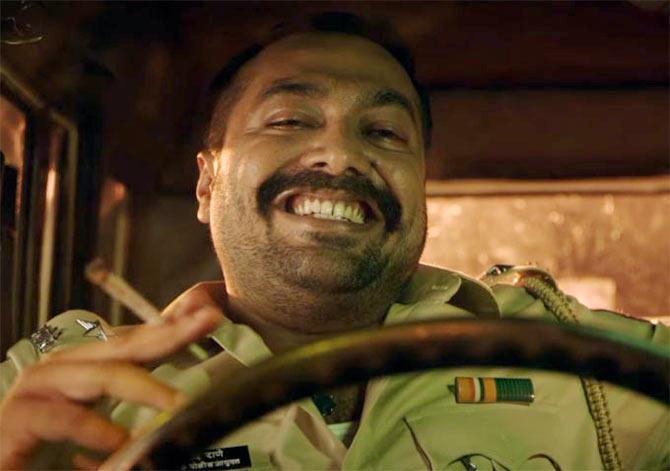 IMAGE: Anurag Kashyap in Akira.
How was it directing a fellow filmmaker? What did you think of Anurag as an actor?
I am a big fan of Anurag Kashyap's films. I have seen all of them and never thought about him as an actor. But he has great screen presence. I didn't expect him to be such a good actor. On the first day, I didn't know how to get a performance out of him. But, after a few days, we started talking about films and that broke the ice.
What are the differences in directing south and Bollywood films?
There is a slight difference in execution. Also, in Bollywood, everything is planned; in the south, we decide something today and shoot the next day.
Has there been any actor or director who has inspired you to become what you are today?
In my school days, I used to write short stories. Later on, I started writing short stories for magazines.
I used to read a lot of books and I have been a big fan of director K Balachander sir. He inspired me to become a director. I started off as a writer in films, then graduated to an assistant director and then director.
You have worked with Aamir Khan in Ghajini and with Akshay Kumar inHoliday. What's your takeaway from them?
I have learnt a lot from Aamir. He works 24/7 without breaks. He loves his job too much. I have never seen anyone like him; there is so much of dedication and perfection.
I have watched all his films. Actually, he is also my biggest inspiration. From him, I learnt to look at every detail that goes into making a film. Now, we plan everything before the shoot with the team.
Akshay Kumar is also a pleasure to work. He is funny and easy to work with.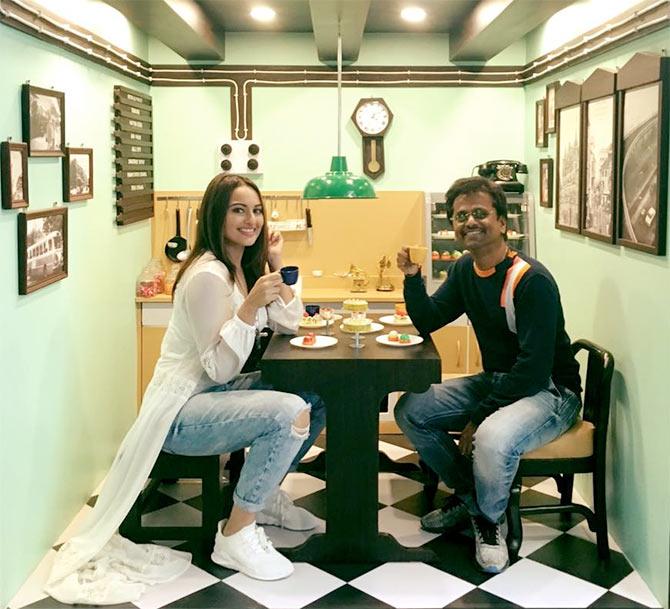 IMAGE: Sonakshi Sinha and A R Murugadoss promoting Akira at Facebook office in Mumbai. Photograph: Sonakshi Sinha/Facebook
Are you going to do more women-centric films now?
Definitely! After Akira, we will do more women-centric films; not action films but an emotional and romantic film from the women's point of view.
If we have a family film, we always show it from the father's point of view but it will be totally different from the mother's point of view. I think, we slowly we need to change this.
Any plans of directing more Hindi films?
Right now, I don't have anything in mind as I am directing a bilingual film in the south. I want to produce Hindi films but no more remakes; I want to direct fresh scripts.
Is there any actor that you wish to work with in Bollywood? Have you pitched them a script?
I want to work with Aamir again and with Salman Khan. I have narrated a couple of scripts to Salman but it didn't work out.
I have a fresh idea which I will start working on after my bilingual film. I don't want to direct Salman in a remake.
[source;rediff.com]