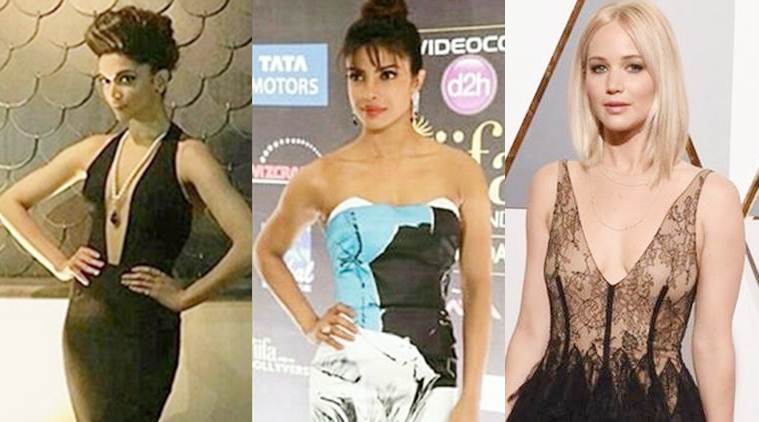 Deepika Padukone is not just India's top-paid actress, she is also among the top 10 highest-paid actresses in the world, according to Forbes. The actress is the only Indian on the list with earnings of $10 million. The list is headlined by Jennifer Lawrence, with total earnings of $46 million.
The one Bollywood star we expected to see on the list was Priyanka Chopra. She is the lead star of ABC's Quantico and will be soon making her Hollywood debut with Dwayne Johnson-starrer Baywatch. However, Priyanka failed to make it to the top 10. Media has been abuzz with a rivalry between Priyanka and Deepika given the fact that both the actresses will be seen making her Hollywood debuts soon. Deepika will be seen in xXx: The Return of Xander Cage with Vin Diesel.
Meanwhile, Deepika is in august company, other than Jennifer, Julia Roberts, Charlize Theron and Friends star Jennifer Anniston are also on the top 10 list. The 30-year-old Bajirao Mastani actress is described by Forbes as having "scored box office gold." The magazine also mentions her Bollywood movies such as Bajirao Mastani and Piku.
While she earns less than her Hollywood counterparts for roles, Deepika "compensates with over a dozen lucrative endorsements", which "have helped her hedge against a deep pay gap in Bollywood".
Forbes said the Bangalore-bred Deepika, who made her Bollywood film debut in 2007 with Shah Rukh Khan-starrer Om Shanti Om, has "since starred in several films that have crossed the $150 million or 100 crore mark "a barometer for box office success in India". Deepika "has also become something of a style icon" launching her own label for an Indian online shopping site.
Making her Hollywood debut along Fast and Furious star Vin Diesel, she will be seen in 2017 in xXx: Return of Xander Cage. Noting the gender pay gap in the Indian movie industry, "a discrepancy not uncommon in Hollywood" also, Forbes said though a top Indian male star might earn close to $5 million a movie, prominent Indian actresses rarely clear $1 million a film.
Bringing up the front of the list is Jennifer Lawrence, who topped Forbes magazine list of the world's highest-paid actress for the second straight year, earning some $46 million. Lawrence, 26, took the top spot largely through a slice of the profits from the final movie in the Hunger Games franchise, as well as a big upfront fee for her forthcoming space adventure movie, Passengers, Forbes said.
However, like Deepika, Lawrence's estimated payday was likely well below that for Hollywood's leading men, Forbes said, despite the actress sparking a debate about the gender pay gap last year. She declared she was "finished being adorable" when it came to negotiating better deals for herself. Lawrence's 2016 earnings dropped 11.5 percent from her 2015 total of $52 million.
Forbes will release its list of the world's highest-paid actors on Thursday. Last year Robert Downey Jr. topped the list with an estimated $80 million. Neither, however, came close to pop star Taylor Swift, who was named the top-earning celebrity of 2016 earlier this year, pulling in an estimated $170 million from record sales and her world tour. Melissa McCarthy took home $33 million in earnings, up $10 million from 2015 in part from her payday for the controversial female reboot of Ghostbusters. It was the biggest annual paycheck to date for the star of television comedy, Mike and Molly. McCarthy, 45, also launched a clothing line for sizes 4 to 28 after becoming frustrated at the outfits available for larger women.
Scarlett Johansson of Captain America: Civil War was third at $25 million, down nearly 30 percent from 2015. Together, the world's 10 highest-paid actresses tallied a combined $205 million between June 1, 2015 and June 1, 2016, before management fees and taxes, Forbes said. The estimates include earnings from movies, TV and endorsements from cosmetic and other companies. The rest of the top 10 of this year's highest-paid actresses are Jennifer Aniston ($21 million), Fan Bingbing ($17 million), Charlize Theron ($16.5 million), Amy Adams ($13.5 million), Julia Roberts ($12 million), Mila Kunis ($11 million) and Deepika Padukone ($10 million).
[source;indianexpress]