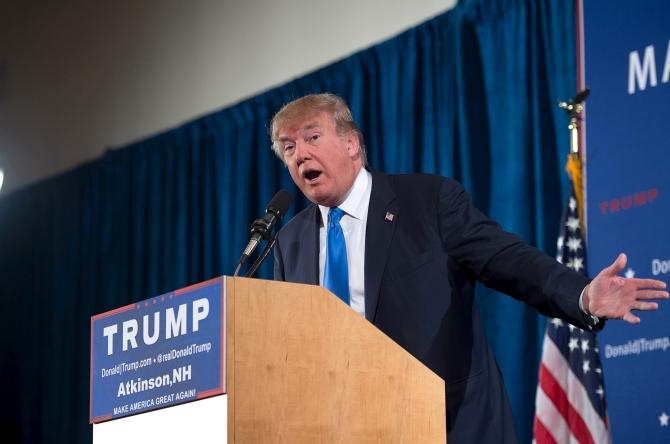 India's two leading software services companies, TCS and Infosys, have announced their first-quarter results for the current financial year.
The results indicate that they are cruising along at a pace commensurate with a global economic environment that continues to be sluggish and problematic.
This challenge has been made a little more daunting with the addition of two new uncertainties.
Foremost among them are the utterances of Donald Trump, the presumptive Republican candidate for the United States presidential elections, indicating that addressing domestic anxieties are his key concern.
In contrast, aiding growth in both the global economy and international trade is barely visible on his agenda.
A Democratic victory under Hillary Clinton will make for continuity, but there is little enthusiasm for her candidature either.
The second source of uncertainty is Brexit, the British electorate's decision to exit the European Union.
Indian IT companies have traditionally used Britain as a gateway to Europe, but if this changes, a new presence will have to be set up within the European Union.
The additional problem is that the uncertainties that Brexit has raised will not go away soon.
The numbers also indicate that TCS and Infosys are going forward with respect to both the top line and bottom line at the pace they have set for themselves in recent quarters.
Despite this, analysts have latched on to certain figures to greet the TCS results with subdued approval and Infosys results with open disappointment.
The latter can be explained by the expectation that the fast clip that Infosys has shown ever since Vishal Sikka has taken charge at Infosys will continue indefinitely.
The company's assertion — that its quarterly fluctuations should be ignored and its five-year vision remains intact — makes sense.
It is important that both the firms have their sights fixed quite far ahead and are focused on acquiring capabilities in the emerging areas of cloud and big data.
While Tata Consultancy Services is maintaining the share of its revenue that it gets from digital even as overall revenue grows, Mr Sikka is well set to equip Infosys with innovative capabilities, which will meet customer expectations of smart solutions and will be far removed from the earlier routine of code writing on a time and material basis.
What should seriously engage the Indian software leaders is the continuing strength of opinion in the US against the use of Indian engineers at client sites in the US.
Bills introduced in the US Congress and proceedings at committee hearings have been driven by resentment against foreign workers, even as there is healthy growth in jobs in the technology sector.
There is an entrenched sentiment among sections of Americans and the US media against foreign skilled workers replacing US workers at lower wages.
The import of cheap Chinese goods, which means bad news for manufacturing jobs in the US, is not a big worry.
But, the import of cheap skills in services that have to be rendered on shore is resented.
Inconsistent as this may seem, Indian software firms must plan to use more of skilled workers available in the US and still maintain healthy margins.
The resentment against foreign technology workers ties in with Mr Trump's ability to put his finger on anxieties prevailing among sections of the American electorate.
Indian firms have to recognise this and plan accordingly.
[source;rediff.com]