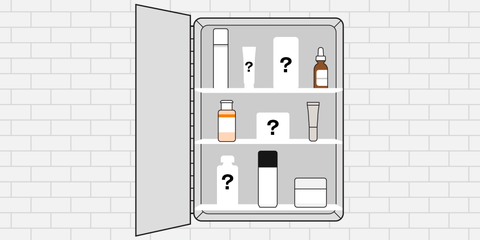 f your ideas about skincare come from Reddit, you might think it's a dark rabbit hole of science akin to astrophysics or neurology. If your opinion comes exclusively from the men's personal care aisle of your local big box store, you probably think one multi-use product can do everything (as long as it contains charcoal). But the reality of skincare lies somewhere in between.
Thanks to the sheer volume of product options, skincare can be daunting at best and confusing at worst. Maybe that's why many guys have no skincare routine to speak of—they don't want to put in the effort to figure it out. Or maybe they just don't care. Well they, and you, should care. Good skincare is one of the most powerful tools we have against most of the common issues men face on their faces: acne, wrinkles, even sun damage. And in both the short and long term, it could mean the difference between someone saying, "Wow, you look great!" as opposed to, "Oh, have you been getting enough sleep?"
Effective skincare takes more than just washing your face with whatever soap you have lying around and hoping for the best. It's like anything worthwhile: it takes commitment, consistency, and care, not to mention a healthy amount of experimentation till you find the right products for you. That's why I'm here; this is a safe space and no one here is expecting you to know the difference between hyaluronic acid and niacinamide overnight.
And anyways, building a skincare routine from ground zero takes only a few simple steps, and you'd be surprised by how much of a difference you'll see after just a few weeks of following them. I'm going to lay it all out—from beginner to advanced—because chances are, once you see your face after a few weeks of moisturizer, you won't ever want to go back.
Beginner
You've never washed your face with anything other than hand soap and never used, much less bought, a moisturizer.
Step 1: Facial Cleanser
When we think of clean skin, we're conditioned to expect a dry, squeaky-clean feeling. That might feel good on your body, but that same feeling on your face is actually bad. It means your skin's protective barrier is disrupted and you've stripped away good oils that keep it moisturized. Instead, use a specific facial cleanser that contains moisturizing ingredients, but still has a dose of salicylic acid (and maybe even witch hazel) to gently control oil. Use it twice a day (morning and night).
Step 2: Eye Cream
Eye cream is like the Swiss army knife of a man's skin care routine: it's a simple tool that can fix a whole lot of problems. Dark circles? It can help get rid of them. Puffy bags from a rager list night? It can send those packing. Starting to see wrinkles and fine lines? Eye cream can keep you looking fresh. Eye skin is thinner than on the rest of your face, so it needs more concentrated ingredients, and tends to lose moisture quickly and easily. Start using an eye cream morning and night after cleansing, even if you don't do anything else (but you should do other stuff too, so keep reading).
Step 3: Moisturizer
The biggest reason I hear guys say they don't wear moisturizer is that they don't like how it feels on their faces. I get that. Who likes to feel like you have glop all over your mug all day? But finding a moisturizer you can tolerate is easy (there are more lightweight formulas coming out every day) and wearing one will, at the very least, keep your skin from feeling dry, and at the most, help it maintain moisture that will keep it looking good for years to come. Look for words like "lotion" or "gel" instead of "cream" on the label if you're a beginner.
Step 4: SPF
You should be wearing sunscreen every day. Seriously. UV rays from the sun, which we all encounter every day unless we are shut-ins or vampires, not only cause skin cancer, but are also the biggest factor in our skin's aging. Daily sunscreen is the most effective anti-aging product we have. But most guys don't wear it for the same reason as moisturizer ("I don't like how it feels" *crying face emoji*). That's no longer an excuse. Instead of using a moisturizer that has a tiny amount of SPF, look for a sunscreen that has skin-hydrating ingredients. That way you can wear it in addition to your moisturizer (more hydration never hurt anyone), or on its own occasionally, like when it's hot.
---
Intermediate
Congrats: you've learned how to wash your face like an adult and you even found a moisturizing sunscreen you don't mind wearing every day. It's time to graduate to the next level.
Step 1: Chemical Exfoliator
Regular exfoliation is important because it gets rid of dead skin cells that stick around on the surface of our face where they can clog your pores, keep products like moisturizers from working their best, and make your skin look dull. But before everyone comes at me saying that exfoliation should be in the beginner section, hear this: men exfoliate every time they shave. That means some of us exfoliate every single day without realizing it. If you are going to exfoliate on purpose (which most of us should do about once a week), don't use scrub, which can be too harsh. Instead look for an exfoliator containing alpha hydroxy acid, which will slough away dead cells more gently.
Step 2: Serum
If your skincare routine were a smoothie, serum would the wheatgrass shot (or whatever booster you want, I don't know your life). Serums are more potent than your daily moisturizer, and are meant to impart active ingredients and nutrients more quickly and effectively. The good news is that no matter your skin concern, there is a serum for that. The bad news is that it can be hard to know what you need. If you're new to the serum game, look for one that addresses a variety of issues: They'll usually contain hydrating and skin-building ingredients that all skin can benefit from. Use it twice a day, after your cleanser and before your moisturizer.
Step 3: Mask
There are hundreds of different kinds of masks, and what they all have in common is that they're meant to supplement our core skincare routines. They're like serums, in that they deliver more concentrated ingredients and target specific skin concerns. The best kind of mask for men, especially beginners, is a clay mask. These masks use ingredients like clay and mud to cleanse deep into your pores (deeper than your twice-daily cleanser can go) and remove built-up dirt, oil and debris.
---
Advanced
There's not a dead skin cell in sight and your pores are clean AF. Maybe you even have multiple serums. Welcome to the big leagues.
Step 1: Retinol
Some people confuse retinol with an exfoliator, but it's actually a form of Vitamin A that helps cell turnover (growing new skin cells and getting rid of old ones) and attacks signs of aging. The reason it's an advanced move is because it can be harsh on sensitive skin and if you wear it, you absolutely must wear sunscreen every day (it can make skin more sensitive to light). It can also make skin flaky, especially at the beginning, so look for a gentle version that also contains moisturizing ingredients.
Step 2: Toner
If you have oily skin or struggle with acne, toner can be an invaluable step in keeping your skin clear and shine free. Use a cotton pad to swipe some of it over your face after cleansing to deep clean your pores and get rid of excess oil and buildup. Or if you're not a cotton pad man, use one in a gel form.
Step 3: Night Cream
Wearing a special moisturizer at night may seem crazy at first, but while you're resting, your skin is trying to rebuild itself. Night creams are typically very, very hydrating and contain specific active ingredients like peptides to help this regenerating process. Wearing the same moisturizer during the day and night is fine, but having a separate cream at night is a pro move.