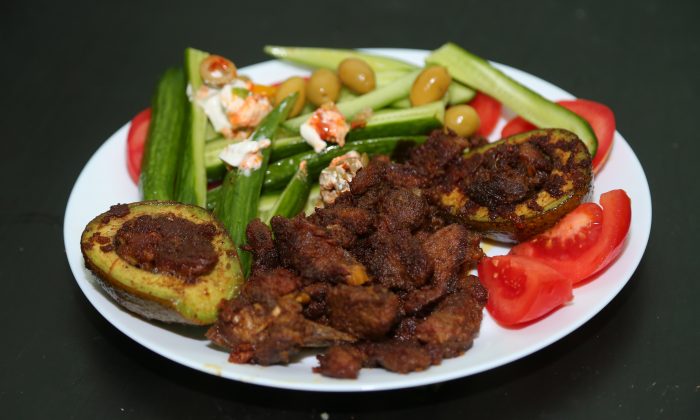 An Australian mother has said that her daughter, Grace, who was born in 2015, has never eaten processed carbohydrates and is on the Paleo diet. But one expert said that they don't recommend the diet for an infant.
The girl, who was 13 months when her mother Shan Cooper gave an interview to the Daily Mail, eats meat, fish, eggs, fruit, and vegetables. The diet bans grains and dairy products and allows only foods that a "caveman could scavenge for," the Mail noted.
Cooper said her daughter has only been sick once and "loves it," referring to the diet.
In 2018, she wrote a blog post, suggesting her daughter, Grace, still is on the diet.
According to the Mail's writeup: "Breakfast: Eggs (fried in coconut oil, scrambled, or even poached) and left-over vegetables from the night before, including roasted sweet potato, carrots, potatoes and steamed broccoli."
"Lunch: Organic roast chicken as well as roasted, including those mentioned before, and steamed vegetables such as broccoli if she feels like it (all leftovers from the evening before)," it says.
For a snack, her mother said that the girl will eat any fruit, including bananas and strawberries.
"Dinner: Spaghetti bolognese with organic beef, using zucchini noodles in place of pasta noodles with organic tomato sauces,' the website said.
Cooper claimed that her daughter "spends a lot of time around other kids who are sick all the time – who have snotty noses, coughs, colds – but she just doesn't pick it up."
"It's certainly not because I'm shielding her from any of that stuff," she continued. "I absolutely think a nutrient dense diet is giving her a strong immune system."
The mother stated that she had long struggled with various food allergies, including dairy, gluten, and processed foods.
"I just got sick of not feeling great," Cooper noted. "That had become my normal and (I decided) that wasn't going to be normal anymore."
Not Recommended?
A dietician, Dr. Rosemary Stanton, said she doesn't recommend that diet that Cooper's daughter is following.
"It's really not usually a good idea to put a child on such a restricted diet, particularly when there's no valid grounds for it," she said, adding that "depriving her child of grains and legumes will make it much more difficult to achieve a balanced diet."
The Paleo diet, meanwhile, "typically includes lean meats, fish, fruits, vegetables, nuts and seeds — foods that in the past could be obtained by hunting and gathering. A paleo diet limits foods that became common when farming emerged about 10,000 years ago. These foods include dairy products, legumes and grains," according to the Mayo Clinic.
The Clinic notes that there are concerns that no dairy, legumes, and grains could pose a problem for some individuals.
"The primary difference between the paleo diet and other healthy diets is the absence of whole grains and legumes, which are considered good sources of fiber, vitamins and other nutrients. Also absent from the diet are dairy products, which are good sources of protein and calcium," the website says. "These foods not only are considered healthy but also are generally more affordable and accessible than such foods as wild game, grass-fed animals and nuts. For some people, a paleo diet may be too expensive."
["source=theepochtimes"]