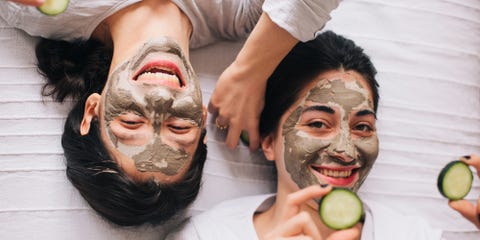 By now, you probably have a skin-care routine that works for you. But in case you don't — or you're looking to upgrade yours — make sure your new regimen contains these four very important ingredients.
1. Sunscreen
If you still don't use sunscreen on a daily basis (Why not?!), you should seriously start. "Sunscreen is your first line of defense against ultraviolet (UV) light exposure and free radical damage, which can cause both premature aging and skin cancers," says Dr. Joshua Zeichner, director of cosmetic and clinical research at Mount Sinai Hospital's department of dermatology. "Even small amounts of incidental UV light exposure add up over a lifetime." Translation: Start using SPF now, because even if you're walking from your car to the mall, you're still getting sun.
Hate the way sunscreen feels on your skin? You can definitely use foundation that has sunscreen built in, but it may not have a very high SPF. If you're looking for sun protection that won't compromise your makeup base (but also won't leave you looking chalky), try a sheer sunscreen milk or invisible gel, like Julep's No Excuses Invisible Sunscreen Gel or EltaMD Skincare UV Clear Broad-Spectrum SPF 46. Both have high levels of SPF and are gel formulas that dry totally clear, so you can wear your regular makeup without worrying about any ashy or streaky residue that traditional formulas can leave behind.
2. Antioxidants
OK, let's take it back to high school chemistry for a second. Picture this: There are unstable groups of atoms in the air called free radicals that oxidize and break down when they come in contact with oxygen. Think of an apple slice that's been on the kitchen table for an hour — it turns brown because oxygen hits it and breaks down its chemical structure.
Antioxidants, however, help prevent the oxidation process from happening. Vitamin C is a particularly potent one, says Dr. Zeichner. Not only does it stabilize the free radicals and protect your skin from damage, it adds plenty of other anti-aging benefits as well. For example, "it has been shown to help even irregular skin tones, brighten complexions, lighten dark spots, and improve the appearance of fine lines and wrinkles by helping to stimulate collagen," he explains. Basically, it does it all to keep your face looking flawless. You can find vitamin C as a solo star ingredient in serums, creams, and mists, or paired with other powerful antioxidants, such as vitamin E, in products like PCA Skin's C&E Strength Max. Or try an antioxidant-rich oil cleanser, like Julep's Love Your Bare Face Hydrating Cleansing Oil. It melts away dirt and makeup (no need to use makeup remover beforehand) while still being super-gentle on your skin.
3. Topical Retinoids
Topical retinoids refers to a group encompassing vitamin A and its many derivatives, with retinol being the most common. Retinol has a multitude of benefits, like increased collagen production, improved appearance of fine lines and wrinkles, decreased pore size appearance, fewer breakouts, and clearer complexions. Seriously, there's nothing retinol can't do for your skin.
Depending on the strength of the retinol you want or need, you can ask your derm for a prescription or hit up a drugstore for an over-the-counter (aka non-prescription-strength) version, like RoC RETINOL CORREXION Deep Wrinkle Night Cream. Warning: Retinols make your skin more sensitive to sunlight, so definitely look for one with built-in SPF, or make sure to apply (and reapply!) sunscreen to avoid irritation.
4. Oils
One of the great things about facial oils (aside from the fact that there are so many to choose from!) is that they're made without water or filler ingredients. "So, when you're using an oil, you're using 100 percent real, efficacious ingredients," says Julep founder and CEO Jane Park, who swears by Julep Boost Your Radiance Reparative Rosehip Seed Facial Oil to help fight dryness everywhere — skin, hair, and nails. Think of it as the ultimate multitasker.
The best part: You don't have to use oil as a standalone; it plays an important role in other products too. For example, in addition to extracts from the jasmine flower, Clark's Botanicals uses a mix of marine extracts and fruit oils in its line-up of products for increased hydration and brightening of the skin. Its Intense Radiance Mask also contains a good-for-you combo of ingredients, like avocado oil, jasmine and cucumber extracts, and shea and mango seed butters — all of which leave your skin looking moisturized and dewy.
["source-cosmopolitan"]