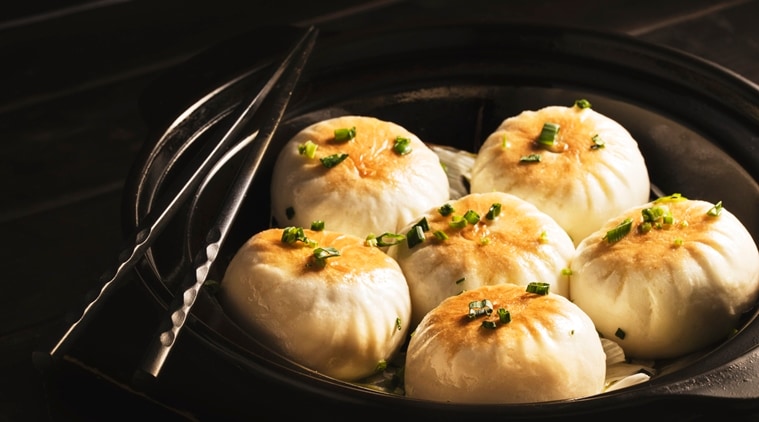 If you're willing to open up to a palate other than typical north Indian dishes, try stopping over at Asia Seven in this suburb of the national capital to sample piping hot crystal clear dumplings, tempura rolls, sushi and more.
My feast began with a pomegranate and ginger-infused chilled drink that helped me unwind after a hectic day at work. These offerings are a part of Asia Seven's new Pan Asian menu.
"We have introduced some very exciting and innovative items to the menu. Our latest additions include watermelon and Daikon salads (Japanese salad) and a wonderful selection of traditional dishes from Pan-Asian countries of China, Thailand, Japan, Korea, Malaysia, Vietnam and Myanmar," corporate chef Vineet Manocha told IANS.
Out of an array of scrumptious dumplings, I tried their prawn hargow which is a traditional Cantonese dumpling served in dim sum.
The soft texture of the dumpling and the perfectly-cooked prawn set an example of what to expect from the restaurant.
Of the other dumplings that I tried were the chive and water chestnut dumplings, chicken and pokchoy, vegetable basket, vegetable and peanuts.
For the non-vegetarians, a highlight is the lip-smacking red snapper. The presentation of the fish transports you to the scene in the Bollywood film "Queen", where Kangana Ranaut's character accidentally orders a snapper with its eyes intact and a cherry tomato holding up the roof of the fish's mouth.
No matter how delightful the fish tasted, it's a little difficult to shake the image of the fish off the mind. But, of course, relishing the red snapper is an acquired taste.
The other offerings in the interestingly designed menu were duck pancakes, chicken and mushroom bao, chicken lollies in yuzu sauce, corn cakes, pork in chu hu sauce, Asia Seven Panang curry, lamb chop, pomfret, seafood platter and more.
However, not everyone enjoys sushi, sashimi and tempuras.
To which, Manocha said: "The evolution of sushi and tempura in the country is primarily a result of Indians travelling a lot more and hence being more adventurous with their palate."
"The number of Pan-Asian food consumers in India has increased phenomenally. Sushi and tempura are a strong representation of the Japanese culture. Though tempura is an important part of Japanese cuisine, sushi is pretty versatile and healthy.
"One can play around with sushi and use creativity, which makes it really popular amongst the people," Manocha added.
After the healthy yet heavy meal, the coconut ice cream, which the restaurant churns out in its own kitchen, turned out to be refreshing. It left a long lasting taste of pure coconut.
But if you're not a coconut lover, choose from a New York cheesecake and a host of other sweet delicacies for your sweet tooth.
Asia Seven has a fine dining restaurant here and also a kiosk in Aerocity. They also deliver their delicacies in the Gurgaon vicinity.
[source;indianexpress]