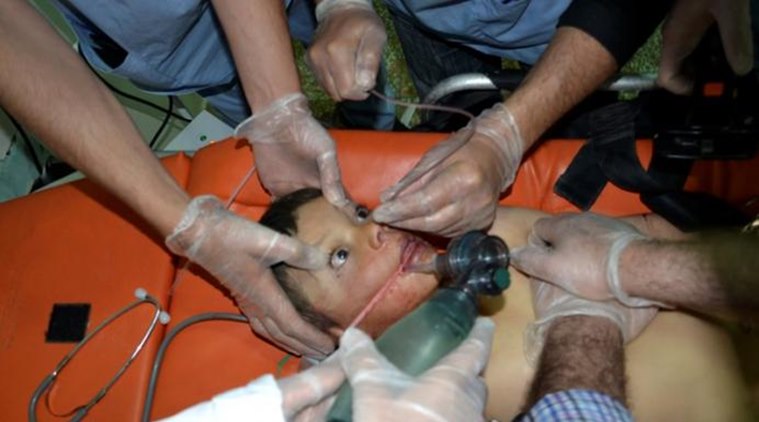 Russia said on Thursday it is prepared to work with the United States at the United Nations on how to respond to a report that blamed Syrian government forces for two chlorine gas attacks and Islamic State militants for using sulfur mustard gas.
The year-long UN and Organization for the Prohibition of Chemical Weapons (OPCW) inquiry, authorized by the Security Council, said Syrian Arab Air Force helicopters dropped toxic substances in Talmenes on April 21, 2014, and Sarmin on March 16, 2015. Both cases involved the use of chlorine.
It also determined there was sufficient information to conclude that Islamic State militants were the "only entity with the ability, capability, motive and the means to use sulfur mustard gas in Marea on 21 August, 2015."
"We have a joint interest in discouraging such things from happening, in preventing such things from happening, even in the fog of war," Russian UN Ambassador Vitaly Churkin said. "It's a very complicated report which needs to be studied by experts."
Churkin said he spoke with US Ambassador Samantha Power and they would "see what can be done on the basis of this report" by the UN/OPCW Joint Investigative Mechanism (JIM).
The report's results set the stage for a Security Council showdown between the five veto-wielding powers, likely pitting Russia and China against the United States, Britain and France over whether sanctions should be imposed.
"I saw … some in the media, predicting confrontation between Russia and the United States over it. It doesn't have to be the case, let me tell you, because JIM is the creation of the US and Russian delegations working together," Churkin told reporters.
French Foreign Minister Jean-Marc Ayrault said on Thursday the Security Council had to respond firmly. French diplomatic sources said Paris wanted to push for a resolution that would force Russia to accept that its ally, Syrian President Bashar al-Assad, had used banned weapons.
[source;indianexpress]