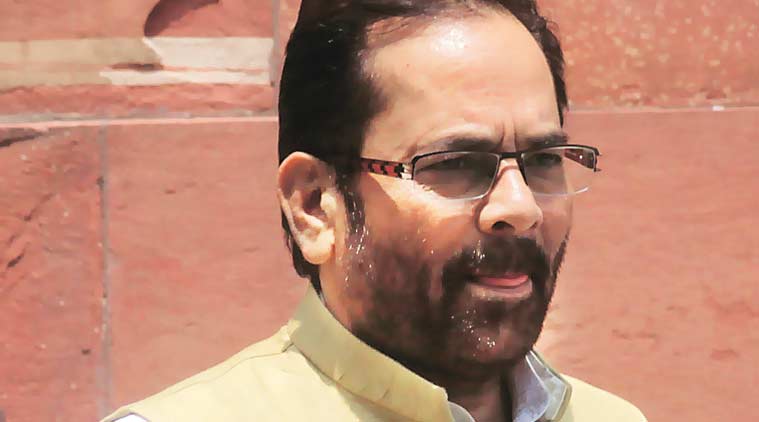 Irked over a remark by Union Minister Mukhtar Abbas Naqvi in Rajya Sabha on July 29, Opposition members including those from Congress stormed into the Well demanding an apology from him, leading to a near washout of the crucial Zero Hour.
Trouble began when Naqvi, replying to Anand Sharma's (Congress) remark that there was "frustration among youth" due lack of jobs, said there was a sense of optimism in the country but if there is "fustration and disappointment" in that party, he cannot help it.
Raising the issue of unemployment in the country, Sharad Yadav (JD-U) said Modi government has failed to honour its promise to voters of creating two crore jobs annually.
Endorsing his views, Sharma said it was serious matter and the situation is such that "there is frustration among the youth, jobs are not being created".
Sitaram Yechury (CPI-M) too voiced his concern over the employment situation in the country.
Disagreeing with the comments of opposition parties, Naqvi said "jobs are being created in every field. If Anand Sharma says that there is frustration and disappointment and if there is frustraction and disappointment among my friends in Congress then there is no solution for it".
The statement evoked sharp reactions from Congress, JD-U, SP and the Left members.
Slogan-shouting Congress and JD-U members trooped into the Well demanding an apology from the minister. SP members were standing in the aisle and Left members were also on their feet.
Deputy Chairman P J Kurien objected to members entering the Well, saying if there is anything "unparliamentary", it would be expunged. However, the protesting MPs did not budge. An angry Kurien said that "on pretext of slightest provocation", members cannot come into the Well.
Yechury said the minister should not name any particular party. Naqvi countered the protestors and asked "wasn't it unparliamentary to say that the country is frustrated".
Amid continued uproar, Kurien adjourned the House till noon.
When the House reassembled to take up the Question Hour, Naqvi maintained that he had not said anything unparliamentary but took the name of a party which should be removed from the record.
[source;indianexpress]