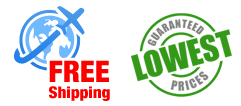 St.Botanica 100% Pure And Natural Lavender's Soft Calming Aroma Has Made It One Of The Most Popular In The Essential Oil Family. Its Clean Light Scent And Texture Make It One Of The Most Versatile Oils. Can Be Diffused For Aromatherapy Or Added To A Warm Bath. Now Lavender Is 100% Pure And Steam Distilled To Ensure High Concentrations Of Lavandula Officinalis
Peppermint Pure Aroma Essential Oil:
Peppermint is one of the oldest and most highly-regarded herbs for soothing digestion Research shows the inhalation of pepper-mint oil helps trigger a sense of fullness after meals, enhance your sense of taste and smell and improve concentration and mental activity Peppermint oil leaves a soothing, cooling sensation that can alleviate bodily discomfort.
Ylang-Ylang Pure Aroma Essential Oil:
Ylang Ylang essential oil is derived from the star-shaped flowers of the tropical Ylang Ylang tree and is used extensively in making perfumes and in aromatherapy.  In aromatherapy, Ylang Ylang is used to lessen tension and stress and to promote a positive outlook. Ylang Ylang is frequently used in luxurious hair and skin products for its scent and nourishing and protective properties.
Manufactured with World's Highest Standards. Manufactured in a ISO 9001:2008, HACCP Certified, WHO GMP facility
St.Botanica's #1 Essential Oils. World's Leading Natural Cosmetic Products
100% Natural, Pure and Safe Oils. This Product is not for Medicinal Use. This product is not diluted with chemicals, fillers, additives or other ingredients!
100% Original Aromatherapy Products Produced using only the highest quality extraction standards in the industry.
Product Ingredients:
Ingredients Of StBotanica Lavender Pure Aroma Essential Oil- It contains Pure Lavender Oil
Ingredients Of StBotanica Peppermint Pure Aroma Essential Oil- It contains Pure Peppermint Oil
Ingredients Of StBotanica Ylang-Ylang Pure Aroma Essential Oil- It contains Pure Ylang-Ylang Oil
Dosage/How to Use:
As per aromatherapy
VEG/NON-VEG: VEG
WARNING:
Pregnant or nursing mothers, children under 18 years of age and individuals with known medical conditions should consult a healthcare practitioner before using any dietary supplement. Store in a cool, dry place.
Exipry Date:
Best to use 3 years from the date of manufacture.
[source;Medindia]