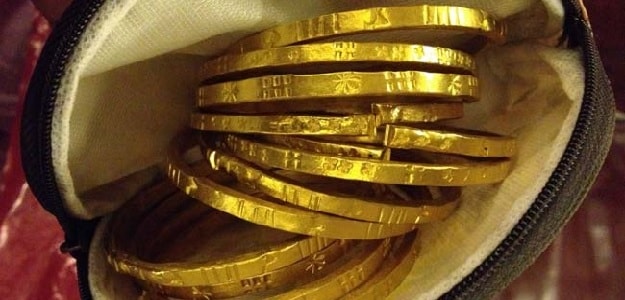 Mumbai: Gold buying in India during the key December quarter is likely to fall to the lowest level in eight years, hurt by poor investment demand and back-to-back droughts that have slashed earnings for the country's millions of farmers.
The sluggish demand could halve imports by the world's second-biggest gold consumer in US dollar terms in the final quarter, a retailer and two bank dealers said, putting further pressure on global prices that hit a five-year low earlier this month.
December quarter demand could fall to 150 to 175 tonnes, said Bachhraj Bamalwa, a director with the All India Gems & Jewellery Trade Federation, from 201.6 tonnes a year ago and a five-year average for the quarter of 231 tonnes, according to World Gold Council data.
The December quarter usually accounts for about a third of India's gold sales as it takes in the start of the wedding season as well as festivals like Dhanteras and Diwali, when buying gold is considered auspicious.
Two-thirds of demand comes from rural areas, where jewellery is a traditional store of wealth, but weak monsoon rainfall this year due to an El Nino weather pattern has eroded farmers' earnings and their purchasing capacity.
"I incurred huge losses this year as my corn and cotton crops were wilted due to drought," said Madhukar Patil, a farmer in the western state of Maharashtra, who had been planning to buy gold during Diwali.
A weak rupee has also kept local gold prices relatively strong compared with a slump in US dollar-denominated gold, further denting demand, while investment buying has stalled as investors see little chance of a quick price recovery.
"In the first half of November demand was good due to Diwali, but since then demand has significantly moderated," said Harshad Ajmera, proprietor of JJ Gold House, a wholesale in the eastern Indian city of Kolkata.
The Indian rupee has fallen over 5 per cent this year, restricting the drop in local gold prices to 5.5 per cent, compared with a 9.3 per cent drop in US dollar denominated gold.
India's gold imports, which account for nearly all of its demand for the precious metal, could fall to around $5.7 billion in the December quarter, the Federation's Bamalwa said. Two gold dealers forecast a similar fall.
Sluggish demand has been reflected in physical trading in India as bullion was offered at a discount even during Dhanteras, compared with a premium of $18 an ounce over London prices last year.
"Jewellers from rural areas are making fewer purchases. Their sales have been badly affected due to drought," said a Mumbai-based bank dealer with a gold importing bank.
($1 = Rs 66.4025)