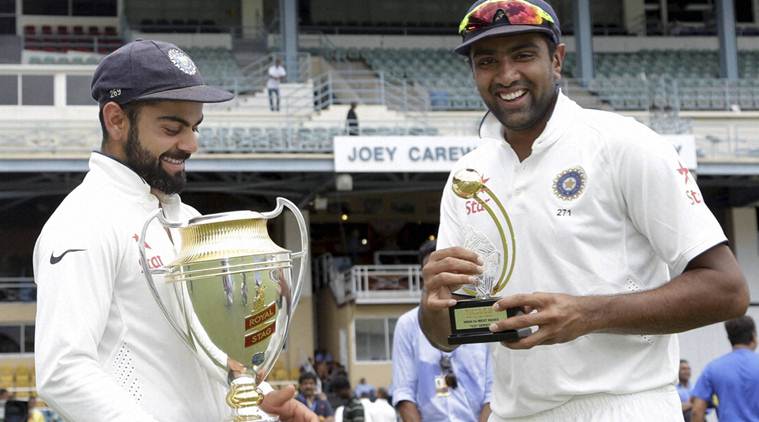 India skipper Virat Kohli says the much improved batting performance by the lower order  batsmen, particularly wicket-keeper Wriddhiman Saha, was the biggest gain of the West Indies series, which they won 2-0.
Kohli said the team is satisfied with the outcome of the series as the fourth Test ended in a draw after wet outfield led to abandonment of the match at the Queen's Park Oval.
"It's been a pretty good tour for us. We had come here looking to improve in a few areas and we have done that. For me, the biggest positive is Wriddhiman Saha getting runs in the lower order, plus R Ashwin coming good at no.6," Kohli said.
Both Saha and Ashwin had scored a century each in the third Test to help India recover from the top-order collapse in the first innings.
"I hope we can keep on improving this aspect of our game because there are positions, which matter a lot in Test cricket. Whenever teams have done consistently well in Test cricket, their lower order has always contributed. So, those were the areas for us to solidify," Kohli said.
Only 22 overs were bowled in the rain-affected Test, but India's team selection was once again a surprise.
Both Murali Vijay and Cheteshwar Pujara were included in the playing eleven as the visitors went in with four bowlers for the first time in the series.
Kohli provided the reasoning for the decision.
"We lost a Test in Galle (on the Sri Lanka tour last year) when we were a batsman short. Even in the home series against South Africa, we were struggling on quite a few occasions because of lack of a batsman. So we wanted to try this combination out, though the game didn't happen here.
"If we play four specialist bowlers at home we may not need the fifth, because if you play with three frontline spinners at home, it probably does the job for you. So we thought even if we play two spinners and two pacers, Rohit (Sharma) and Vijay can give those 10 extra overs. Away from home you need all your best bowlers playing because you don't need how the wickets will play.
"We are going to play world-class sides at home who are going to capitalise on the window of chance we give them. So it was just something we wanted to try out. We should be flexible," he explained.
Talking about the 2-0 result in the series against a side ranked eighth in the Tests, the skipper said, "The amount of cricket we played, I think it's a pretty fair representation."
"We lost a day of cricket in Jamaica. But let's give credit to West Indies who showed resilience and played really good cricket on day five there. That's what you expect from a Test playing nation. Here (Trinidad) we didn't have a game and we couldn't control the result. The other two games we played, we won convincingly and that pleased the whole squad."
Talking about India's lost chance to remain at the top of the ICC Test rankings, Kohli said they do not play for the rankings.
"Had Pakistan not won, had we drawn the last game, the rankings would have looked different again. It is a very short-term incentive because we understand that the points' table is very close. But as a team we think we can assess ourselves at the end of this season, not one Test at a time.
"The other teams have played more games than us and we need to play as many games to be able to compare after the whole season is done. Rankings keep going up and down, and you do n't play for rankings. You want to be the best side in theworld and that has always been our aim."
Team India now flies off to Florida to play two T20s against the West Indies this coming weekend. But the Test cricket will resume soon, with New Zealand travelling to kick off the long-haul home season. The first of the 13 Tests begins in Kanpur on September 22.
"We needed improvement here in the lower order. If we play five bowlers then you know the top order can bat freely and will not play in pressure. So we can put up good totals. Bowlers are taking responsibility, bowling to a plan and they are not selfish.
"It is very important to be selfless in the team and it is a quality of this team. This team has developed this attitude and we have to keep at it if we want to become the best team in the world.
"If we drift from this plan, and drift into our individual preparations, then the plan gets disturbed. We have addressed that and responded to it. That's why we have won quite a few matches in the last 15 months," Kohli signed off.
[source;indianexpress]