Ever felt cheated by course measurement? We've all been there, but it's highly unlikely to be an actual mistake. As always, share your triumphs, PBs and woes below the line. Just check your GPS in by the door, it doesn't work down there …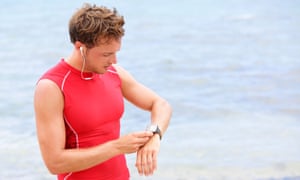 A busy weekend of races – Brighton half, a new Kingston half, Cambridge half … was your glass half full? (Sorry). As a member of a running club and of various Facebook running forums, I spent Sunday night watching the proud updates and PBs roll in. One thing I noticed rather a lot of was people claiming that courses were "definitely a bit long".
This always make me raise a sceptical eyebrow – with a few, rare exceptions where the organisers or marshals have really made a mistake, this is almost always nonsense. Courses are measured accurately – and just because your Garmin might disagree, that doesn't mean you are right and they are wrong. Sorry again.
Firstly, courses for UKA-affiliated races are measured in accordance of IAAF procedures. Er wait, that suddenly sounds less convincing than it used to … Anyway, moving on swiftly, the course measurer uses a special counter on a bike wheel. According to this fascinating (no, really!) website, "the overall accuracy of measurement is normally a little better than 1 part in 1000, which is equivalent to 10 metres in a 10K or 42 meters in a marathon".
Then there's your GPS. Firstly, you are unlikely, unless you are at the very front of the field, to be able to "run the line" – ie the shortest route through the course, as measured by that bike. Secondly, well, come on. Surely everyone with a GPS has come back from a run, looked at the map and thought "eh?". I've run on water with mine, for heaven's sake. GPS measurements can be thrown out by tall buildings, or tunnels, or just by your watch being in a bad mood. They are amazing devices, and I wouldn't be without mine, but anyone who is trying to hit a specific time in a race should turn off the GPS and use it as a stopwatch, because it's the time you go past the mile marks in that counts, not where your GPS thinks the miles are. And, of course, I speak as someone who missed out on the big "sub-three" by eight seconds on a marathon course that my own GPS reckons I ran 26.42 miles on.
Anyway, that rant over, tell me all about your triumphs and despairs. My weekend contained considerably more of the latter than the former – having done a brutal session on Friday, my legs still seemed to be protesting yesterday and my 21-miler ended up being 20, getting slower and slower. At about mile 16 I decided to give up running and take up tennis. By mile 18 it was "sod any sport, I'm going to become a pastry chef". By 20 I had no room for thoughts other than: "Ow ow ow."
[Source:- Thr Gurdian]