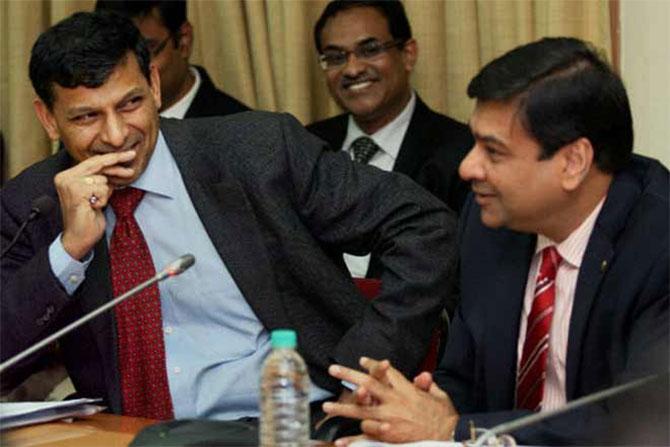 When all the hullabaloo was going on about Dr Raghuram Rajan's continuance as the Reserve Bank of India Governor, in one of my more lucid and pragmatic moments the thought occurred to me that the best thing for a politically besieged PM to do was to play safe and pick someone from within the RBI.
I know this can sound less than complementary to Dr Urjit Patel, but it is not my intent to demean his credentials. Rather it is a reflection of the sad and unnecessary controversies that were visited upon an apolitical institution like the RBI and to some extent, the poisoning of the chalice from which Dr Patel has now to drink.
Dr Subramaniam Swamy's public and personal attacks and rather unseemly antics put paid to the chances of Dr Rajan continuing as well those of a couple of eminent economists possessed of impeccable credentials succeeding him. But I am happy to note that the new governor designate appears to have received the gadfly's seal of approval.
Good sense appears to have prevailed in the government as to the question of appointing a banker to this critical position.
Bankers are too invested in maintaining the status quo in the system, especially as regards the much-publicised NPA (non performing assets) issues to make clear, forward looking and sound economic decisions concerning banks and how they are supervised.
Besides, there isn't a banker at the top today who is credited with any economic know-how, beyond the mouthing of obligatory inanities following the periodic RBI Reviews (if you don't believe me, please read their comments in the leading newspapers on Dr Patel's appointment).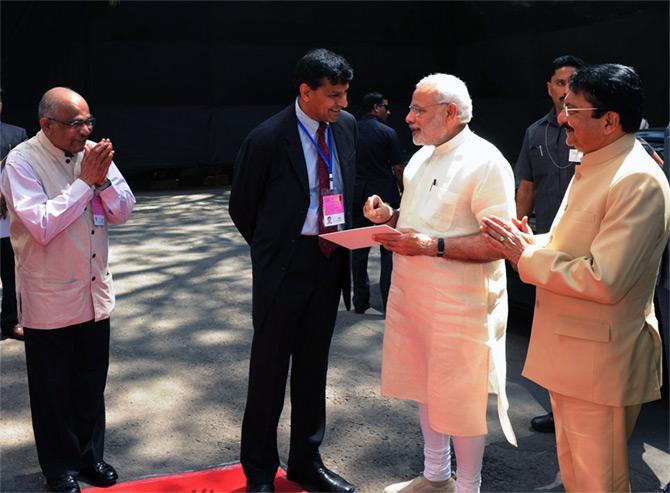 IMAGE: Prime Minister Narendra Modi with RBI Governor Raghuram Rajan. On the left, former RBI Governor Dr Y V Reddy.
A safe pair of hands is not a bad thing in central banking and Dr Patel appears to be much more than merely 'safe.'
If there's one thing that any central banker must achieve, it is fostering confidence: Confidence in the economy, confidence in the financial markets in general and in the soundness of the banking system in particular.
A high profile, capable but controversial rock-star is bound to willy-nilly attract attention of the unwelcome sort. Being wounded is sufficient to shake the confidence of the person as well as the institution he represents.
Dr Swamy knew this when he was shooting to wound, perhaps even to kill. By casting aspersions on Dr Rajan, he made sure of the latter's exit. By laying out his yardstick for all to see, and announcing that they would be measured, he fatally wounded some others in the running to succeed Dr Rajan.
His actions have also placed a heavy burden on the new incumbent and to some extent narrowed the options available to him.
Dr Patel's status as an 'insider' should go some way in neutralising the 'swadeshi' Gentlemen of La Mancha ever ready to tilt at imaginary Westernised Cultural and Policy predilections. But that does not let him off the hook as far as public and political expectations are concerned.
The agenda has already been set by the likes of Dr Swamy with their shrill, peevish and simplistic demands for interest rate reduction.
It will be interesting to see how Dr Patel handles the gadflies with the maturity of egregiously petulant three year olds. That Dr Patel does not, in so far as we can tell, cause society matrons to gush like hormonal teenagers can only be a good thing for him. Look where their febrile imaginations and breathless prose took his predecessor.
Dr Patel's hitherto low profile in the media should be a blessing and should help him get on with his job without crossing swords with the puffed-up political class and a pompous press.
On the minus side, he would be very hard put not to grant the political wish for lower rates. It would be a miracle if he could hold the rates. But then Miracles have been known to happen.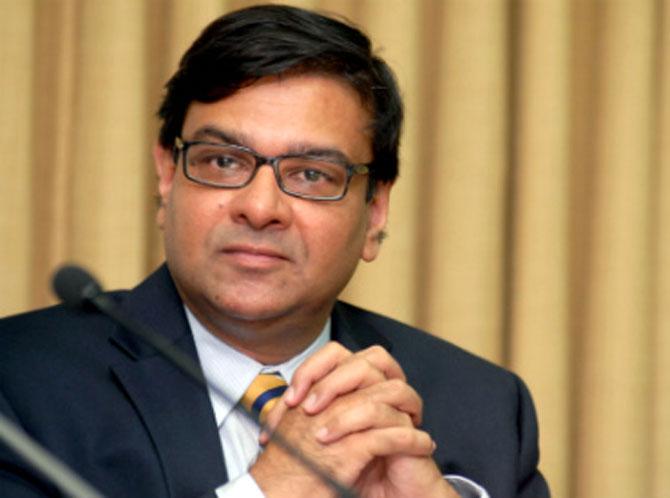 IMAGE: 'Subramanian Swamy's actions have placed a heavy burden on the new incumbent and to some extent narrowed the options available to him,' feels S Muralidharan.
Surely the following must be top of any one's list: Interest rate, Inflation and Banks (and their NPAs). I would add RBI's relationship with the government to that list.
Top of the agenda will, of course, be the demands for interest rate reduction. This is fraught with political sensitivities and as I mentioned earlier on, Dr Swamy has more or less ensured compliance with his wishes.
Are interest rates the only factor holding up growth? We are being told by the men of La Mancha that it is so, to the singular exclusion of all other factors.
The parliamentary logjam and the competitive vitiation of the Indian polity and public space in order to score quick and cheap political points would deter anyone looking for an investment avenue even if they had a billion dollars burning a hole in their pocket.
Likely that the lack of growth is due to the lack of investment which in turn is probably due to the lack of adequate modern infrastructure. Creating infrastructure itself will grow jobs massively.
How many kilometres of roads are we laying everyday? With the chasm between the Centre and the states ever widening, is there a congruency of thoughts and a clear division of responsibilities in commencing and completing infrastructure projects, especially land acquisition?
States are being run on populist local issues, the solution to which usually seems to involve massive dollops of freebies.
Rate reduction will certainly enrich the already rich, but will it make a better life for the hoi polloi? These are political questions, but Dr Patel can hardly hope to dodge answering if he wishes to do the right thing.
[source;rediff.com]