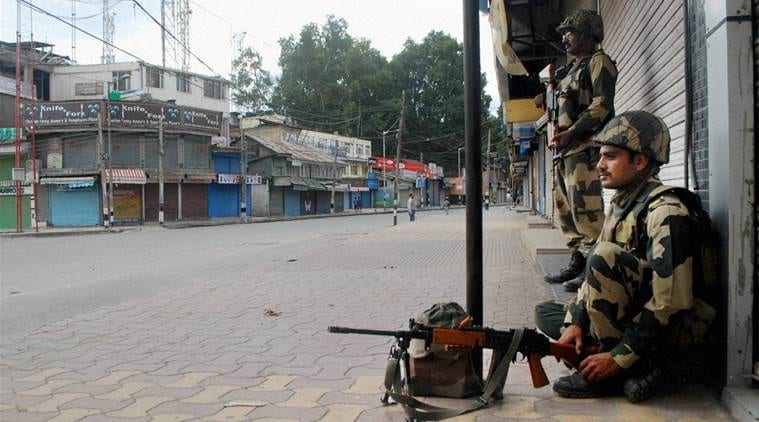 The Supreme Court Friday said that nobody can be allowed to flare up tempers or incite violence in the Kashmir Valley and added that those acting against the interest of the country should be put behind bars.
"You (government) cannot allow people to create trouble there…you take actions if anybody incite people or works against the interest of the country," a bench led by Chief Justice of India T S Thakur told Solicitor General Ranjit Kumar.
The observation came as the bench suggested Jammu and Kashmir National Panthers Party (JKNPP) leader Bhim Singh, who has sought imposition of Governor's rule in the troubled state, to visit Srinagar and assess the ground reality.
"We will ask them (government) to arrange for your accommodation in Srinagar. You can meet local people and you will be assisted by divisional commissioner so that you can assess the situation and submit a report to us," the bench said.
On his part, Singh, also a senior lawyer, said that he was willing to go to the Valley but he had been detained 52 times before when he tried to enter Kashmir. "Let them allow me to enter Kashmir. I will talk to Hurriyat leaders too," he replied.
At this, the bench said: "We are not stopping you from talking to local people or Hurriyat. It is a free country and anyone can to talk to anyone but we will not give you any license or authorization for your political angle."
When asked, Solicitor General Ranjit Kumar said that he was not aware of the reasons behind Singh's detention and that he would have to check with the state government. The bench replied: "You should let him go. He has some presence there. But if he goes there to create trouble then you take action against him… you can put him behind bars. Nobody is above law."
Kumar said he would facilitate Singh's visit to the Valley to enable him play a "constructive role" after the court said it would want to do what it can to "reduce the pan and sufferings of the people in Kashmir".
The apex court would take up the matter after two weeks, during which Singh is supposed to prepare a report in response to a status report submitted by the central government in the first week of August.
In its report, the government had stated that the public address systems of "some local mosques were used to raise pro-freedom slogans and incite the youth to indulge in stone pelting/protests" while social media was extensively utilised to fuel the violence in Kashmir that followed the killing of militant Burhan Wani.
According to the report prepared by the Ministry of Home Affairs, 42 civilians and two armed forces personnel were killed in the violence, and more than 2,650 people admitted in hospitals after sustaining injuries, with 470 of them undergoing major surgeries.
Further, it stated, 240 people suffered eye injuries after reportedly being hit by pellets fired by armed forces, of which at least one-fourth had to undergo major surgery to save their vision.
[source;indianexpress]