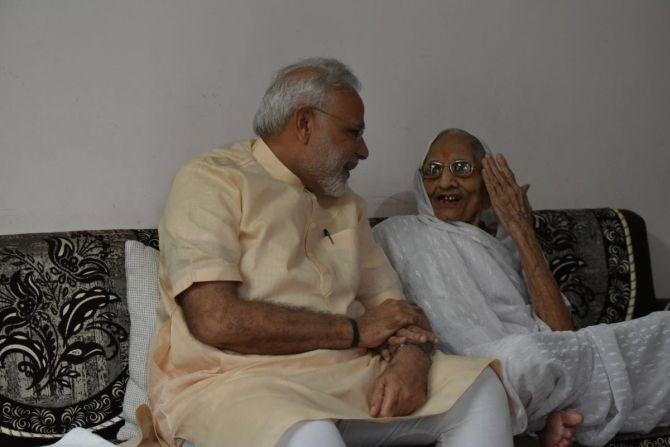 Prime Minister Narendra Modi was on Saturday greeted by President Pranab Mukherjee, Vice President Hamid Ansari and other prominent persons on his 66th birthday.
Modi, who is in Gujarat, received birthday greetings from President and Vice President over phone.
Nepalese Prime Minister Pushpa Kamal Dahal, who is on a visit to India, also wished him over phone.
Chief Justice of India T S Thakur personally met Modi at Raj Bhawan in Gandhinagar to greet him, official sources said.
'My warm greetings and good wishes to PM @narendramodi on his 67th birthday,' tweeted Mukherjee.
'Let this day be the beginning of a year of greater achievements in life of PM @narendramodi and our nation,' he said in another tweet.
'May the Almighty bless PM @narendramodi with good health, happiness & many more years of dedicated service to the nation,' Mukherjee added.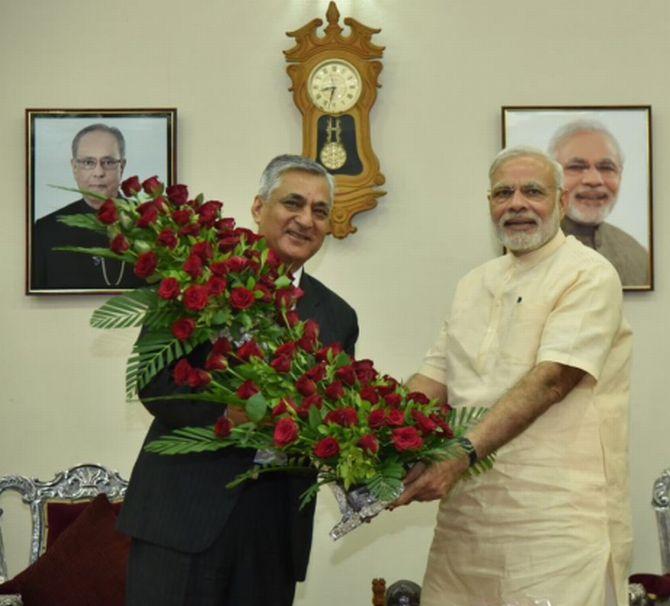 IMAGE: PM Modi with Chief Justice of India T S Thakur at Raj Bhawan, Gandhinagar. Photograph: @narendramodi/Twitter.
In response, the PM tweeted 'I thank Honourable Rashtrapati ji for his kind birthday greetings. (sic)'
Vice President Ansari, who is visiting Venezuela, also wished Modi.
In his reply, the PM tweeted, 'My gratitude to Vice President Shri Hamid Ansari for his wishes.'
Modi also thanked CJI Thakur for his wishes.
'Met CJI Shri Thakur. I thank him for his kind wishes,' he tweeted.
Congress vice president Rahul Gandhi, Bharatiya Janata Party veteran L K Advani, Union ministers Rajnath Singh, Sushma Swaraj, M Venkaiah Naidu, Nitin Gadkari, Sadananda Gowda, Uma Bharti, Ravi Shankar Prasad, Maneka Gandhi and others too wished the PM and he thanked them all on Twitter.
Modi visited his mother Hiraba in Gandhinagar and took her blessings. He reached the residence of his brother Pankaj Modi in Raysan area of state capital, where his 97-year-old mother is staying and spent around 25 minutes with her.
He later drove to the Raj Bhavan where he is staying during his visit to the home state.
Born on September 17, 1950, Modi turned 66 on Saturday. He reached Gandhinagar to spend his birthday with tribals and divyangs (differently-abled).
Later in the day, he will travel to Limkheda in Dahod district to launch many schemes for development of the tribal area.
Modi is also scheduled to attend a function at Navsari where he would distribute aid to differently-abled persons.
---
Race for world records on PM Modi's birthday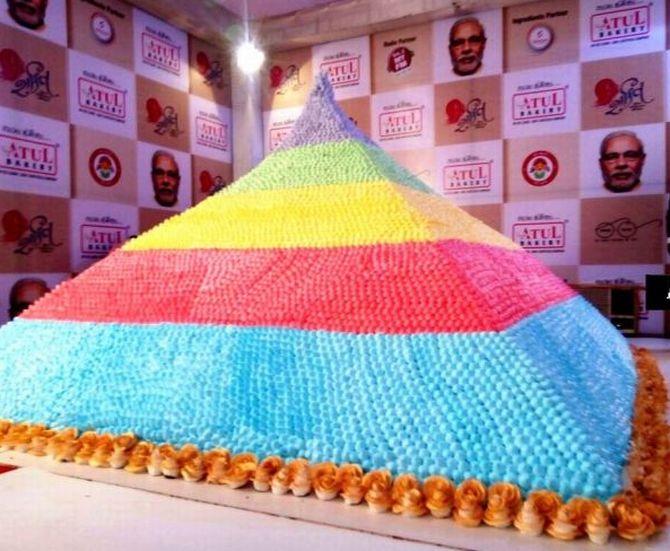 IMAGE: A 3,750-kg cake made for the PM's birthday in Surat. Photograph: ANI
The Guinness Book of World Records is set to get new entries on Prime Minister Narendra Modi's birthday.
A cake weighing 3,750 kg, claimed to be world's biggest, has been made in Surat, Gujarat. The cake will be cut by girls coming from various tribal areas and will be distributed among them and others.
In Gujarat's Navsari city, the Centre organised a mega camp on Friday for the differently-abled, where they attempted to light 1,000 lamps simultaneously.
Although they fell 11 short of their target, they still entered the Guinness Book and created a beautiful sight.
Earlier, the benchmark was 500, and what the people of Navsari achieved was 989.
[source;rediff.com]