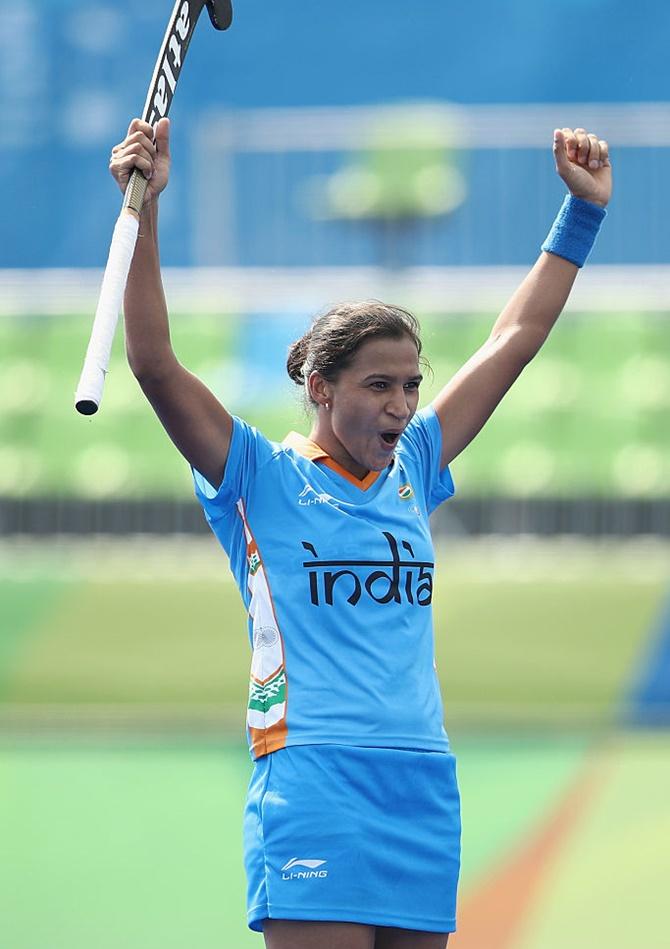 The Rio Olympics hoopla has settled down. Given our track record, we Indians will jump into the bandwagon only in 2020, just in time for the Tokyo Olympics. But there are athletes who practice day in and day out to be part of the mega event.
One among them is the talented hockey player, Rani Rampal.
The 21-year-old striker hails from Shahabad, Kurukshetra, Haryana which boasts of the largest number of women hockey players in India.
Shahabad is also known for its khap panchayat. It has the worst sex ratio in the country. And women always cover their heads with a dupatta.
With her agility, speed, superior stick work and determination, Rani is trying to change that image of her conservative small town.
Meet Rani Rampal
In 2009, even before she played with the junior national team, Rani made her India senior debut at the age of 14 in the Champions Challenge tournament in Russia.
At 15, she was the youngest player in the national team which participated in the 2010 World Cup in Canada and emerged as the top goal scorer.
She was conferred with the 'Best Young Player of the Tournament' for her phenomenal performance in the tournament.
She was also part of the Indian team that won the bronze medal at the 2013 Junior World Cup. Rani was adjudged the 'Player of the Tournament'.
Her journey started in a very modest horse-cart puller's house.
She was turned away on Day 1 at the Shahbad Hockey Academy, but the following day her agility and determination impressed Dronacharya Award-winning coach Baldev Singh who then took her under his wings.
Rani broke a few rules right from the start. The academy took girls from the age of eight, but Rani was six when was chosen to train.
At 14, she represented the Indian senior national team and scored a scintillating goal.
Since then, there has been no looking back for this striker with electric speed and agility.
Rani spoke to Rediff.com's Laxmi Negiabout how she overcame odds to be where she is.
Why did you decide to pursue hockey?
I came from a place (Shahbad) where I saw hockey players all around me.
I could not think of any other sport than hockey.
I was six years old (in Class 2) and I remember the senior girls playing hockey and representing the country.
At that time I did not know what hockey could do for me; all I wanted to do was play hockey. That's it!
IMAGE: Rani controls the ball in front of goal during the Rio Games. Photograph: Mark Kolbe/Getty Images
Did you get mocked for playing hockey?
When I started, it was difficult to convince my family to allow me to play hockey.
There were relatives and neighbours who always told my parents that I will bring them a bad name.
No matter how much I convinced and promised my parents, they were never satisfied with my answers.
It took a lot of convincing from my side. But time heals it all. Soon I was scoring goals and going places.
Today, they are proud of me.
How did your family react when you played in shorts and skirts?
Frankly speaking, I come from a place where a woman's dupatta cannot be out of place.
My parents hated it and used to shout at me when they saw us wearing jeans.
I told them that I wear shorts and skirts when I am playing or practicing.
It was mentally stressful for me. I used to wonder why I was being treated as a normal girl and not as as sportsperson.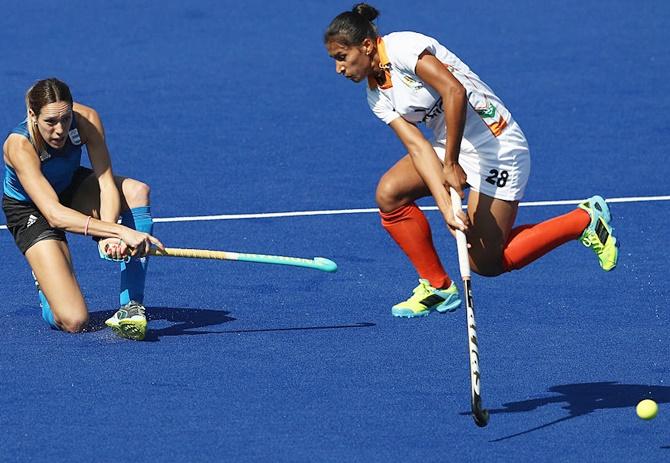 IMAGE: Argentina's Victoria Zuloaga fires a shot past Rani. Photograph: David Rogers/Getty Images
Can you describe your first flight experience?
I come from a small town and, frankly speaking, from the kind of background that I come from, I had not even dreamt of travelling to Delhi (which is 200 km from Shahbad). But here I was travelling from Lucknow to Delhi by flight in April 2008.
I was barely 14 years old. I was supposed to join the senior team, which was later travelling to Russia for the Champions Challenege Tournament (It was an Olympic Qualifier).
I didn't even know what the Olympics was at that time or its importance.
What did you do with your first salary?
I was still at the academy and had scored a brilliant goal. My coach (Baldev Singh) was very pleased.
He gave a Rs 10 note and wrote 'future champion' on that.
I preserved it for a long time.
But my family condition was such that I had to spend it.
Today when I think about it, I feel bad.
It is not the question about the amount or money, but the gesture from my coach. I knew its value and yet I was forced to spend it.
Though I do not have that Rs 10 note today, its memory will always be dear to me.
Do you ever feel that had you been a male hockey player, you would have been appreciated better?
It is prevalent in every sports. It is difficult to change that mentality.
We have sponsors for men's team but no one comes forward to sponsor women's team. \
In a sports like cricket also, aren't the women facing problems?
But look at Rio Olympics, the girls dominated.
I am sure things will change in hockey also. (While there is some envy and lament in her statement, there is also acceptance of a harsh reality)
What did you learn from Rio?
When I started playing hockey, I had not heard of the Olympics. For me, the Commonwealth Games was the highest I could reach and a medal in those Games could seal my fate. (In the 2010 Delhi Commonwealth Games the women's hockey team failed to win a medal)
In Rio, I saw for the time time what the Olympics was and how it felt to play on that big stage.
We were playing against teams which were much higher in world ranking and featured regularly in the Olympics.
I observed how those players handled pressure and how they were so focussed. I saw how they fought for medals in do-or-die situations.
The next four years will be dedicated to train to compete at the Olympics so that we can give the other teams a fightback.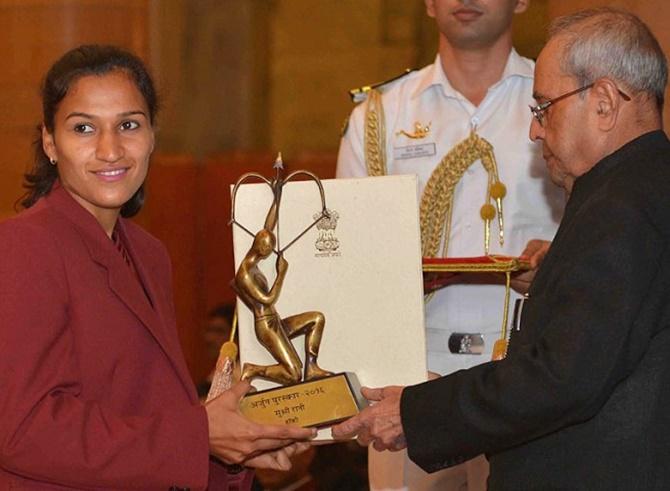 IMAGE: President Pranab Mukherjee presents Rani the Arjuna Award. Photograph: PTI
Is your new house in Haryana still under construction?
It will still take 4, 5 months; I am very excited about it.
I was employed with the Railways for five years, but my salary was only Rs 12,000.
It was difficult to sustain, as my family is dependent on me.
Looking at my plight, the Sports Authority of India offered me a job as a coach last year. They pay me Rs 28,000. I think I deserve a better grade.
For me, it will be a dream come true to shift from a humble house to a bigger place.
At 21, you have a house, you are an Olympian and an Arjuna awardee. What next?
I am in a very happy space these days. I have struggled a lot; my efforts have borne fruits.
But I do not want to be satisfied. It will stop me from improving.
My next target is the 2018 Asian Games and we do not want to settle for anything less than a gold medal.
An Asian Games gold medal will give us direct entry to the 2020 Tokyo Olympics.
It took the Indian women's team 36 years to participate in the Olympics. I can't wait for another 36 years.
In the next Olympics, we want to perform better.
And when it comes to awards, P V Sindhu is also 21 years old. She won an Olympic medal and bagged the Rajiv Gandhi Khel Ratna.
So, there is no time to stop and look back at what I have done… I need to move ahead.
[source;rediff.com]