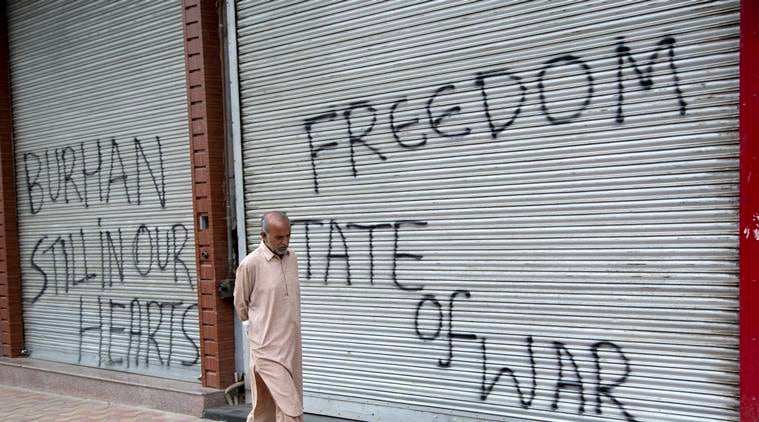 With 30 civilians dead and more than 1000 injured across the Valley in past three days, Kashmir is on boil. The toll is likely to increase in the coming days as many seriously injured patients are battling for their lives in various hospitals of the city.
The situation turned volatile after the killing of Hizbul Mujahideen commander Burhan Wani who was active in south Kashmir and had become the poster boy of militancy in Kashmir.
The protests were more severe in south Kashmir that was considered as the political bastion of the Peoples Democratic Party as most of the party legislators come from the area.
However, on Sunday there seems to be strong resentment among the masses against the party, despite, J&K chief minister, Mehbooba Mufti winning a by- election from Anantnag with a good margin last month. Such is the anger against the PDP that angry protestors on Saturday set ablaze the house of PDP legislator from Kokernag, Abdul Rahim Rather and protesters tried to attack all party workers.
Most of the causalities took place in south Kashmir and with every new civilian killing, the anger among the people is brewing up. So far, the PDP has failed to calm down tempers of the people despite party leadership making tall claims about its hold in south Kashmir.
Since the killings of civilians, the PDP and BJP leadership has been missing from the scene. PDP minister and government spokesman, Naeem Akthar, though held a press conference, he walked out from it when asked tough questions by the scribes.
Since the PDP forged an alliance with Bhartiya Janta Party, there has been visible anger among the masses especially in south Kashmir. Before coming to power, the entire PDP leadership has been warning people about the consequences they would have to face in case BJP rules the only Muslim-majority state of India. Later, it was the PDP that facilitated entry of BJP into the power corridors of the state and, now, this appears to have hurt the people.
The heavy causality figures in South Kashmir will have far reaching consequences for the PDP politically as since its formation the party's policies had attracted many people. With dozens of killings, it will be a herculean task for the party leadership to convince people that it is a party with a different agenda.
And for BJP, they have nothing to lose politically in the Valley. As a party it has no credible base in Kashmir, however, efforts of the party leadership to expand its base in Muslim majority areas will find very few takers.
[source;indianexpress]