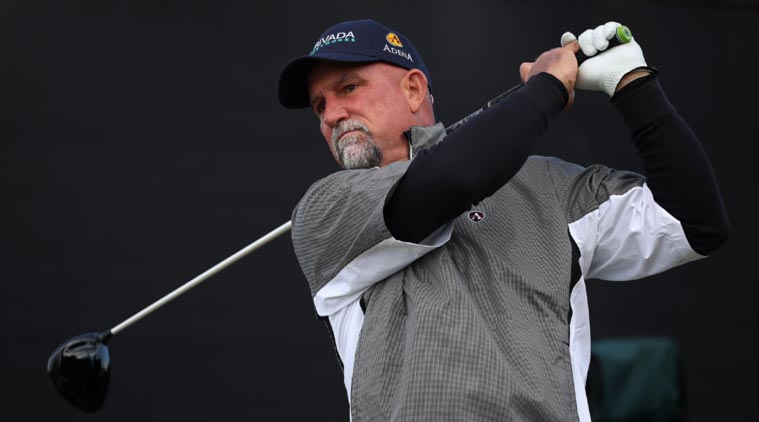 The 52-year-old Senior British Open champion reached the eighth green during his first practice round at Royal Troon on Tuesday when his caddie for the week, standing about 10 feet away, was knocked to the ground by an errant drive from Vijay Singh from the seventh tee.
"I've never seen anyone get hit by a ball like that," Dawson said Wednesday. "It came down square on him. Not a glancing blow. He went in and out of consciousness. Threw up a couple of times because he was getting faint. We didn't know how bad it really was."
The caddie, Billy Ciplinski out of the nearby golf club at Prestwick, was taken to a medical center at Royal Troon and then onto a hospital. He stayed there overnight under observation before being discharged Wednesday.
Ciplinski came straight to Troon, sporting a cut the size of a golf ball on the back of his head, and told Dawson he'd be OK to carry his bag for the opening round Thursday.
"They didn't put in any stitches, they just glued it. That was it," Dawson said. "We got lucky."
It was Ciplinski's wedding anniversary on Tuesday — and he spent it with his wife, after all. She works as a physician's assistant at the hospital where Ciplinski was transferred.
Dawson aborted his round Tuesday after Ciplinski collapsed, and finished it off on Wednesday using 60-year-old Johnny McMillan, who works as a luggage handler at Royal Troon, as an emergency caddie.
"It was great," McMillan said. "I'm desperate to get a bag during the Open."
Dawson qualified for Royal Troon by winning the Senior Open at Sunningdale last year. That was his second win on the PGA Tour Champions. Before that, the American made 512 starts and won just once — on the second-tier Web.com Tour in 2002.
He'll head into Thursday having played 18 holes at Troon, but he thinks that's enough.
"That's the reason why I got a local caddie," Dawson said. "The caddie I had last year at Sunningdale was local and when the conditions changed every day, he knew exactly how the course played. He told me what club to hit, gave me all the information.
"It's about executing the shot."
[source;indianexpress]