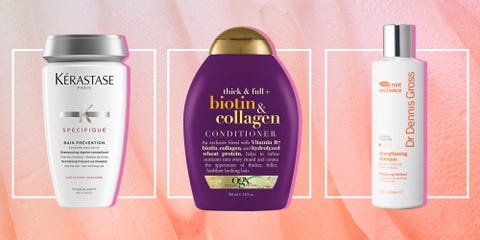 Hair loss can be the result of many different factors, including but not limited to: genetics, fluctuation in hormones due to stress or giving birth, medications, or even heat styling and aggressive hair styling (like tight ponytails). If you've noticed a decrease in the amount of hair you have, pay your dermatologist or trichologist a visit to find out the root cause of your specific hair loss so you can properly treat it.
In the meantime, if your thinning hair bothers you, turn to shampoos designed to improve the appearance of hair loss and give your scalp the care it needs to promote healthy hair growth. Here, eight hair expert- and doctor-recommended formulas to try if you're looking to pump up the look and feel of your strands.
1
Dr. Dennis Gross Root Resilience Strengthening Shampoo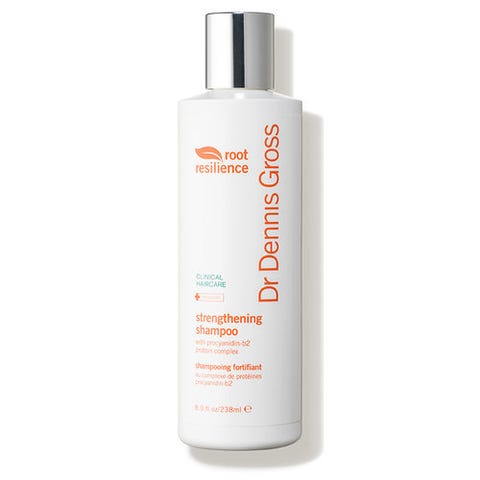 Dennis Gross, MD, a dermatologist in NYC, says a balanced scalp produces the best hair growth, since it feeds and produces your hair follicles. This shampoo is great because "it's a fortified wash that not only cleanses and exfoliates the scalp, but also provides the follicle with necessary nutrients for growing thicker, stronger hair, such as anti-aging amino acids, enzymes, and peptides," he explains.
2
Philip Kingsley Body Building Shampoo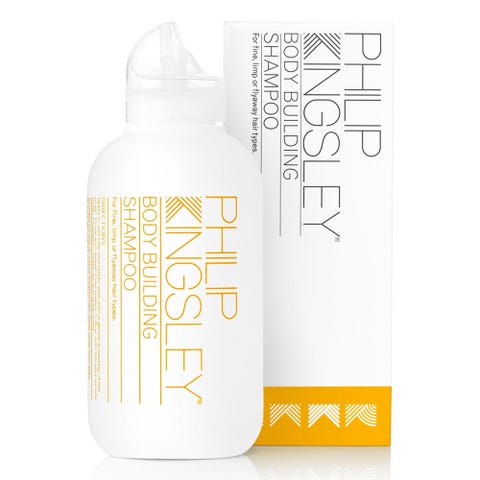 Anabel Kingsley, trichologist and director of communications of Philip Kingsley, points out that although shampoos alone don't treat hair thinning, they are a great tool to use for creating the illusion of greater hair density. "The best and most effective volumizing ingredients [in hair growth shampoos] are keratin proteins and natural cellulose—both of which plump individual strands and give them bulk," says Kingsley. This shampoo contains both ingredients for optimal volume and body.
3
Bosley Professional Strength BosRevive Nourishing Shampoo For Color Treated Hair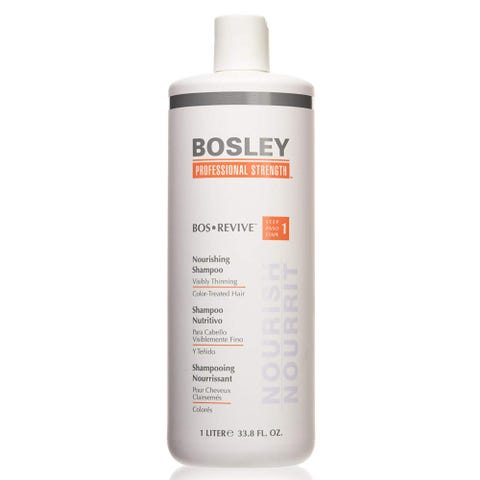 "Shampoos can be effective in removing the build up of bacteria, debris, and sebaceous oils that may contain the hormone DHT (which can affect healthy hair growth), while providing nourishing ingredients to the hair and scalp, "says Michelle Blaisure, trichologist and Bosley Professional strength product and technical specialist. She recommends this one for maintaining a dirt-, oil-, and product buildup-free scalp.
4
Kérastase Specifique Bain Prevention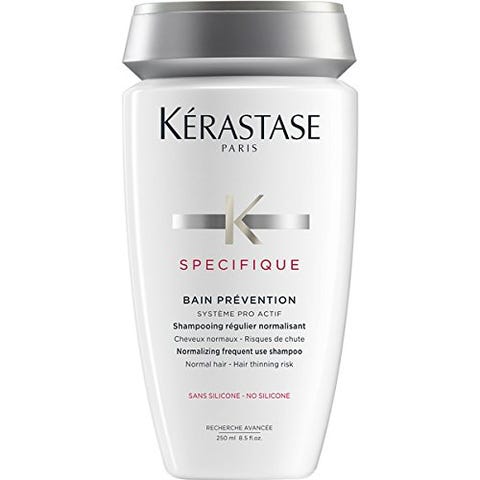 Suitable for all hair types, this shampoo comes recommended by hairstylist Sami Knight. Not only does it add instant volume to limp strands, but it also contains an antibacterial agent to treat any inflammation of the scalp.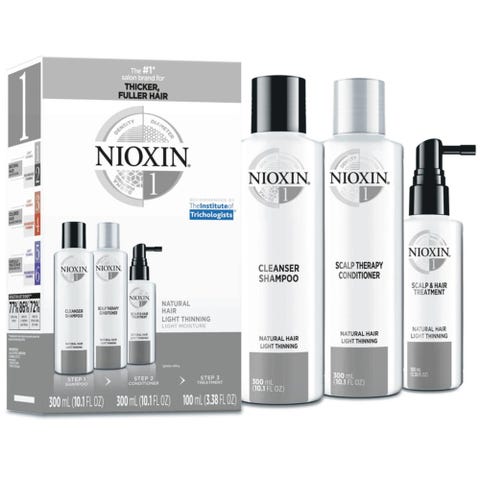 Hairstylist Marissa Marino, who works with Selena Gomez, likes this system because it focuses specifically on the scalp. This set includes a shampoo that removes any follicle-clogging debris or sebum, a conditioner that locks in moisture for healthy hair, and a treatment that increases the diameter of each strand to create volume.
6
ColorProof BioRepair-8 Anti-Thinning Shampoo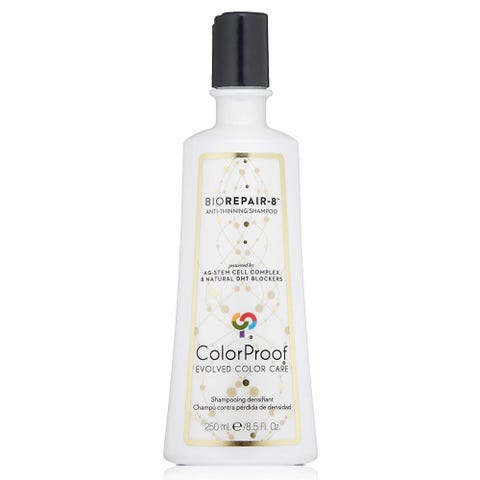 ColorProof founder Jim Markham agrees that the scalp must be clear of any buildup, including sebum and dead skin cells, in order for follicles to regenerate. "This gentle, deep cleansing shampoo contains eight natural scalp fortifiers that nourish and restore it, helping create the optimal environment for hair growth," he says. He also recommends stimulating your scalp (aka massaging it) while shampooing to get the circulation flowing. This jumpstarts fresh blood circulation to your hair follicle and helps restore and regenerate new cell turnover.
7
OGX Thick & Full Biotin & Collagen Shampoo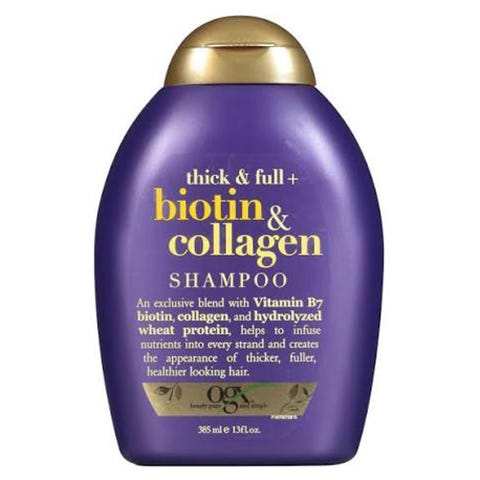 Cutler salon stylist Mike Martinezreaches for products containing biotin when looking to treat thinning hair and improve hair health. In addition to vitamin b7 biotin, this formula also contains collagen and hydrolyzed wheat protein (a liquid form of protein that can penetrate the interior of the hair) for plumping the strands.
8
Pura D'or Original Gold Label Shampoo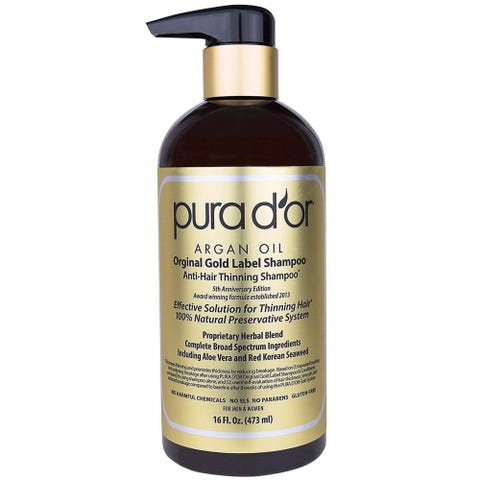 If the hair loss you're experiencing is more like breakage, hair stylist Clayton Hawkins recommends this formula, which contains biotin and argan oil, for repairing damaged hair. "Fans of the product swear by its ability to strengthen damaged and broken strands," he says.
["Source-cosmopolitan"]