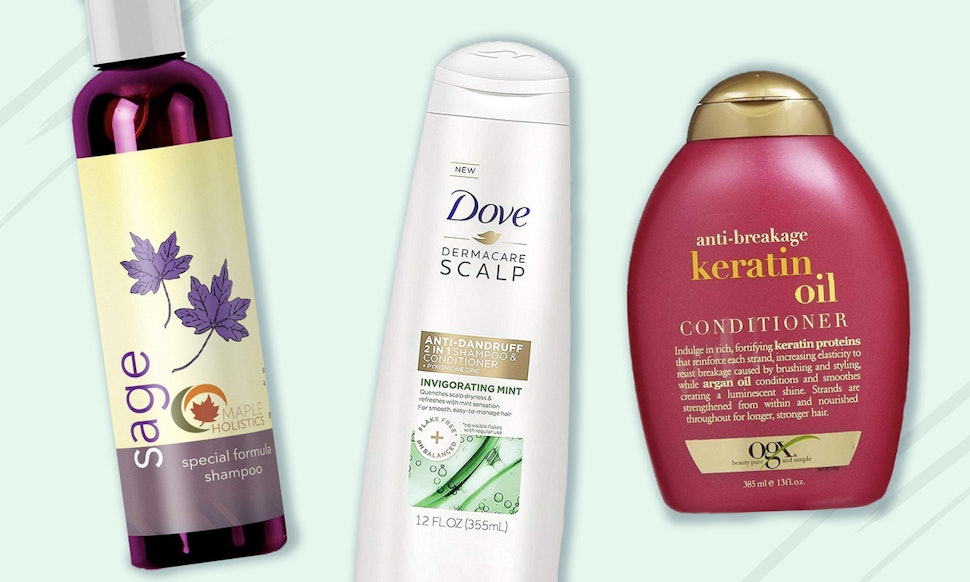 If you're dealing with premature hair loss, you know how frustrating it can be to treat. What can be equally as frustrating is trying to find hair products that will actually help remedy thinning or breaking locks. To help you navigate the confusing world of hair loss, I reached out to Manhattan-based dermatologist Dr. Joshua Zeichner and used his recommendations to find the best shampoo and conditioner for hair loss.
Before deciding on the best shampoo for thinning hair, you'll want to figure out what the underlying cause is. According to Dr. Zeichner, the most common causes of hair loss are chronic tension on the hair follicles, breakage from chemical process treatments — which include perms, relaxers, or hair dye — and severe dandruff or scalp psoriasis. Chronic medial conditions, such as autoimmune diseases, are also a common reason for hair loss, so if you're unsure of the cause, it's important to see a doctor to rule out other possible conditions.
Dr. Zeichner recommends choosing a shampoo and conditioner that matches the issue you're experiencing. If you have thinning or shedding hair, he says to opt for strengthening products made with keratin or to choose one infused with vitamins and antioxidants, as these can all strengthen strands and create a better environment for your hair follicles to function.
If you have flakiness or dryness, Dr. Zeichner notes that it's a good idea to use anti-dandruff shampoos, rather than hydrating products, because they're specifically made to treat inflammation and yeast on the scalp — two underlying causes of dandruff. One ingredient to look for in these options is Zinc Pyrithione. "It's very important to choose the appropriate type of shampoo for your hair type," he says. "The wrong one may not get to the root of your scalp issue."
By picking one of the options below, you'll be able to wash your hair knowing that your shampoo and conditioner is helping — not hurting — your strands.
1

A Budget-Friendly & Doctor-Recommended Option For Hair Loss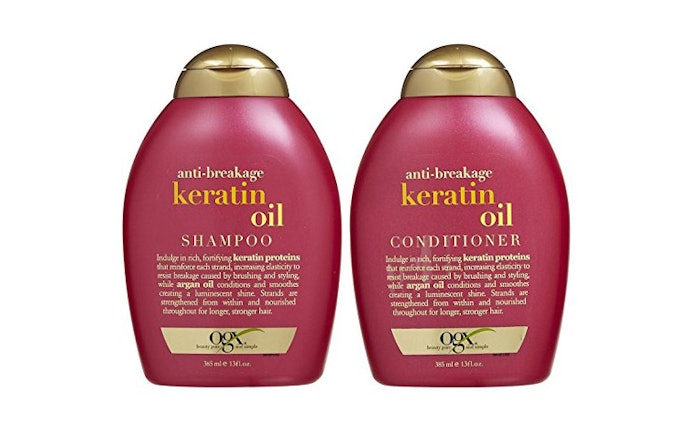 OGX Anti-Breakage Keratin Oil Shampoo And Conditioner Set
$16
Amazon
Best for: Severe breakage and thinning hair.
Key features: Dr. Zeichner recommends the Keratin Oil Shampoo and Conditioner by OGX for thinning or fine hair that needs the extra strength. This budget-friendly option uses keratin proteins mixed with argan oil to nourish, condition, and strengthen strands, and it's only $16 for the set. The smoothing formula can also increase elasticity for less breakage and split ends.
What fans say: Multiple users said it made their hair feel stronger and healthier. One person said, "My hair actually feels fuller and I really do think it's rescuing my hair from breakage."
2

A Shampoo And Conditioner Set With A Hair Regrowth Formula That's Full Of Vitamins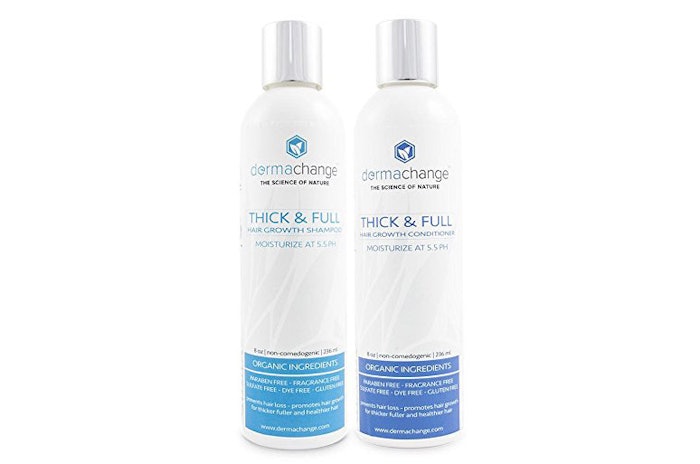 DermaChange Thick & Full Hair Growth Shampoo And Conditioner Set
$30
Amazon
Best for: Thin, fine, or shedding hair, as well as color-treated hair.
Key features: The Thick & full Hair Growth Set by DermaChange is a go-to option for hair loss and thinning strands — it's chock-full of vitamins and oils that promote hair regrowth and prevent hair loss by hydrating, strengthening, and thickening strands with natural ingredients. It's also made with a gentle, sulfate-free formula, so it's a safe choice for color-treated hair and sensitive scalps.
What fans say: This option has over 1,000 mostly-positive customer reviews, and multiple users said it successfully filled in patchy bald spots on their scalp and thickened thinning strands.
3

This Is The Doctor's Top Anti-Dandruff Recommendation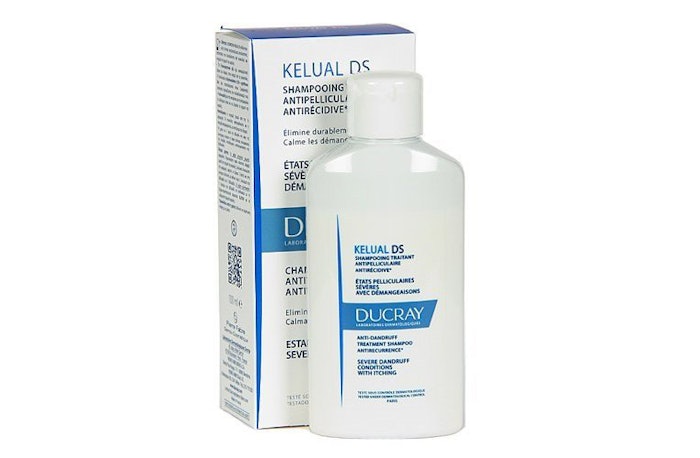 Ducray Kelual DS Anti-Dandruff Shampoo
$28
Amazon
Best for: Dandruff.
Key features: Ducray's Kelual Anti-Dandruff shampoo is the best choice for hair loss from severe dandruff or scalp issues. Dr. Zeichner specifically recommended the Ducray brand for soothing inflammation and itchiness on the scalp caused by seborrheic dermatitis. At $28 for a 3.3-ounce bottle, this is a pricier option, but people say the heavy-duty formula really works for severe dandruff.
What fans say: One user, who has an 11-year-old daughter with severe dandruff, said " I tried multiple OTC shampoos, home remedies, and two prescription scalp treatments. Nothing worked. I really panicked when I noticed a bald spot on her head! A friend suggested Ducray. After two or three shampoos, my daughter's head was almost clear. I could not believe it. After several weeks of using this shampoo three or four times a week, the chunky flakes are completely gone and her scalp is no longer itchy and red."
4

A Highly-Rated Scalp Treatment For Dandruff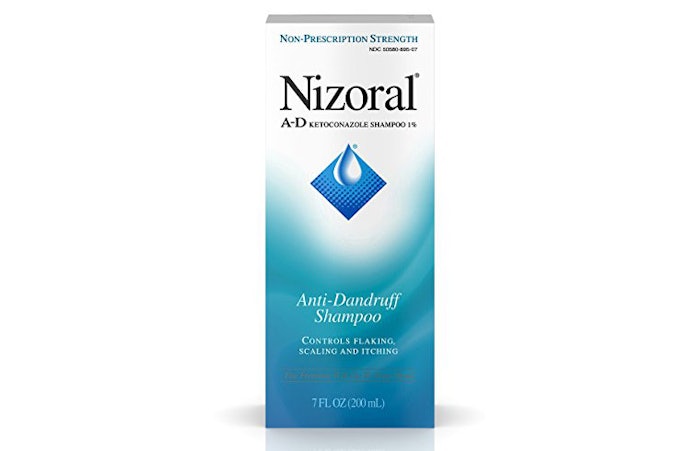 Nizoral A-D Anti-Dandruff Shampoo
$14
Amazon
Best for: Dandruff.
Key features: This classic anti-dandruff shampoo by Nizoral uses ketoconazol, an anti-fungal medication, as its main ingredient to treat flaking, scaling, itching, or inflammation caused by seborrheic dermatitis, and is still gentle enough to be used on fine or thinning hair. It's meant to be used just twice a week in between regular shampoos to manage dandruff.
What fans say: This products comes highly-recommended by users, with a 4.5-star rating on Amazon and over 2,800 reviews. People rave at how effective it is at treating their scalp and getting rid of flakes. One user simply said, "It works. Period."
5

A Budget-Friendly 2-in-1 Anti-Dandruff Option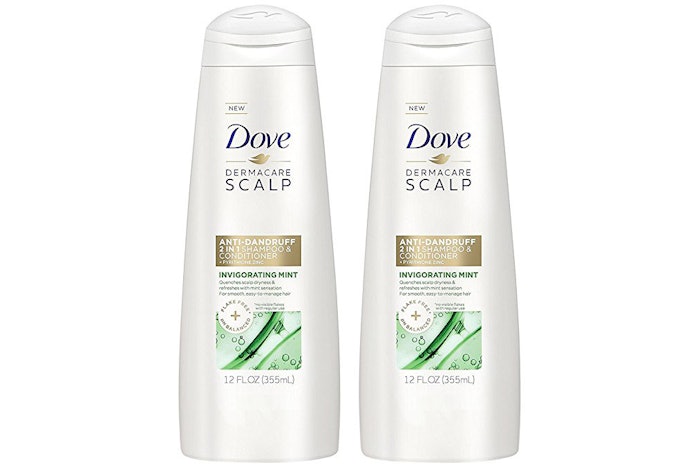 Dove Dermacare Scalp Anti-Dandruff 2 In 1 Shampoo & Conditioner
$15
Amazon
Best for: Dandruff.
Key features: The Dove Dermacare anti-dandruff 2-in-1 shampoo and conditioner is a solid option for dandruff management that's also super affordable. For $15, you'll get not one, but two bottles. Its active ingredient is pyrithione zinc, an anti-fungal ingredient commonly used to treat psoriasis that Dr. Zeichner recommendeds for dandruff. The formula is effective in treating scalp dryness and flakes because of it, and it has a refreshing mint scent.
What fans say: One customer said, "This is the best shampoo/conditioner for my scalp… I have dry somewhat coarse wavy hair. I used to have patches… on my scalp. Now they're gone."
6

The Overall Best Shampoo and Conditioner For Hair Loss In Color-Treated Hair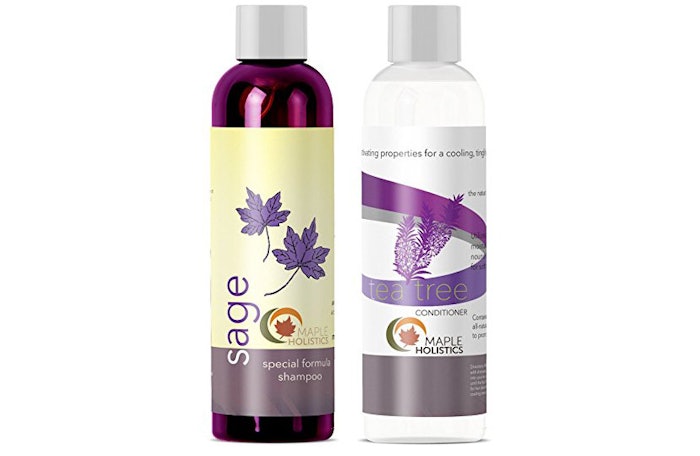 Maple Holistics Sage Shampoo and Tea Tree Conditioner Set For Colored Hair
Best for: Color-treated hair, thin hair, or dandruff caused by yeast on the scalp.
Key features: This sage shampoo and tea tree conditioner set by Maple Holistics is full of good-for-you nutrients. The shampoo is made with Argan oil, green tea, and jojoba oil, and includes anti-fungal ingredients that are effective at soothing inflammation and fighting dandruff caused by yeast. The conditioner is infused with keratin and vitamin b5 for repairing, moisturizing, and strengthening strands, as recommended by Dr. Zeichner. This option is also sulfate- and paraben-free, making it a great option for color-treated and fine hair.
What fans say: With a 4.5-star rating on Amazon and over 500 customer reviews, people love this herbal shampoo and conditioner set. One user said, "I bought this set because my scalp became dry and itchy in the winter months. I get my hair colored so I wanted something natural that wouldn't strip the color from my hair. Within just a few uses, I had immediate relief and no dandruff. I highly recommend this product."
Bustle may receive a portion of sales from products purchased from this article, which was created independently from Bustle's editorial and sales departments.
["Source-bustle"]