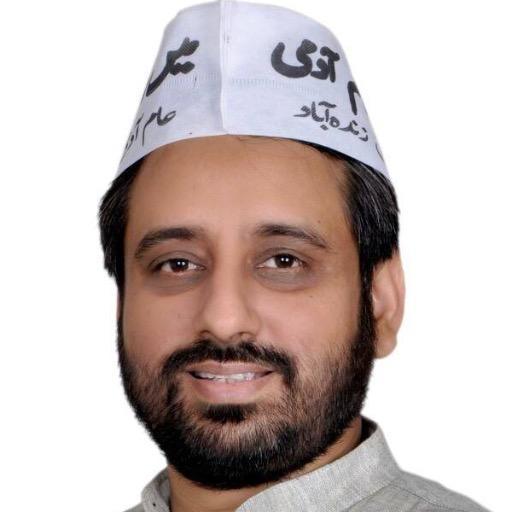 Aam Aadmi Party member of legislative assembly Amanatullah Khan on Saturday wrote to party national convener and Delhi Chief Minister Arvind Kejriwal and resigned from all posts — including chairmanship of Delhi Waqf Board — claiming that he was being 'framed in false cases'.
The Okhla legislator, who was also a member of the State Haj Committee, sent his resignation two days after the Anti-Corruption Branch of the Delhi government raided the Delhi Waqf Board office in New Delhi in connection with an alleged recruitment scam involving him.
In his letter, Khan stated that he has 'run out of patience' of issuing clarifications to the public pleading innocence over a number of allegations levelled against him and his family members.
'Some people dislike my honesty and service and false allegations are being leveled against me and my family to frame us. I have been tired of giving justifications. I want to be free from all the responsibilities given to me by the government and therefore I tender my resignation from all the posts,' Khan said.
'As a chairman of the Waqf Board, many scams and irregularities of the previous government were brought to light during my tenure. I have been working wholeheartedly to serve people of Delhi,' he wrote.
Earlier, Khan's sister-in-law filed a complainant at Jamia Nagar police station, alleging that he had put pressure on her to get into a physical relationship with him, a senior police officer said.
She also accused her husband of demanding dowry and putting pressure on her to get 'physically intimate' with Khan, he added.
A case under Indian Penal Code sections 354A (sexual harassment), 506 (criminal intimidation), 509 (word, gesture or act intended to insult the modesty of a woman), 120B (criminal conspiracy) and 498A (husband or relative of husband of a woman subjecting her to cruelty) was registered against Khan and the woman's husband, said the officer.
Khan is also involved in an alleged recruitment scam in the Waqf Board where the Anti-Corruption Branch has launched a 'preliminary inquiry' against him.
Khan has termed the move as 'interference' in working of the body by Lieutenant Governor Najeeb Jung.
The AAP MLA was earlier in July booked for allegedly threatening a woman with dire consequences.
Speaking in the Delhi Assembly on Friday, Khan defended himself saying he had made the 'contractual' recruitments following due procedures. Waqf Board was reeling under shortage of staff which necessitated the appointments, he said.
[source;rediff.com]