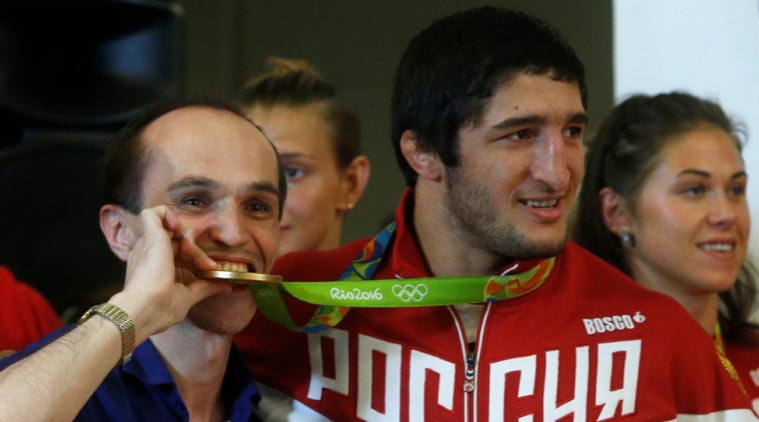 Luxury cars, apartments, even a racehorse – being an Olympic medalist in Russia can come with great material rewards but also controversy.
Under President Vladimir Putin, it's become a tradition for Russia's Olympic heroes to be showered with large cash sums and sometimes unwanted gifts.
On Friday, less than 24 hours after dozens of medalists were presented with BMW cars at the Kremlin by Prime Minister Dmitry Medvedev, an advertisement appeared online offering one of them for sale, with photographs showing the car still covered in stickers celebrating Russia's medal haul in Rio.
The advertisement offering the BMW X6 for 4.67 million rubles ($72,000) was anonymous and quickly withdrawn. It couldn't be independently verified by The Associated Press, though Russian agency R-Sport claimed the seller was a Russian medalist who thought the car was too big and unwieldy.
Figure skater Maxim Trankov, who received a Mercedes-Benz SUV for his gold medal in 2014, said few Olympians could afford to own such cars.
"Has no one thought that these gift cars are not only liable for the tax on luxury items, but also aren't cheap to run and earnings can't cover it?" he wrote on Twitter. "I'd sell mine too if it came to it … Or does everyone think all sports pay as well as soccer, hockey or tennis?"
Gymnast Seda Tutkhalyan said she wouldn't be able to drive her new BMW because at 17 years of age she was too young to have a license.
While online commenters mostly supported an athlete's right to sell expensive Olympic gifts, many were critical of the government for a display of conspicuous consumption at the Kremlin at a time when Russia's pension and healthcare systems are under financial strain.
It's not fully clear how much the prizes have cost the Russian government.
State TV channel Rossiya 24 reported that the fleet of BMWs was provided by the Olympians' Support Fund, which is backed by a group of Russia's richest men, but that the accompanying cash prizes of tens of thousands of dollars per medalist came in part from the federal budget.
More awards are on offer from regional governments, many of which made public displays of generosity despite financial troubles of their own.
The Caucasus region of North Ossetia last month promised a free apartment for any medalists from the area, though it isn't clear if this has happened yet. In another grand gesture, the head of the restive Dagestan region gave Olympic wrestling champion Abdulrashid Sadulaev 6 million rubles ($93,000) in cash and a racehorse at a lavish welcoming ceremony featured on local TV.
Still, all may not be well for Sadulaev, who's nicknamed the "Russian Tank" for his habit of crushing opponents on the wrestling mat. He's already facing an allegation from a Moscow radio presenter of reckless driving in his eye-catching BMW.
[source;indianexpress]