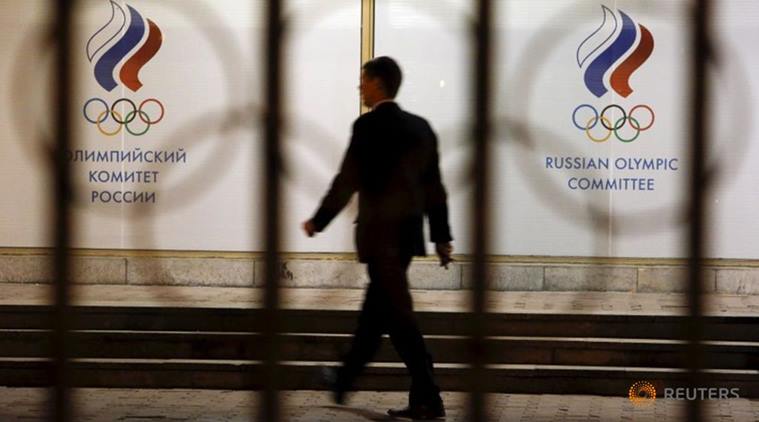 Olympic chiefs were guilty of "passing the buck" when they elected not to impose a blanket ban on Russian athletes for next month's Rio Games, says former world 4×400 metres relay champion Derek Redmond.
The International Olympic Committee (IOC) decided on Sunday against issuing a blanket ban despite evidence of systematic doping across the majority of Games sports, meaning global sporting federations must now choose which Russians can compete in Brazil.
"A lot of people feel the IOC have passed the buck a little bit and they've not stood up to be counted," Redmond told Reuters in an interview while playing at this week's Farmfoods British Par-3 Golf Championship at Nailcote Hall near Coventry.
"There needs to be a stand made, a precedent made, that we are not going to tolerate this. We are sorry there might be some collateral damage but … Russia have only got themselves to blame."
Redmond took solace from the fact the International Association of Athletics Federations (IAAF) has upheld a Rio ban on all Russian track and field competitors except any allowed to compete under a neutral flag.
"It's quite a radical and big decision to make," said the 50-year-old who won gold when Britain's relay team triumphed at the 1991 World Championships in Tokyo.
"I think it's the right decision, not just purely from a punishment point of view, but from a preventative point of view.
"I'd like to think there aren't other countries practising this sort of stuff but if they are, when it comes to track and field, it shows the IAAF are not afraid to say 'one out, all out'."
Redmond is remembered around the globe for tearing his hamstring midway through the 400m semi-finals at the 1992 Barcelona Olympics.
He hobbled to a halt before falling to the ground in agony. Stretcher bearers made their way over but Redmond wanted to finish the race and eventually did so, leaning on his father Jim's shoulder for support as he made his way across the line.
LIFETIME BAN
Redmond believes all athletes who have been found guilty of doping should receive a lifetime suspension.
"I think it's something that's long been due," he said. "I've always been an advocate of a life ban.
"If we really want to be serious about stamping out this problem then we do have to start taking some harsh decisions and taking some major steps to prevent this from continuing.
"I'm guessing that part of the problem is the Olympics is all about fair play … obviously not all the Russians have been fair but I'm guessing what is sticking in the throat of the IOC is there are some innocent athletes getting caught up in all of this," added Redmond.
"Possibly that's what they are struggling to deal with. I'd agree, and certainly wouldn't turn my back on the fact there might be some collateral damage, but unfortunately the country has been getting away with this for a long time."
While Redmond does not look back at the Barcelona Olympics with too much fondness, he gains comfort from the fact his moment of sporting devastation had positive side effects.
"It is the thing I'm possibly most famous for," said the Briton who also won 4×400 relay gold at the 1986 European Championship in Stuttgart. "Twenty-four years later I'm quite fortunate I guess that people still want to talk about it.
"I still get a lot of tweets, emails and goodness knows what about it. The video footage does the rounds every few months and it seems to inspire a lot of people, even people who weren't born when it happened.
"That's pretty humbling and it's nice people can find some strength from, what was to me, my lowest point. People have said to me I've helped them and they've been in much worse situations than I was in at Barcelona.
"After all pulling a hamstring in a race is not life- threatening. It's humbling to find some people can use it to pick them up from the deepest depths."
[source;indianexpress]