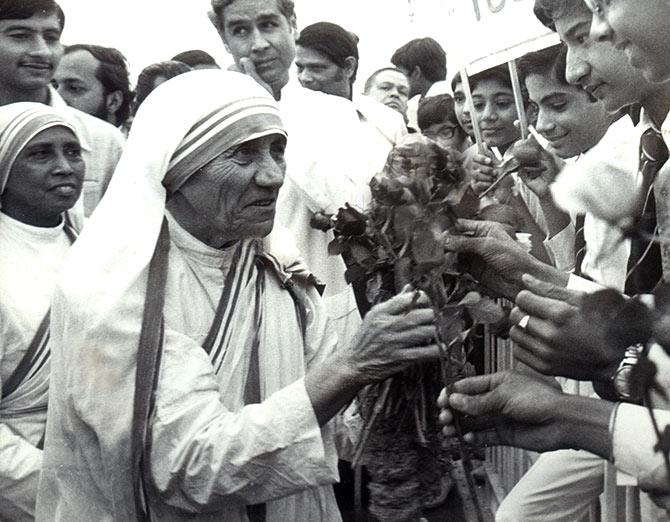 In her lifetime, she had already earned the title 'saint of the gutters' and to the thousands of destitute and needy who she cared for she was a 'living god'.
And on September 4, 2016 Agnes Gonxha Bojaxhiu, a Catholic nun who served the poor in Kolkata, will be bestowed the title of Saint at a function at the Vatican City.
Her journey from her birth place Skopje, now in Macedonia, to her yeoman work in West Bengal is itself a 'miracle' but after her death to attribute this diminutive woman with a Herculean grit for serving the poor of having performed 'miracles' like curing two people of diseases borders on irrationality.
Mother Teresa should have been made a saint without having so-called miracles associated with her name.
It is worth highlighting that the Constitution of India in Article 51A (h) enunciates "to develop the scientific temper, humanism and the spirit of inquiry and reform".
This is where attribution of so-called miracles comes into conflict with the under standings of modern science. But India is complex civilisation where faith, science, religion and superstition all co-exit mostly in harmony but occasionally in conflict.
India's best known living scientist and recent Bharat Ratna Professor CNR Rao on being asked said "No, I do not believe in miracles. One in thing general I will tell you, in India there is confusion between religion, faith, superstition and science.
"Faith everybody should have one thing or the other, like if in science you must have faith in the laws of physics. Faith is something everybody should have. If somebody has faith in philosophy or God, I have nothing against it; however, it should not give rise to superstition.
"Even Einstein said nobody could be without faith. Religion also you can have any religion, but do not mix it up with other things in life. Faith has nothing to do with believing in things that cannot happen against the laws of physics."
But for Mother Teresa to officially become a saint she needed to perform some miracles and according to the National Catholic Register: "The first [miracle] took place in West Bengal, India, and involved the healing of an Indian woman, Monica Besra, whose abdominal tumour was so severe that her doctors abandoned hope of saving her.
"Taken into the care of the Missionaries of Charity, she continued to decline and endured such agony from the tumour that she could no longer sleep. On the one-year anniversary of Mother's passing, the sisters at the home placed a Miraculous Medal that had been touched to the body of Mother Teresa on Besra's stomach. The suffering woman fell asleep, and when she woke up, her pain was gone. Doctors examined her and found the reason why: The tumour had disappeared completely."
Busting some of the hype around the miracle in 2003, The New York Times reported quoting Dr. Ranjan Mustafi, a doctor who said he had treated Besra, and claimed that "the medicines he prescribed had eliminated the tumour. He also said it was a cyst caused by tuberculosis, not a cancerous tumour. The Vatican team that travelled to India and certified Ms Besra's account, he added, but never contacted him."
According to the National Catholic Register, "A board of medical specialists worked with the Congregation for the Causes of Saints to study the alleged miracle. After assessing the records and interviewing the medical staff involved, the committee determined that the healing was medically inexplicable. Pope John Paul approved the miracle on December 20, 2002, barely five years after Teresa's death."
But speaking to the New York Times in 2003, Besra's physician Mustafi said "It was not a miracle", adding, "She took medicines for nine months to one year."
According to the National Catholic Register, "The second miracle took place in December 2008 in Brazil. Marcilio Haddad Andrino, a now-42-year-old mechanical engineer from Santos, Brazil, struggled with a bacterial infection in the brain that caused severe brain abscesses and agonizing head pain.
"A priest friend encouraged the recently married young man and his wife, Fernanda Nascimento Rocha, to pray for Mother Teresa's help. Andrino, however, slipped into a coma as treatments failed, and while Rocha prayed, he was taken in for last-ditch surgery.
"When the surgeon entered the operating room, he found Andrino awake and asking him what was going on. Andrino made a full recovery, and the couple went on to have two children, even though it was deemed by doctors to be a near medical impossibility."
Rationalists oppose tooth and nail that miracles take place since most so-called miracles have a scientific basis.
Take the case of 1995 rumour that statues of Lord Ganesha were drinking milk, devotes lined up in thousands outside temples offering milk to the elephant god. In the end it turned out that simple laws of physics and how a meniscus behaves could well explain why milk was disappearing from a spoon and heading down towards mother earth due to laws of gravity.
Yet to date, you can see gullible people being taken in by fakirs, babas and priests for performing miracles.
One common miracle is exorcism of a ghost from person body using a coconut and by sprinkling water on the coconut.
In reality the miracle maker usually hides a piece of sodium metal within the husk of the coconut and when water is sprinkled on it, the sodium catches fire gives out a smoke and the people are fooled into believing that the ghost was cleansed from the victim's body. In reality it was a heat giving or exothermic reaction of water and sodium that became a ghost excommunicated.
Similarly the two miraculous medical recoveries attributed to Mother Teresa would have a rational medical explanation but to the believers faith over powers science. It is high time the Catholic Church gave up this requirement of a person having performed at least two miracles after death to be canonised into sainthood.
Reform seems to be taking place in the church since earlier there was a requirement of more miracles to have been recorded and there was a mandatory 50-year waiting period for a person to be declared a saint, but in Mother Teresa's case that has been waived and she would be officially granted sainthood within two decades after her death. This is indeed a miracle by the conservative church.
Most Indians will be celebrating the elevation of Saint Teresa with Minister for External Affairs Sushma Swaraj representing the might of the Indian Constitution at the august ceremony, yet there are a few who question the rationality of such exercises.
Speaking on these issues, Prabir Ghosh, president of the Science and Rationalists Association of India from Kolkata, said, "If people want to revere Mother Teresa for her social work, I have no problem. But these miracles are unreasonable. I challenge the Pope to cure every poor person in India who cannot afford medical care, by praying to Mother Teresa."
On the other hand, Rao is also fellow of the Pontifical Academy of Sciences, and on being asked about this issue of Mother Teresa being made into a Saint and how does he justify miracles and science, he points out: "Pontifical Academy has nothing to do with the Pope in this way. Pope deals with the church and the church has made her a saint. Pontifical Academy does not deal with Saints."
Towards lasting peace, Rao has a simple solution: "Do not mix religion and science."
According to an official release from the Pope's Office, in her own life time Mother Teresa said, "What the poor need most is to feel needed, to feel loved. There are remedies and treatments for all kinds of illnesses, but when someone is undesirable, if there are no serving hands and loving hearts, then there is no hope for a true cure."
It is for these reasons attributing scientifically unproven remedies as miracles does not help the followers of Missionaries of Charity and humanity in general.
For the thousands of destitute that Mother Teresa treated, she was 'god incarnate' and her hand was the miracle of love the poor needed.
[source;rediff.com]