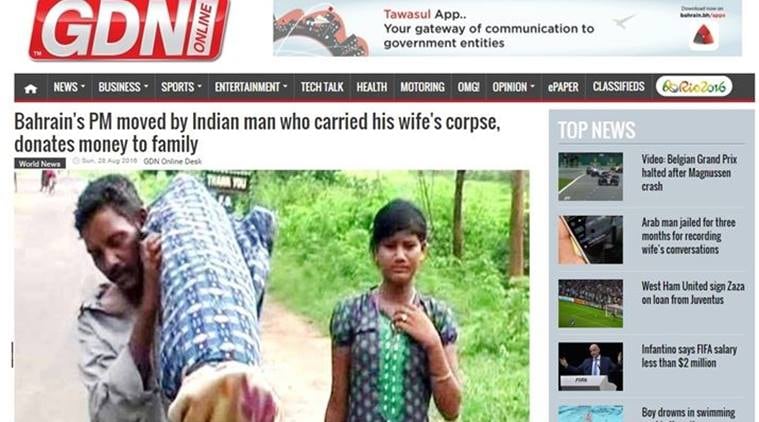 Even as an embarrassed Odisha government attempts to sweep the issue of Kalahandi tribal Dana Majhi carrying his wife's corpse under carpet, Bahrain Prime Minister Prince Khalifa bin Salman Al Khalifa has reportedly extended financial help to the family drowned in grief.
"His Royal Highness Prime Minister Prince Khalifa bin Salman Al Khalifa read about the man, who carried his wife's body for 12 km after the hospital where she died allegedly failed to provide an ambulance for her to be sent back to their village," the Gulf Daily News reported on Sunday.
"The Gulf Daily News learned exclusively yesterday that the Premier was so upset by the news that he felt he had to do something to help. He could not just stand by and do nothing about such suffering. The Prime Minister's office contacted Bahrain's Indian Embassy, and, in an extraordinary humanitarian gesture has donated a sum of money to help the man and his family," the daily said.
The report did not mention about the sum. One Bahraini Dinar equals Rs 178 Indian Rupee. Some readers of The Indian Express too have expressed their desire to donate money for Majhi's family.
After his wife Amangdei succumbed to tuberculosis early on Wednesday morning at Kalahandi district headquarter hospital in Bhawanipatna, Majhi sought help from hospital staff in carrying the body back to his village 60 km away. But after the hospital staff rebuffed him, Majhi walked with the corpse on his shoulders for almost 12 km along with his youngest daughter till a TV channel reporter came to his rescue and got him ambulance from a local NGO. The district administration though informed could not help him.
The district administration which conducted a probe blamed Majhi for taking the body without asking anyone. The administration suspended a male nurse on duty for negligence. However, the officials did not allow him time to grieve as they called him to Bhawanipatna for joining an official probe as he was about to perform the post-death rituals as per his tribal custom.
A grieving Majhi even alleged that during the probe, the Kalahandi district collector asked him whether he had killed his wife.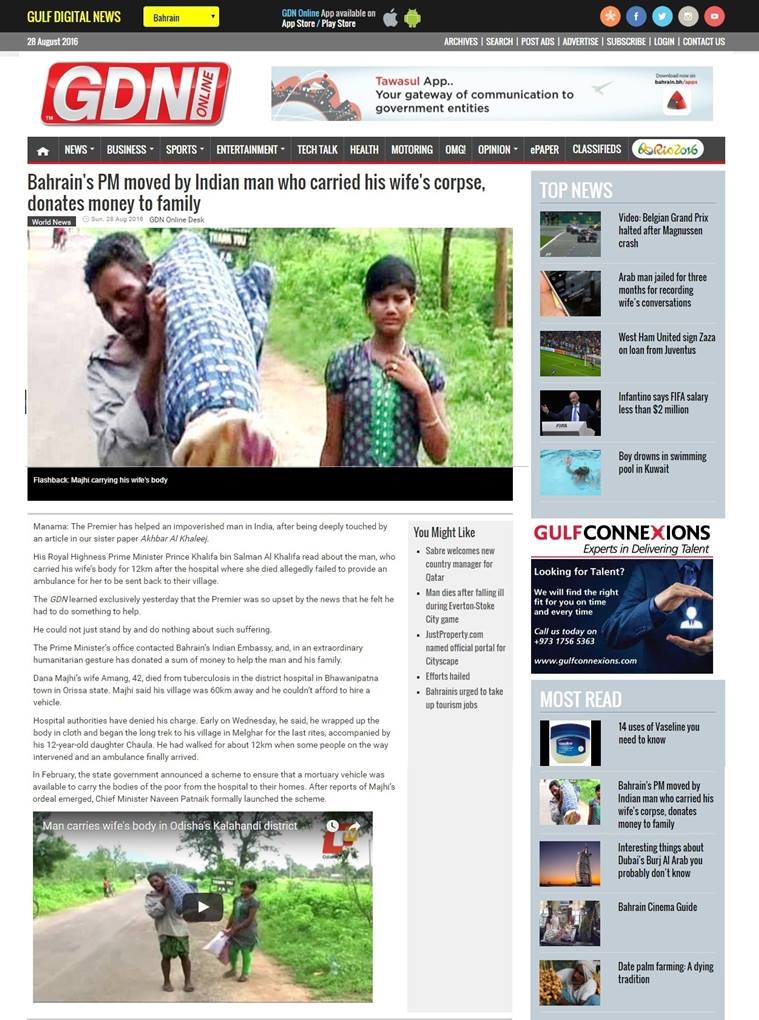 "When I said I took my wife from the hospital after she died, the Collector asked me whether I had killed my wife," Majhi told a local TV channel. "Why would I kill my wife? If at all I had killed my wife, why would I take her to the hospital for treatment?……Had I killed my wife, I would have dumped her body somewhere and fled from the spot instead of carrying her body on my shoulders."
Meanwhile, former Kalahandi MP and senior Congress leader Bhaktra Charan Das today started a 'Padyatra' from Melghar, the village of Majhi, to Bhawanipatna on Sunday. The 60 km long padyatra will reach Bhawanipatna tomorrow following which Congressmen would gherao the collector's residence. An 8-member BJPBteam headed by local MLA Rabi Nayak also visited his village. The team will submit its report to state BJP president.
[source;indianexpress]