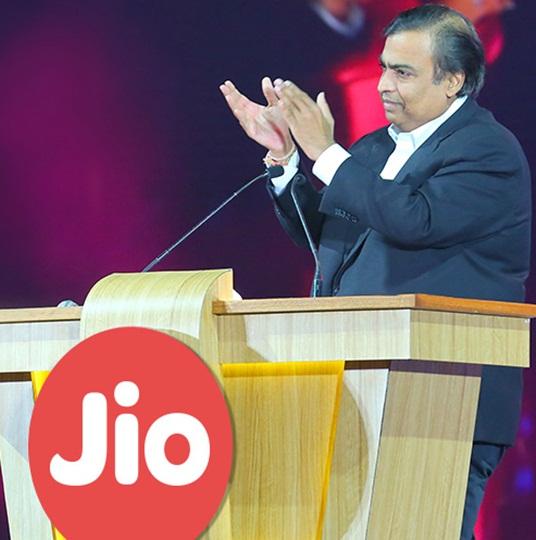 While the announcements made by Reliance Industries (RIL) chairman Mukesh Ambani at the annual general meeting (AGM) about the Jio project would be a game-changer for the telecom industry and consumers, it also means the break-even date would get pushed further ahead, believe analysts.
For the telecom sector, the announcement has led to India Ratings revising its sector outlook to stable-to-negative from stable for financial year 2016-17.
The rating agency said RJio will increase competitive intensity, squeezing market share, operating earnings margin and the credit metrics of incumbents. Adding, "Voice revenue would moderate in FY17 on stagnant minutes of usage and further competition in call realisations."
Analysts at Credit Suisse said, "Jio's launch has been one of our key worries for the past couple of years and this is turning out to be quite negative. We continue to stay cautious."
RIL's low price points mean its break-even is delayed. Dharmesh Kant, head of retail research at Motilal Oswal Securities, said, "The big concern arises on the time line of achieving operating break-even, in the context of the tariff (rate) policy deployed."
Reuters on Wednesday quoted filings at the commerce ministry to say Jio has more than Rs 32,500 crore (Rs 325 billion) of long-term debt, and other liabilities topping Rs 58,000 crore (Rs 580 billion), as of March, 2016.
In addition, Reliance has spent over Rs 29,000 crore (Rs 290 billion) on Jio and is expected to invest more – all adding up to more than what it has been spending on its core refining and petrochemicals business.
For the first time, RIL revealed Jio's plans for the fourth-generation (4G) technology business, announcing various data plans for prepaid customers (a large part of telecom subscribers in the country).
RIL's plans to offer free voice services, as well as the low price point of data usage, at an average of Rs 50/GB compared to Rs 250/GB from the other players at present, will disrupt the market.
Analysts say the average revenue per user (Arpu) and the number of subscribers are the two important data points that will drive Jio's revenue and profitability.
While most analysts were working with an Arpu estimate of Rs 250 a month for Jio, most of them believe this number might be difficult to achieve in the near future.
Says S P Tulsian of sptulsian.com: "Unless and until the company has 120 million subscribers with average billing of Rs 500 per month, when it will have a top line of Rs 72,000 crore, it might not be able to break even. I have my doubts that Jio will have 120 million customers in the first full year of operations, FY18. Given the high depreciation and interest costs, it is most likely to post losses in both FY17 and FY18."
This means the focus will shift to actual customer acquisition. Manoj Behera, telecom analyst at PhillipCapital, believes it will not be difficult for Jio to achieve 100 mn in the next three to four quarters, given the under-penetration of data in the country.
However, analysts at UBS Securities believe the addressable market for Jio is currently five per cent of India's mobile users (50 million), and expect its data revenue market share to be 5.3 per cent, 8.2 per cent and 10.6 per cent in FY18, FY19 and FY20, respectively.
This, it says, seems small when compared to the revenue market share of 31.2 per cent, 30.6 per cent and 30.1 per cent they expect for Bharti Airtel in those years.
Another factor to watch is that RIL plans to offer free voice services for the initial period for local, roaming and national dialling.
This means the company might have to bear the upfront cost of paying 14p a minute to the network where the call is being terminated, the current interconnect usage charge (IUC).
The Telecom Regulatory Authority of India has issued a consultation paper on whether to lower or abolish this but incumbent operators are opposed. If the IUC is reduced, Jio will benefit.
However, most analysts believe that the plans announced on Thursday might not be the final ones, and  that it could cut rates further.
"Jio's one plan is at Rs 149 and the second one is at Rs 499. Bharti's Arpu is at Rs 194, while Idea's is at Rs 180. So, RJio is missing out on a huge chunk of subscribers," adds Behera.
Another uncertainty around Jio is whether it will participate in the coming spectrum auction and the amount it would pay. If the capital expenditure for this business goes up, the break-even will get delayed further.
On RIL's core business, analysts were also disappointed by the delay in commissioning of the pet coke gasification plant by three to six months.
This could lead to minor downgrades in FY18 earnings estimates.
Going forward, the core oil and gas business is expected to remain strong, but the stock price will move in line with the news flow around Jio.
"To sum up, we expect the per-share price of Reliance Industries to remain under pressure in the near to medium term," adds Kant from Motilal Oswal.
[source;rediff.com]