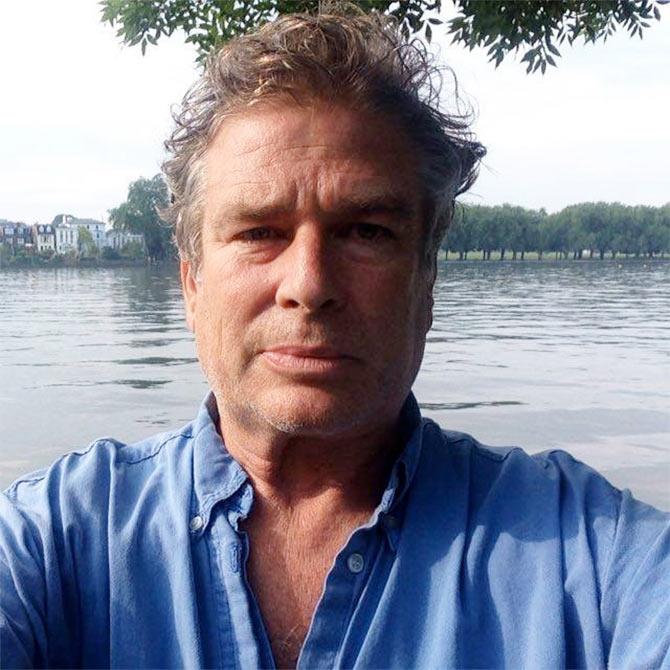 Shashi and Jennifer Kapoor's gorgeous son Karan Kapoor is still known as the Bombay Dyeing man, almost 20 years after he stopped appearing in the ad.
Remind him about it and he laughs. "I like it!" he exclaims, as we chat over the phone on a Sunday afternoon.
Karan is an award-winning photographer based in London. Later this month, he will exhibit his photographs in India in a travelling exhibition organised by the Tasveer Art Gallery.
The black and white photographs, which show an India that no longer seems to exist, were taken when Karan was barely 18 years old.
The pictures are amazing, so I let Karan rewind to the time he was busy clicking them.
***
'I would love to make a comeback. But I don't know if anyone wants to see me!'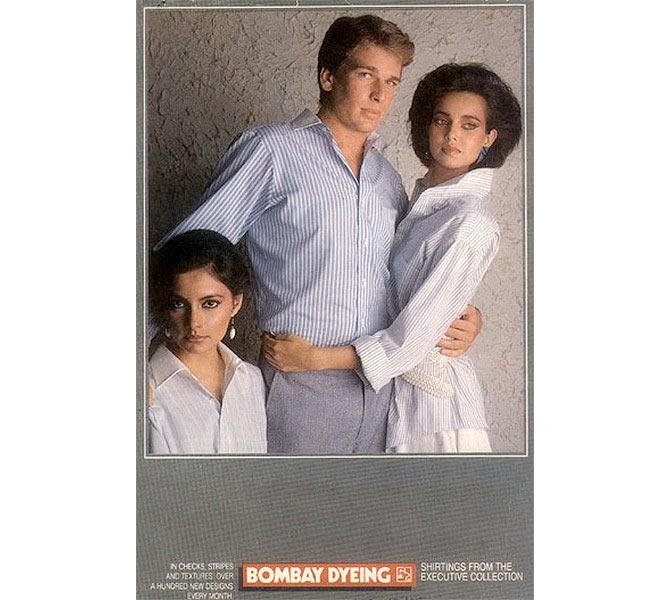 IMAGE: Karan Kapoor in the Bombay Dyeing ad.
"We had a house in Baga, Goa, that we would visit every Christmas vacation," Karan recalls. "It was called Love House. The toilet was outside the house. We had no water; someone had to get it from the well. My dad was huge then, but he could walk, go to the local tavern, have a beer and take an auto back. People would acknowledge him, but never hassle. My friends were the locals. We would go fishing and, when we were older, ride bikes."
"Those Goa pictures are very personal to me. The place has changed a lot from those days. The fishing boats are gone," he says.
The pictures for Karan's Goa series were clicked between 1980 and 1996. He was fresh out of school, only 18, but his passion for photography had found root much earlier.
"I started photography in Calcutta (now Kolkata) when I was working in 36 Chowringhee Lane (directed by Aparna Sen, produced by his father Shashi Kapoor and starring his mother Jennifer Kapoor in the lead role). I started the Anglo Indian Series there. It then moves to Bangalore (now Bengaluru), Bombay (now Mumbai), Ooty… from 1980 to 1983," he says.
By the time he was 24, he had a body of work. "Modelling and acting came later."
"People think I did modelling first, but that's not true," Karan says. So how did he become a model?
"After my mother died in 1984, Mrs (Maureen) Wadia came by one day and asked me to model for Bombay Dyeing. They also had a home in Goa. Adrian (Stevens, photographer, who was also Karan's mentor) shot the pictures and my brother Kunal created the whole Dream Lover brand," Karan says.
Nobody thought it would become so popular. The ads started in 1984 and the last commercial was shot in 1998.
The first ad released just before his first movie release, Sultanat (1986), which also happened to introduce Juhi Chawla.
"I wasn't interested in films, but it was a good experience," Karan says. "Cinema was haywire in the 1980s. It was a funny period in films then. Nowadays the editing, action, stunts, etc, is so slick. But, in those days, commercial cinema wasn't inspiring. Also, I was too foreign looking. Very blonde. But I'm not blonde anymore," Karan says, with a laugh.
"I had a language problem," he adds. "When I was young, I felt my talent lay in photography, not movies. Now, I have won awards in photography (including the PDN Annual, American Photography, International Photography Awards, Prix de la Photographie, Black and White Spiders Cup) so I think I have achieved what I wanted to do."
What do his children — Aliyah, 17, and Zach, 14 — think about his movies?
"They have seen clips of Sultanat and Loha. They laugh," Karan chuckles.
Would he like to make a comeback in the movies? "I would love to," he replies. "But I don't know if anyone wants to see me!"
'If they couldn't find a firang-looking boy, I would be called'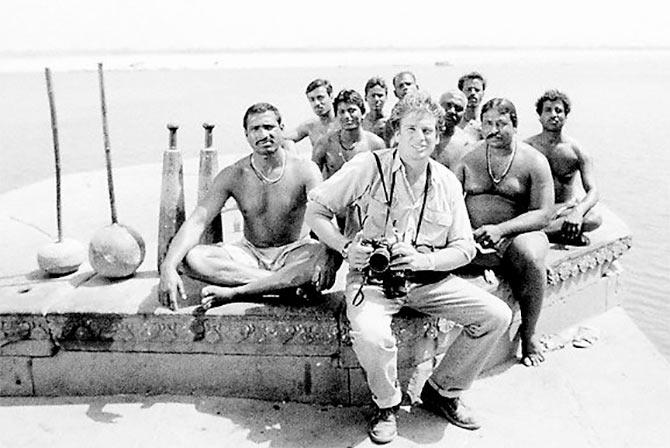 Photograph: Karan Kapoor/Facebook
Karan moved to the UK in 1988.
"I left just after Rajji's funeral," he says, referring to his legendary uncle, Raj Kapoor.
He would return every December to shoot the Bombay Dyeing ads and indulge in Mrs Wadia's fish and crab curry. "She had a wonderful cook!" he exclaims.
Karan visits India often, at least once a year. He will be here when his exhibition opens on September 22.
So what was his childhood like?
"We lived in south Mumbai in those days," he says. "Once dad, my brother and I walked from Nepean Sea Road to the Sun 'n' Sand Hotel in Juhu (north-west Mumbai). We would go to Udipis (south Indian restaurants) for a dosa breakfast. For us, dad just went to work."
"We would watch wrestling matches. We were big fans of Dara Singh and met him on the sets once. And there was this other time when we went to see a tiger on set," Karan says. "If my father was shooting in Kashmir or down south in the jungles during our vacations, we would go. But it wasn't a regular thing; we did it only in the vacations."
"If they couldn't find a firang-looking boy, I would be called. That's how I was in 36 Chowringhee Lane. It was a dream sequence, where I think my sister (theatre impresario Sanjana Kapoor) played my mother," he says.
Holi parties at RK Studios was legendary and Karan remembers them fondly.
"The drive from south Mumbai to Chembur (north Mumbai, where Raj Kapoor lived) took a good hour. We didn't mind because we knew we would get a good meal at their home… Peshawari pulao, biryani… The specialty at Shammi Kapoor's place was fish curry. We tend to eat a lot. We like our food!" he laughs.
Karan and his family would also celebrate Diwali and Raj Kapoor's birthday in Chembur. "There would be pretty girls and a lot of glamour," he says with a laugh.
'We didn't watch too many Hindi films those days'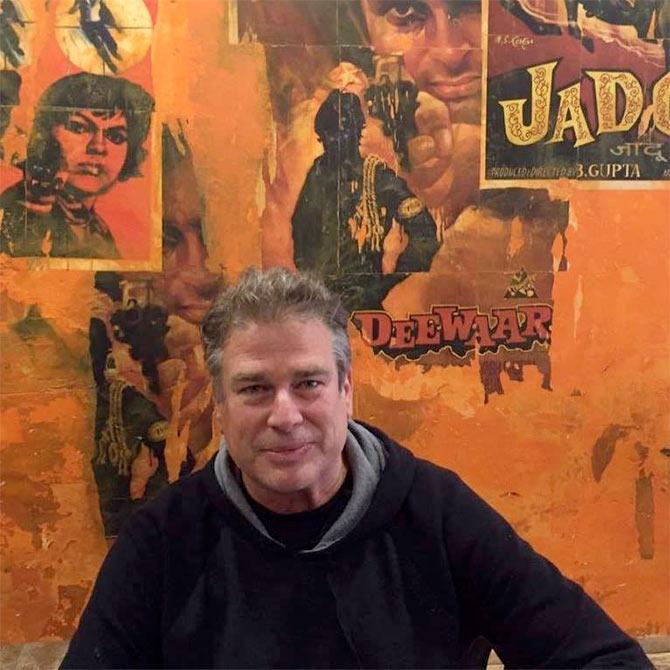 Photograph: Karan Kapoor/Facebook
His favourite Shashi Kapoor film is Shankar Dada because "it was hilarious." He also likesDeewaar, but his absolute favourite is Shakespearewallah. "He was amazing in that," Karan says.
"But we didn't watch too many Hindi films those days. I think I've seen Amar Akbar Anthonysome five or 10 times in the theatre. Those days, we could watch movies in theatres only, there were no videos. Amitabh Bachchan was really funny in Namak Halal," he says.
Does he watch movies now?
"No, not that much. I liked that film with Naseer (Naseeruddin Shah) in Goa," Karan says.
Finding Fanny, you ask, and he says yes.
Has he watched any film starring his niece Kareena and nephew Ranbir? "I liked 3 Idiots," he replies, referring to Kareena's blockbuster film with Aamir Khan. And after a lot of thought, "Hmmm… no, I haven't seen any of Ranbir's films."
'Rekha is very photogenic. You can't go wrong with her'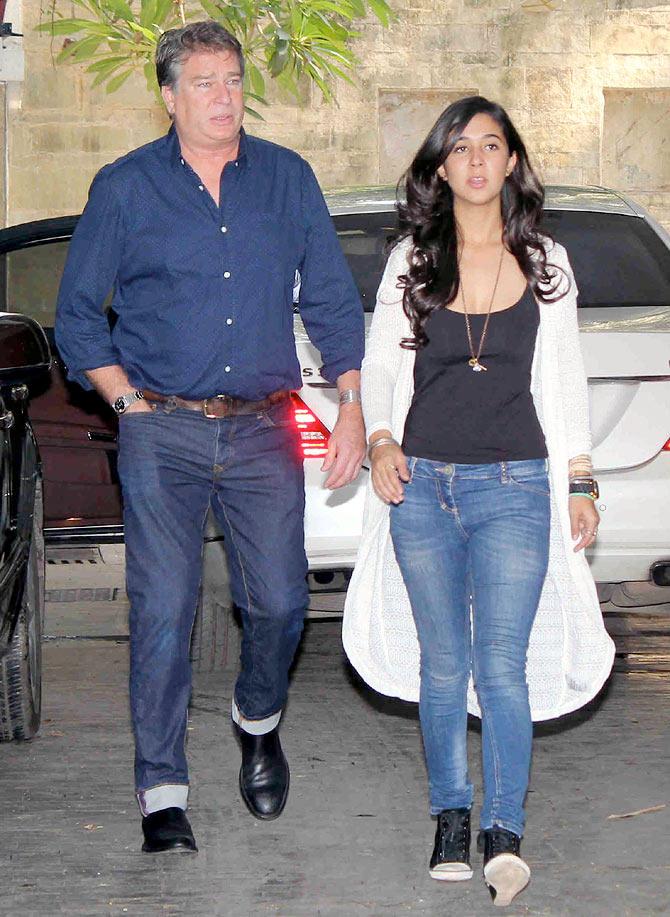 IMAGE: Karan Kapoor with his niece Shaira, his elder brother Kunal's daughter, at Shashi Kapoor's Christmas brunch in 2014. Photograph: Pradeep Bandekar
"India has changed a lot," Karan says. "The (Mumbai) airport has become phenomenal. Once, I took a train from Delhi to Haridwar and things were still the same. I liked that. Some things have changed and some things just remain the same. But the traffic has become really bad."
Karan loves travelling by train in India, and he has been "everywhere".
"I went to Kolkata by the Gitanjali Express. I went to Jammu by train and then took a bus to Srinagar. I've been to Gwalior… I like to talk with people in the train. I like the conversations, the life that I see," he says.
Two years ago, Karan took a train trip to Karnataka with his brother Kunal's children, Zahan and Shaira. "One of the stations we passed was Kundapur, one of the locations for Utsav. Those memories came rushing back," he says.
Utsav was one of Karan's first photography assignments. The stunning poster featuring Rekha was one of his pictures. "Rekha was amazing, she's very photogenic. You can't go wrong with her," he says.
Who else does he find photogenic from the film industry? "Karisma and Kareena are very photogenic," he says. "And that girl… Deepti?"
Deepti Naval, I ask?
"No, the girl in that film in Goa."
"Deepika Padukone."
"She's very photogenic."
Karan may belong to the first family of Hindi cinema but he clearly isn't into the movies.
'I think Dad would have liked me behind the camera'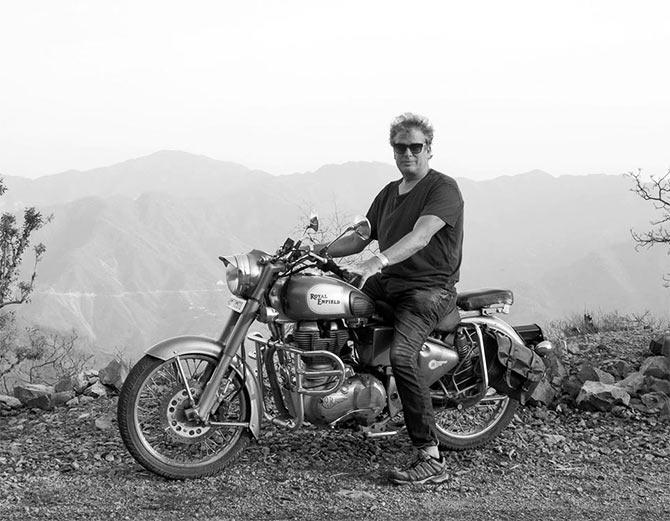 IMAGE: Karan Kapoor enjoys a bike ride in Rishikesh. Photograph: Karan Kapoor/Facebook
Karan Kapoor didn't miss the stardom when he went to the UK in 1988. Not even when he had to struggle to get himself noticed in the world of photography and advertising.
"The first few years were difficult because there was a lot of competition. There is a lot of talent there. I used to work in newspapers and magazines initially. Those days, most people thought I was a girl because they thought my name was Karen. And then I would turn up!" Karan says with a laugh.
It took him some time to find his feet. Karan began his career as a photojournalist and then moved into advertising. The Chennai Photo Biennale this year exhibited his work. He has also been included among the top 200 advertising photographers in the world by the Vienna- basedLurzer's Archive, one of the foremost advertising magazines in the world.
"My parents were very encouraging. They loved my pictures. They let their kids follow their own paths though I think Dad would have liked me behind the camera," he laughs. "But photography is also creative, so it was accepted."
Why didn't he take up film photography, since he had dabbled in that? "Film photography is quite boring; it's not my kind of photography," Karan explains.
So what is Karan doing these days? "I work from home. Nowadays, I'm too much in front of the computer."
There is another dream that he is waiting to live now.
"I had gone to Rishikesh in May. I rode a Royal Enfield after such a long time there. We would ride up the ghats," Karan says. "Shammi Kapoor's son Mickey (Aditya Raj Kapoor) rides a lot. He has gone all over India on a Royal Enfield. That's my dream now."
A sneak preview of some of Karan Kapoor's pictures that will be showcased by the Tasveer Art Gallery in an exhibition, Time and Tide.
The exhibition will be held in Mumbai from September 22 to October 16, then travel to Bengaluru, Kolkata, Ahmedabad and Delhi.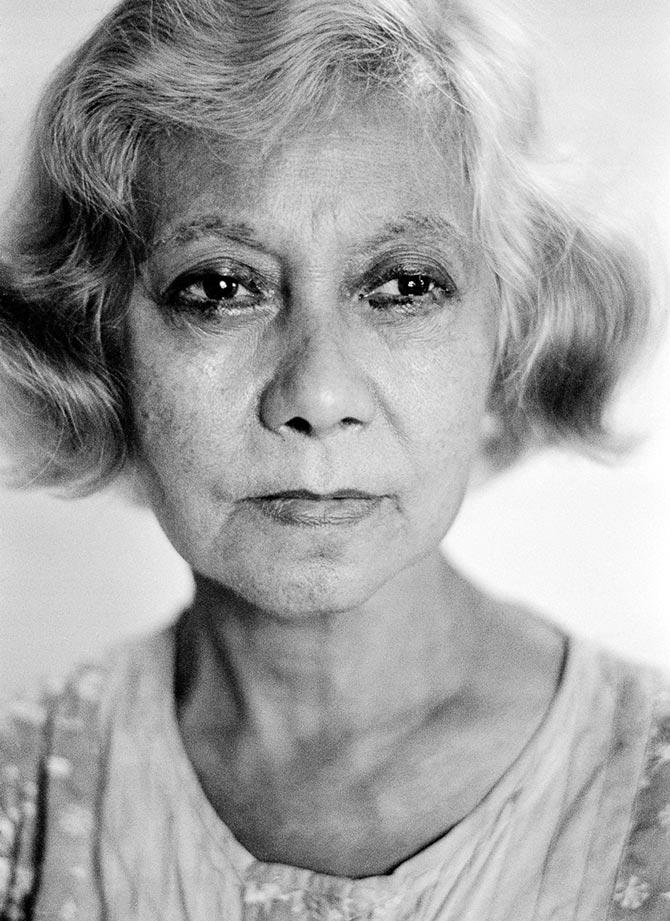 IMAGE: © Karan Kapoor. Violet, Andheri, Bombay. Silver gelatin print; 1982. Kind courtesy: Tasveer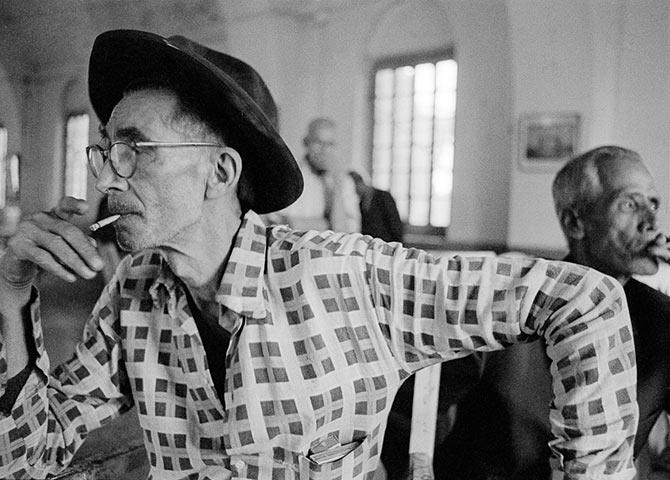 IMAGE: © Karan Kapoor. Mr Carpenter, Tollygunge, Calcutta. Silver gelatin print; 1981. Kind courtesy: Tasveer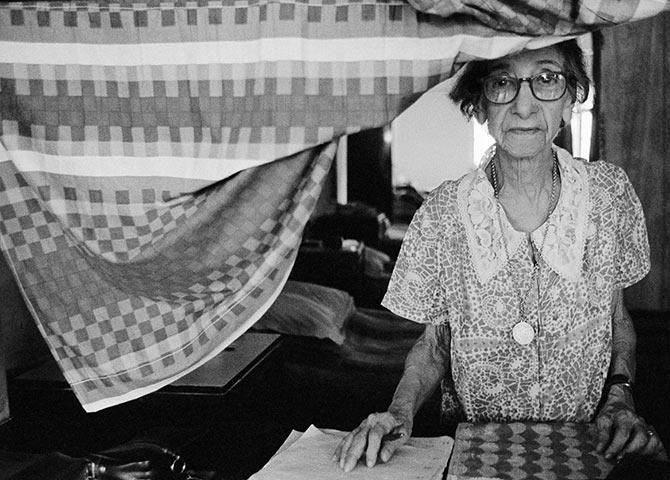 IMAGE: © Karan Kapoor. Andheri, Bombay. Silver gelatin print; 1981. Kind courtesy: Tasveer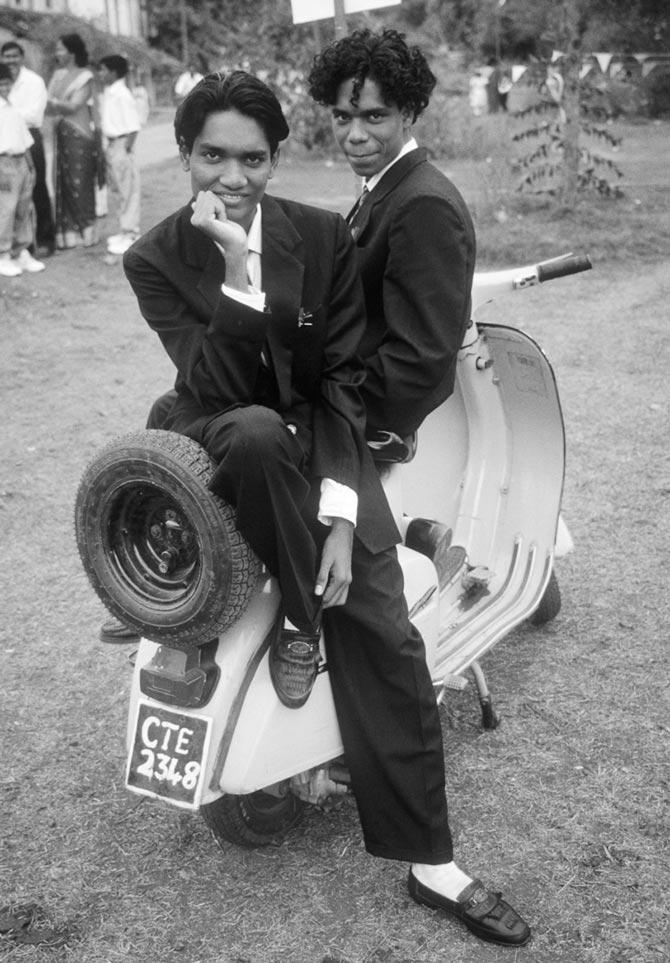 IMAGE: © Karan Kapoor. Three Kings feast in Chandor, Goa. Silver gelatin print; 1994. Kind courtesy: Tasveer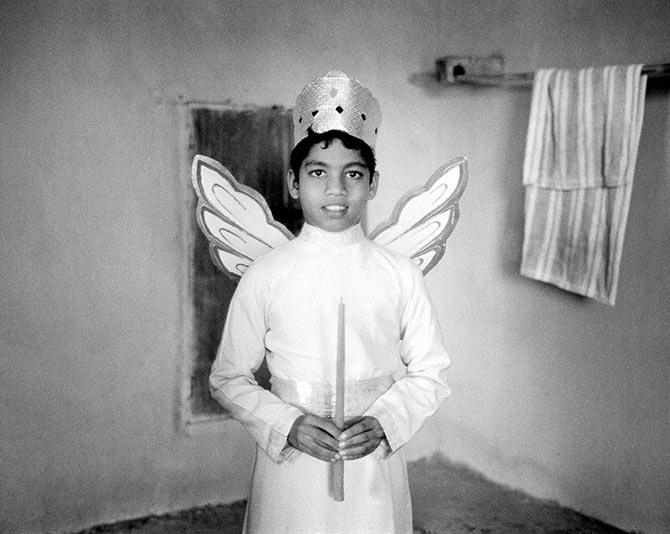 IMAGE: © Karan Kapoor. Loutalim, Goa. Silver gelatin print; 1994. Kind courtesy: Tasveer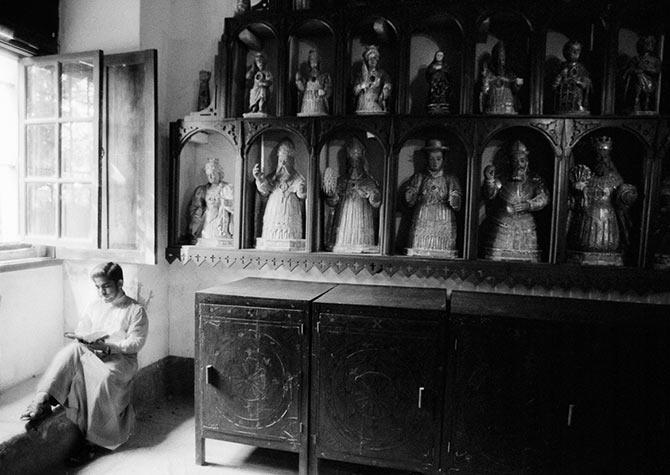 IMAGE: © Karan Kapoor. Rachol Seminary, Goa #1. Silver gelatin print; 1994. Kind courtesy: Tasveer
[source;rediff.com]