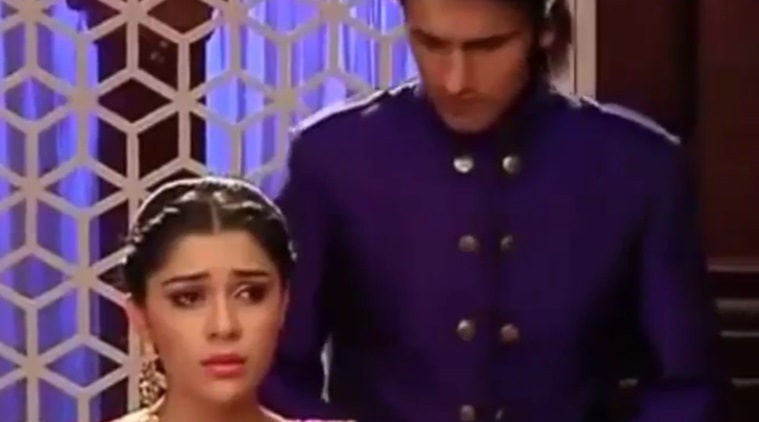 Raja tells Dadu that he'll talk about Rani with his father and grandmother in Ek Tha Raja Ek Thi Rani. Amrita stops him and says that she will do that and not him. Dadu says that it's her right to do that. She tells them that it's late and they should now go. Rani's friends say they'll celebrate for some time now that they are getting married.
Jeevan is seen talking to his mother's picture and declaring that he won't let anyone get married to Rani.
Raja and Rani are with their friends celebrating the news of their marriage. They dance together and their friends shower roses on them and join them. Raja and Rani are sitting together when they hug each other and Raja takes out a knife.
Amrita is seen picturing Kaal when she will tell him the truth about Dadu and Rani. She thinks that Kaal will get angry and will finally decide to kill them both so she says nothing to Kaal although he's standing right in front of her.
Raja is seen taking the knife and cutting his own hand and promising with his blood that he'll never ever leave Rani and will love her for life.
Amrita comes and gives her jewellery to Raja and asks him to leave the Mahal with Dadu and Rani. He tells her that he won't do that as he loves Rani and that it's not wrong. Rani has always been alone in her life and he won't let her live like that anymore. Amrita thinks about whether she should tell him the truth but doesn't. She says if he's so set on his decision, he will talk to Kaal and Rani Maa in the morning.
Kaal senses that Amrita has to say something and asks her to talk. She tells them that Raja has planned to marry Rani as he's in love with her since childhood. Kaal and Badi Rani Maa are equally stunned to hear that.
Raja brings Dadu and Rani to the Mahal and talks about Kaal. He tells them that Kaal isn't as big hearted as they are. And also that his grandmother won't welcome the idea of Raja and Rani but once she agrees to it, she will make it happen.
Kaal asks Amrita to explain what she's saying. Rani Maa says no to the marriage as they won't let their son get married to a lower caste family. She says Rani getting married to Jeevan was not a problem as he's just a bastard but Raja is the heir to Amer Court and cannot marry a servant.
Dadu enters the Mahal and remembers when she was the queen and talks about how familiar the place feels like. Even Rani Maa feels some weird vibes around her.
Amrita says that Rani is no servant but is noble-blooded. Kaal demands the truth. Dadu walks from one corner to another admiring an exploring the Mahal and Raja tells her that she's walking like it's her own house. He calls her Raj Mata and she says that it feels like she's been called that before.
Dadu goes and sits in one of the rooms when Kokila comes in and asks her to show her face. Dadu turns and Kokila immediately recognises her as Raj Mata. (Ek Tha Raja Ek Thi Rani 24th August 2016 full episode written update: Raja and Rani confess their love)
[source;indianexpress]