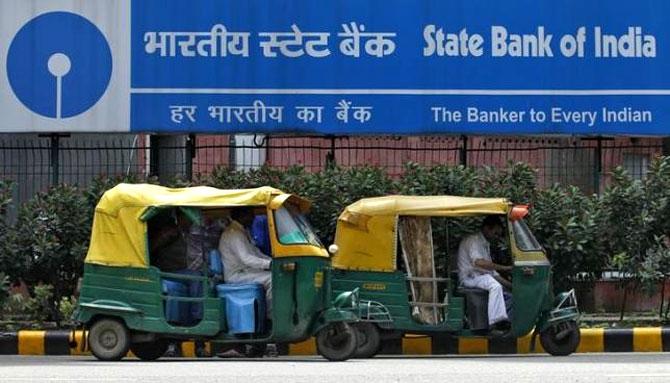 Bogged down by rising non-performing assets, State Bank of India (SBI), the country's largest lender, on Thursday reported a 25.9 per cent decline in its advance tax payment for Q2 FY17.
The bank paid Rs 1,200 crore (Rs 12 billion) as advance tax, compared with Rs 1,620 crore (Rs 16.20 billion) in the corresponding period last year.
Private lender ICICI Bank has also reported a decline in advance tax outgo for the September quarter. It has paid Rs 1,200 crore (Rs 12 billion), 20 per cent lower than the same period a year ago.
In contrast, HDFC Bank's Q2 advance tax outgo jumped 20 per cent year-on-year to Rs 2,400 crore (Rs 24 billion).
HDFC Ltd's advance tax payment also increased 7.5 per cent to Rs 860 crore (Rs 8.6 billion).
Top corporates have paid more advance tax in second quarter this year.
Tata Steel's advance tax payment was up 100 per cent y-o-y, followed by a 26.5 per cent jump in Reliance Industries' (RIL) outgo at Rs 2,667 crore (Rs 26.67 billion).
Software services major Tata Consultancy Services (TCS) paid Rs 1,550 crore (Rs 15.50 billion), compared with Rs 1,750 crore (Rs 17.50 billion) last year.
Advance tax is a system of staggered payment of income tax in four quarterly instalments. It is considered a barometer of a company's performance in a particular quarter.
"Advance tax collections from top banks are disappointing as they contribute a major part of the government revenues," said an income tax department official.
Cement major UltraTech paid Rs 180 crore (Rs 1.8 billion) as advance tax, up 20 per cent from the year-ago quarter. Some PSBs have posted good numbers.
For instance, Bank of Baroda and Bank of India's advance tax outgo was up 25 per cent, respectively. However, Central Bank's outgo was down 29.7 per cent.
YES Bank's advance tax outgo was Rs 400 crore (Rs 4 billion), compared with Rs 285 crore (Rs 2.85 billion) in the year-ago period.
Foreign banks posted mixed numbers. Citi Bank and Standard Chartered Bank paid Rs 700 crore (Rs 7 billion) and Rs 560 crore (Rs 5.6 billion), respectively as advance tax.
Consumer major Hindustan Unilever paid Rs 500 crore (Rs 5 billion), against Rs 460 crore (Rs 4.6 billion) in Q2 FY16.
Auto companies have shown mixed numbers. While Mahindra & Mahindra paid 11.1 per cent more tax than Q2 FY16, Bajaj Auto paid Rs 390 crore (Rs 3.9 billion), compared with Rs 450 crore (Rs 4.5 billion) last year.
Similarly, pharma major Lupin's advance tax outgo was up 24 per cent.
[source;rediff.com]