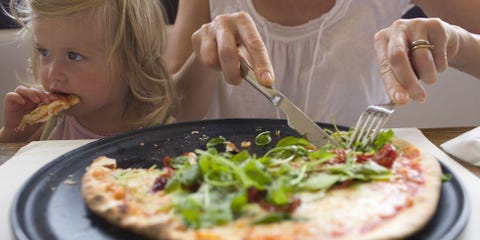 I used to stress about making healthy choices at restaurants, but I've learned some tricks to scoring a guilt-free meal. I start by looking up nutritional info before I go — most chains provide it online, and I love making a plan. But even if those details aren't available, there are plenty of clues on the menu. Look for healthy terms like steamed, baked, broiled, and grilled, and don't be lured into options that say fried, breaded, creamy, or crunchy (that usually implies it's fried!). There's also no shame in asking questions, like whether a soup is broth- or cream-based or if you can get extra veggies instead of a side of pasta. Now go have fun!
Panera Bread
Being smart is all about the You Pick Two menu here, where you mix and match salads, soups, and more. There are dozens of combos with less than 600 calories. Avoid the mac and cheese (nearly 500 calories on its own), creamy soups (up to 340 calories for a cup), and sandwiches with mayo-based sauces.
Top Picks: Try the Fuji Apple Salad With Chicken and a cup of Low-Fat Vegetarian Black Bean Soup (370 calories for the combo); the salad is bursting with flavor, and the soup tastes rich. Other pairs I love: the BBQ Salad With Chicken plus the Smoked Turkey Breast Sandwich (major comfort-food appeal and tons of protein, for 440 calories), and the Modern Greek Salad With Quinoa and the Low-Fat Chicken Noodle Soup, for 360 calories.
The Cheesecake Factory
Its massive menu is home to some massive portions (the Grilled Chicken and Avocado Club sandwich, which sounds vaguely healthy, has more than 1,500 calories!), so the key is to think small. Specifically, the Small Plates & Snacks section — one or two will fill you up. And you can always turn to the SkinnyLicious menu for smart choices.
Top Picks: The Mexican Chicken Lettuce Wrap Tacos are my hands-down favorite … and only 260 calories. Not quite enough food? I hear you: Add the Ahi Carpaccio (260 calories) for a starter. Pizza lovers should get the Fresh Basil, Tomato, and Cheese Flatbread; it's just 320 calories. From the SkinnyLicious menu, the Factory Chopped Salad is an amazing choice. It's absolutely huge.
Applebee's Grill & Bar
The pick 'n' pair Wood Fired Grill menu has some smart combo options: really yummy food, cooked simply on a wood grill, giving the dishes a smoky flavor and reducing the need for high-calorie extras. And, of course, the Lighter Fare section guarantees you a meal under 600 calories.
Top Picks: If you're craving steak, get the 6-ounce Top Sirloin and pair it with Wood Fired Grill Veggies and Garlicky Green Beans (560 calories). The variety will keep your taste buds from getting bored. Seafood fans, order the Thai Shrimp Salad: It's flavorful and filling, with edamame, peanut sauce, almonds, and more. Ask for it without the wonton strips; you'll get plenty of crunch from the almonds, and it'll have even fewer than its official 390 calories. Get a glass of wine!
Olive Garden
The Lighter Italian Fare section of the menu is a useful shortcut, since everything has less than 575 calories. But if you're careful, there are finds in other parts of the menu too. Heads up: Each of the famous breadsticks has 140 calories — eating one won't torpedo your meal, but don't overdo it!
Top Picks: Of course you're craving pasta — that's why you're here, no? Get the Cucina Mia customizable meal, pairing the angel hair pasta, Traditional Marinara sauce, and sautéed shrimp. All that tastiness is only 540 calories. Seafood options are great here too. You can order the Garlic Mussels Marinara appetizer as your entrée — plenty big, and 510 calories. And on the Lighter Fare menu, check out the Tilapia Piccata: It's served with Parmesan-crusted zucchini and has only 450 calories.
["source-cosmopolitan"]