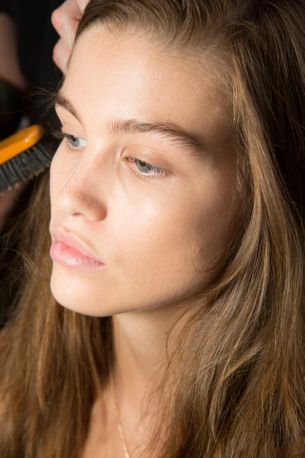 News just in: you can exercise, knead and massage your way to firmer, more youthful-looking skin.
"Your face finishes at your boobs." As a beauty editor, I've heard this phrase countless times from dermatologists, facialists and anyone else who cares about skin enough to know that any cream, serum, essence or youth-infusing tonic should not only be used on the face, but also applied as diligently on the neck and décolletage. After all, skin is skin. Now, apply the same principle to exercise. Fitness routines and repetitive exercises to build and shape muscle – practices usually reserved for south of the neckline – are being introduced into daily skincare regimens to promote circulation and improve overall skin tone.
While kneading, flexing and prodding your facial contours might seem like an odd concept, it's a centuries-old beauty practice that has been used in all corners of the globe. Japanese geisha, lauded for their progressive beauty routines and youthful complexions, consider facial massage, or tsubo, basic maintenance to boost circulation and ease puffiness. Meanwhile, in South Korea, a hotspot for beauty trends both outlandish and beneficial, skincare blogs are brimming with how-to tutorials on "skin fit" exercises designed to, say, lift droopy eyes or create a narrower jawline.
So what does it really mean to be "skin fit"? Like squats to tighten the glutes or bicep curls to tone the arms, constantly engaging the facial muscles through specific movements can potentially improve muscle tone and the skin's laxity. "Muscles in the face are 'mimetic' muscles, meaning they are used for facial expressions," says Dr Jack Zoumaras, a cosmetic surgeon at Sydney's Artiste Plastic Surgery. "They differ from other body muscles by having attachments to the overlying skin and not necessarily arising from bone and tendons, like leg and arm muscles. So-called 'facial yoga' can potentially slow down ageing by improving facial muscle tone."
London-based facialist Nichola Joss has pioneered a sculpting facial technique that deployskneading and deep lymphatic massage and has, in turn, gained a dutiful celebrity following from the likes of Gwyneth Paltrow and Gisele Bündchen. Her facials are more workout than veg-out: Joss conducts appointments not in a spa or salon but, more fittingly, in a fitness studio in Covent Garden (so in-demand are her services, she also hosts a monthly pop-up in New York). Her unique (some may argue, intrusive) massage technique is designed to lift the facial contours and yield impressive results. Relaxing it is not. "The treatment involves massage from inside the mouth to distress the muscle tissue and improve the tone and firmness of the facial muscles to add youth and vitality, encouraging the muscles to sit higher," says Joss, who studied physiology before training as an aesthetician. Joss warns clients that, as with real sweat sessions, they may feel a little tender post-treatment, but should see improved firmness and overall radiance. "It works by toning and de-stressing the muscle fibres to allow them to behave more youthfully, holding less stress and tension, also holding less toxin, which is ageing to muscle and skin tissue. Firming muscles and de-stressing them makes the facial structure feel lighter and more toned, refreshed and contoured."
Dr Zoumaras says the first areas of the face to lose tone are "around the eyes, followed by loose skin along the jaw line and ears, fat moving to the wrong place, resulting in hollow areas like under the eyes, and areas of puffiness. The loss of facial tone results in the detachment of fine ligaments from the overlying skin. The skin is now unsupported by the underlying muscle and becomes 'crepey'. With time the skin then droops down and the fat in the face also descends, due to the unsupported muscle layer."
Like forgoing the gym for the convenience of your living room, there are "facecises" that you can do to promote muscle tone in the face without seeking out a professional. "Exercises involve opening your mouth wide to make an 'O' shape, pouting the lips and stretching your neck by looking up at the ceiling. These exercises will stretch and activate the majority of the facial muscles," says Dr Zoumaras, who warns against forehead-focused exercises, which can actually accentuate fine lines.
Meanwhile, beauty companies are ushering in a dual approach – both topical and manual – to face treatments and upkeep. Skincare leader Dermalogica recently launched its on-counter FaceFit service, a menu of supercharged express treatments designed to boost glow and radiance in 10 minutes. "FaceFit treatments achieve visible results and create amazing skin health benefits by using a combination of Dermalogica's active cosmeceutical ingredients with high-tech equipment such as ultrasound and microcurrents," says Emma Hobson, education manager for the International Dermal Institute and Dermalogica. I sign up for Dermalogica's Brilliant Eyes service and, after I'm lathered in a roster of serums and moisturisers, the technician begins prodding and moving the skin in different directions to promote blood flow. When the physician hands me the mirror I look as though I've awoken from eight hours' sleep and, like a deflated tyre that's been given a shot of air, the fine lines around my eyes seemed plumper, sans puffiness. I follow an online how-to guide to repeat the technique at home and set aside a few extra minutes to incorporate them into my nightly routine.
The gym skin movement has infiltrated beauty bags backstage, too. This season make-up artists replaced descriptors like "effortless" and "undone" with "gym skin" and "post-workout". At Balmain, where the brief is typically along the lines of "modern bombshell", models could have hot-footed it straight from an intense sweat session. "I smoothed a clear gel across the cheekbones, temples, brows and lips, crafting the appearance of wetness to complement the models' drenched, slicked-back hair," says make-up artist Tom Pecheux. "I wanted the look to be very dewy and slightly wet, in a way that almost looked like it was an afterthought of a girl putting her make-up on and then jumping into the ocean."
Meanwhile, at Lanvin and Alberta Ferretti, make-up artists were highlighter-happy, utilising reflections on the zones of the face – cheekbones, nose, forehead and cupid's bow – that would typically perspire during a gym class. But even the most artfully highlighted complexion and diligent face-exercise routine needs the support of hard-working skincare products. Dior Capture Totale DreamSkin 1-Minute Mask is a souped-up wonder product that delivers an instant glow to radiance-zapped skin. Used twice weekly, the powder-pink gel transforms into a cream for a turbo-charged dose of chemical exfoliants such as salicylic, glycolic and citric acids.
Occasionally, directing your efforts away from the problem at hand can yield effective results. Many dermatologists agree that while tone and plumpness are important elements in maintaining a youthful complexion, one shouldn't overlook the benefits of brightening. Perricone MD Thio:Plex Intensive is a two-step brightening system with anti-inflammatory properties to smooth out discolouration and brighten the skin tone overall. Uniquely, it also addresses loss of firmness, with 93 per cent of consumers who tested the products reporting their skin appeared "firmer, brighter and more youthful".
I don't need a study to be convinced. I switch up my skincare regimen to include an arsenal of firming and brightening products, which I knead into the skin with some targeted massage techniques. While it might be all the prodding or the M.A.C Strobe Cream I've been diligently applying to amp up the glow, after a week I feel recharged and the top layer of my skin feels slightly more supple while simultaneously toned. And the best part? I didn't even need to set foot inside a sweaty gym.
["Source-vogue"]