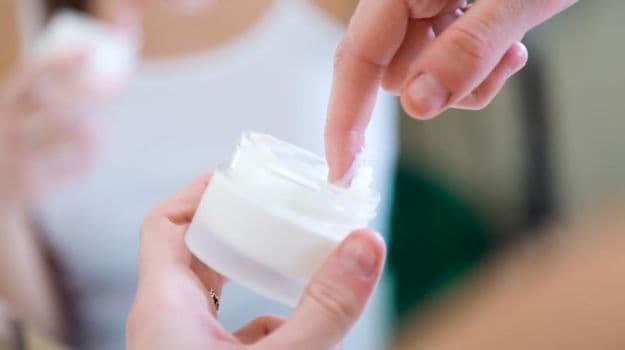 Being someone who's had to suffer with a terrible bout of acne due to my oily skin, I always felt that people with dry skin are happier. It was only later I realized that dry skin comes with its own set of problems like flaking, peeling, leathery look and above all it tends to age much faster than oily or combination skin. If your skin feels stretched and dehydrated then you are definitely a dry skin type which a lot of tender loving care.
Nourishing and moisturising both internally and externally are very important. Creams and moisturisers – all become ineffective when dryness plays up especially during autumn-winter months. So, what can one do to treat dry skin in the most natural way?
Let's start with internal oiling. From sunflower and olive oil to corn and mustard oil, keeping experimenting and use a variety of oil while cooking. Also, ghee or purified butter is a must. Keep a teaspoon of pure ghee handy with your meals. Almond oil is very effective in curing dry skin. Rub about a teaspoon of it onto your navel and pat slowly till the oil is absorbed completely. You could do this before going to be as it also has a calming effect.
For the face, there's one basic rule – moisturise daily. Take Vitamin E oil or almond oil and massage about a teaspoon on the dry areas. I recently made the most wonderful oil at home that I'd like to share with you. I took 10 frangipani flowers and added them to a cup of almond, wheat germ and olive oil mixed in equal quantities. This concoction was made to sit in a glass jar for a week. Later, I strained it and started massaging it on my skin. Believe me when I say this, it worked like magic and I highly recommend it to those of you who want to get ride of fine lines and wrinkles.
For another natural remedy, take 10 mashed figs and mix it with a handful of walnut paste. Add some milk and apply this to the skin. I use fresh cream when my skin is feeling really leathery and dehydrated and that often happens when winter is setting in and the smog just refuses to lift. Apply it on the skin for about 15 minutes and when soaked into the skin, dab some buttermilk or fresh milk and scrub off. Enjoy baby soft skin in minutes.
Most people I come across are confused about the kind of sunscreen they should use, what SPF it should be and whether it should have a moisturising agent or not. For those who have dry skin, I suggest you chose one which gives moisture, nourishment and hydration to the skin.
You can even make your very own moisturising spray mist at home. Take 100 ml of rose water and add a teaspoon of honey to it. Shake well and spritz all over the face and neck and let the skin drink this up. This helps in toning and moisturising at the same time.
Many fruits contain alpha hydroxyl acids and a wonderful way of giving the skin the nourishment it requires is to use them in face masks. Bananas mashed with honey makes for an excellent mask.
Similarly, mashed avocado mixed with a teaspoon of fresh cream and a few drops of honey is one of the best hydrating masks I have ever made.
Use some apricot jam mixed with a teaspoon milk powder. Massage this into the skin with some water and leave it on for a couple of minutes. Wash your face with cold water and pat dry.
One thing that you must always keep in mind is never to use hot water on the skin. This will make the skin drier. Use luke warm water and splash cold water on the face for reducing dryness and to increase blood circulation. Say goodbye to all your dry skin woes and pamper your skin with natural nourishing ingredients.
["source-ndtv"]