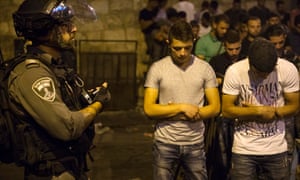 Israeli prime minister Benjamin Netanyahu on Wednesday said he would work to close the Jerusalem offices of al-Jazeera, accusing the Qatar-based television news network of inciting recent violence in the city.
Jerusalem is experiencing one of its most tense periods in years as Palestinians protest against heightened Israeli security measures near the Temple Mount-Noble Sanctuary compound, one of the city's holiest sites. The events have been widely reported, including by al-Jazeera.
The al-Jazeera network continues to stir violence around the Temple Mount," Netanyahu wrote on his Facebook page in Hebrew. "I have spoken several times to law-enforcement authorities demanding the closure of al-Jazeera's offices in Jerusalem. If this does not happen because of legal interpretation, I will work to enact the required legislation to expel al-Jazeera from Israel," the Israeli leader added.
The Qatar-based network was not immediately available for comment.
The spike in tensions and the deaths of three Israelis and four Palestinians in violence on Friday and Saturday raised international alarm.
Al-Jazeera has also faced government censure in neighbouring Egypt when in 2014, the Arab state jailed three al-Jazeera employees for seven years and closed the network's offices. Two have been released but a third remains imprisoned.
Source:-theguardian